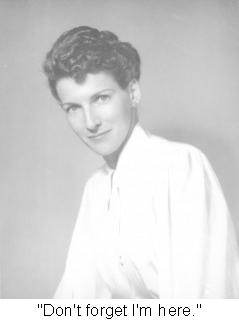 I can't deny it - I miss the mother I once had. Even at age 80, she was vibrant, loving, and independent. And she was strong. For nearly 20 years she provided care to my father, who before his death struggled with normal-pressure hydrocephalus and macular degeneration. What an incredible woman!
Unfortunately, time and illness are no respecters of persons. The past 12 years have not been kind to my mother. At 92, she has become frail and suffers with advanced dementia. Each challenging new decline - losing her memory; needing help to shop, bathe, and manage money; and now requiring assistance just to dress and eat - has left her feeling diminished, depressed, fearful, and incompetent. Recently, the appearance of other typical Alzheimer's symptoms - changes in personality, behavior, sleep patterns, and in recent months, a growing disorientation to places and people - have deepened her feelings of inadequacy and frustration. It's heartbreaking.
As difficult as her situation has been for family and caregivers, it has been far more so for her. And in that, there is an object lesson for all of us who have one of America's more than five million Alzheimer's patients in our lives.
Often, it's tempting to let such an overwhelming illness obscure the person behind the symptoms. After all, can someone with a sick brain really have anything worthwhile to say? Over the holidays, my mother gave me the answer to that question.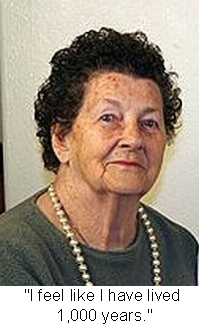 I spent several days sitting alone at her bedside, summarizing the news, discussing family pictures, and talking with her about her childhood in rural Missouri. To repeated requests of 'tell me what's new,' I would retell and augment my stories of people and places that I thought might interest her.
Then something changed. Despite dementia's deadly grip, on the last day I was there, she spontaneously started speaking. Her cry for help and understanding was clear. Below I have written her exact words in the order of what she said and asked of me.
Corinne,
I appreciate all of the help you give me.
I know nothing about nothing.
Don't ask me anything about anything.
I feel so desperate. My mind is zero.
You will have to tell me what to do and what not to do.
I feel like I have lived 1,000 years.
You have to keep me on the right track and tell me what to do.
You may have to tell me how to get to the bathroom.
I am desperate to learn things.
Is this the bed I sleep on?
So this is my bed. I have lots to learn.
Do we have one or two bathrooms?
Two? Yippee!
I forget sometimes, and you may have to tell me more than once.
Don't forget I'm here.
What are the charges here?
When are we going home? I need my purse. You say that this is my home? How do you know? Your father and I bought it? I don't remember.
I'm not that bright of a person, I don't know everything.
I don't want to make mistakes. You will have to help me as we go along.
If I do anything wrong you have to tell me.
I don't want to cause any trouble.
What is allowable and what isn't?
You didn't ask how old I am - 92, that's right.
I was brought up in a farm in Missouri. We had 120 acres. I milked cows. I cooked. I got the eggs.
That afternoon, I learned a great deal about the importance of intently listening to someone struggling with Alzheimer's. My mother needed to know that I was genuinely interested in her questions and fears and that I understood her confusion and sadness. And likewise, it was important for me to show my caring and support. I may miss the mother I once knew, but I have also become deeply aware of how much I love and appreciate the one I have now.
I wonder how many other caregivers and family members have made the same discovery. With most of the media's attention focused on caregiving, medical research, and most often, how much the growing number of older people with dementia are going to cost our society in scarce resources - both human and financial - we may not always listen to what the patients themselves have to say. Perhaps we are afraid and don't want to acknowledge what dementia could do to us or our loved ones. We may feel that patients with dementia have nothing to tell us that we don't already know. Or maybe we're just too busy or impatient to take the time. But what my mother has taught me is that all of us'including people with dementia'need to be heard and understood, to realize we're not alone, and to know someone loves and supports us for who we are - not just who we once were.