Guest Blog: A New Breed of Doctor
Anne Polta | March 5, 2012

Anne Polta reports on health care for the West Central Tribune in Willmar, Minnesota.'  Her personal experiences as a patient include treatment for non-Hodgkin's lymphoma at age 38 and an adverse medical event resulting in injury. ' She has covered health care ' specifically patient engagement and patient safety ' for more than 20 years.'  This post originally appeared on her HealthBeat' blog and you can follow her on Twitter via @a_polta_wctrib.
Originally posted on HealthBeat on February 21, 2012
Most people probably skipped right over the announcement late last week, but for anyone thinking about going to medical school, it was pretty big news. For the first time in 20 years, the Medical College Admission Test, or MCAT,
has been revised
.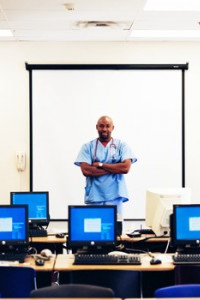 Starting in 2015, students who aspire to become doctors will be tested on more than just their knowledge of the sciences. They'll also need to have a good understanding of psychology, sociology and biology and how these forces help shape individual health and behavior.
How best to educate future doctors has long been a subject for debate. Should students be accepted into medical school on the basis of their grades and test scores alone, or should other factors be considered as well? How important is it for pre-med students to have a grounding in non-science disciplines such as psychology or the humanities? Who's likely to make a better doctor ' someone who's outstanding in science but mediocre in people skills, or someone who's merely good in science but excellent in people skills?
The MCAT matters because it's one of the major determinants for who gets into medical school and who doesn't ' and, ultimately, what the future physician workforce will look like.
The revisions to the exam have been brewing for many months and reflect an ever-broadening definition of what it takes to be a good doctor. It's no longer enough to be a science nerd with a solid background in organic chemistry. As Dr. Darrell D. Kirch, president and CEO of the Association of American Medical Colleges
put it
, 'it also requires an understanding of people.'
The new version of the MCAT adds two sections: one on the psychological, social and biological foundations of behavior, and one on critical analysis and reasoning skills. A writing section has been dropped but the rigor of the science sections remains unchanged, and the test will still be a marathon. It'll take students about six and a half hours to complete the whole thing, versus the four and a half hours it takes now.
I checked out an online
preview guide
for the test. Make no mistake, it's very difficult. Here's a sample question from the new section on the psychological, social and biological foundations of health: 'How does cognitive dissonance explain the occurrence of persistent conformity? Memories change to reduce discomfort resulting from providing answers that differ from: A. answers identified as correct. B. memories of others. C. previously provided answers. D. original memories.' (The answer is D.)
Curious to know what pre-medical students think of these changes in the MCAT, I visited an online student doctors forum, where most of the reaction can be summed up in one word: 'Brutal.'
'I think we lucked out not having to take this,' one pre-med student commented.
MedPage Today
interviewed
an aspiring doctor who had a different perspective. Adam Gardner, 29, earned a master's degree in international affairs, then decided he wanted to become a doctor. He's currently loading up on science prerequisites in preparation for taking the MCAT in June.
He said that while he appreciates the idea behind trying to create a more well-rounded doctor who can interact on a deeper level with patients, he worries that the additional test sections may require students like him who decide later in life to go to medical school, to take a greater number of classes in order to prepare for the test.
'Adding these new things to the test could drag this out even longer for people who want to get it done,' he said.
But then again, Gardner said having a knowledge of social sciences would lead to a better doctor-patient relationship.
'I've met a lot of doctors ' and some of them are pretty cool people,' he said. 'But a lot of them are not terribly social and easy to get along with, and I think having a more rounded background will create doctors who can deal with patients better.'
Critics didn't waste any time weighing in with their reaction to the newly revised MCAT. One of the objections being voiced most frequently is that the heightened emphasis on psychology, sociology and critical thinking skills is too 'touchy-feely' and will have the effect of dumbing down the test, thereby lowering the bar for who gets admitted to medical school.
It's a valid concern. You could just as easily argue, however, that a medical school admissions process that's structured in favor of the sciences can end up unfairly excluding students who are well-rounded, hard-working, took all the right pre-med college courses, earned good grades, have all the makings of becoming a good doctor but simply didn't do as well on a science-oriented test.
It comes back to the original question: What are the most important qualities for doctors to have? Knowledge of the sciences will always be critical, but is there room for training programs to also emphasize analytical thought, the social sciences and the underpinnings of human behavior? The new version of the MCAT suggests that indeed there is. In 20 years or so, we'll find out whether it's made a difference.
Related links: