Guest Blog: The End of Life Horror Show: We Can Do Better
Chris Langston | June 12, 2012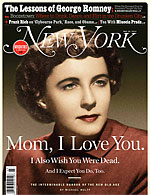 Recently, New York Magazine published an agonizing first person cover story by Michael Wolff,
'A Life Worth Ending,'
about the terrible choices and harsh reality of illness at the end of his mother's life. The summary slug for the piece says it all: 'The era of medical miracles has created a new phase of aging, as far from living as it is from dying. A son's plea to let his mother go.' Unfortunately, this story is one that all too many baby boomers are living as their parents move into their eighties and beyond. How can it be otherwise when almost 50% of Americans experience three or more years of profound disability before death?
In fact, there is already a growing body of such stories, including Sandra Tsing Loh's
'Daddy Issues: Why caring for my aging father has me wishing he would die,'
in the March 2012 Atlantic; Jane Gross' book-length
A Bittersweet Season
based on her care of her mother and
New York Times
blog
The New Old Age
; and Jonathan Rauch's 2010
Letting Go of My Father
, also in
The Atlantic Magazine
. I
reflected on Mr. Rauch's piece
at the time. You can see an interview with him recorded by The Campaign for Better Care, funded by The Atlantic Philanthropies.
One of the underlying themes of all these stories is a medical system on autopilot where high-tech interventions are provided without regard to their risks, patient/family preferences, or real assessment of potential quality of life benefits or detriments to older adults and their families. Simultaneously, the family caregivers report essentially being abandoned by a system that can't or won't help with the high-touch supportive care that is so often needed in the long aftermath of a medical crisis. Wolff's narrative pits the family caregiver against health care providers whose services rarely seem relevant or helpful ' and are governed by a Kafkaesque system of arcane rules, silos, and limits. Finally, the family can only pray for death of their loved one. Mr. Wolff goes so far as to argue that a healthy lifestyle only makes this kind of agony MORE likely and only slightly facetiously wishes FOR the mythic death panels.
Clearly there are some cases where the challenges of care are so extreme that everyone is helpless. But one thing I note about these stories is how infrequently geriatric or palliative care expertise is brought into the picture. How much hospital acquired damage could be avoided by more conservative, geriatrically informed care in the last years of life? How much better could families be guided to community resources, educated about prognosis, and shown ways to slow the path of decline? Does the end of life have to be a horror show, or can we do better?
I take solace from a story in
yesterday's New Old Age blog
(now written by Paula Span) about Foundation grantee and
UCSF geriatrician Sei Lee
's care of his own recently hospitalized mother. In this case Dr. Lee was able to use his geriatric expertise and knowledge of the health care delivery system to get his mother home safe. We are not going to be able to make a Dr. Lee available to every family, but I think we might be able to come close by designing a health care system that builds in his expertise and his caring as the default approach to the care of older people.