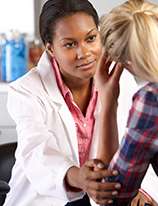 Is it possible for a young medical student to understand a patient's experience? Or the day-to-day life of a person with a chronic illness? In 'Healthy Privilege' – When You Just Can't Imagine Being Sick, Carolyn Thomas observes that "what I've learned since my heart attack is that, until you or somebody you care about are personally affected by a life-altering diagnosis, it's almost impossible to really get what being sick every day actually means. Such is the bliss – and the ignorance – of healthy privilege."
After experiencing a rare eye infection that resulted in her "worst pain ever," first-year medical student Natalie Wilcox shared that "as doctors, it is our job not only to provide care, but to comfort, and to do this we must acknowledge our patients' feelings." While noting that every person experiences pain differently, Wilcox adds, "By recalling my own pain, I bring forth real empathy rooted in shared experience."
In Illness 101, internal medicine resident Madeline Sterling shares her own experience of being ill. Following months of neuropathic and muscular pain in her lower legs, she cautions, "The truth is that no matter how empathetic a physician you believe you are, it's hard to fully grasp the experience of being a patient until you become one." Madeline believes she learned something valuable: "As painful as it has been, this experience has helped me to understand what being sick is all about, and also what it means to be healthy."
After seeing a patient with a rare disease, medical student Joyce Ho wrote that each patient is still human and deserves to be treated as such:
"I thought about Charlie and what it is really like to be a patient. To go for days without food, sometimes with no good explanation. To wake up every morning to needle sticks for blood draws. To give up control of one's own body to painful treatments and procedures because the doctors are supposed to know best. To be seen and talked about as a medical mystery rather than a suffering human being."
Ho reminds clinicians, "At the end of the day, our job is to heal the patient, but there are many types of healing, not just of the physical body, but also of the soul. There is no reason why physicians cannot take part in that."
Teaching physician Rob Centor, M.D., offers some advice to young clinicians about what he learned from a cancer patient he became particularly fond of:
"An important lesson occurs to most physicians over time. We can cure some disease; we can slow the progression of some disease; we can prevent the complications of some disease, or at least delay those complications; but we should always remember that we are treating patients, not disease. When we can no longer impact the disease, our responsibility does not change."
Rob concludes, "Patients, not disease, are our responsibility. We must always remember that."