Advice for People New to Health Insurance (Part 5): Do You Need a Yearly Checkup?
Be a Prepared Patient | December 30, 2013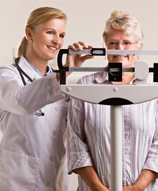 As the new Federal deadline for signing up for health insurance fast approaches, many Americans are enrolling for the first time.
Whether you have had health insurance through an employer, through Medicare or are new to health insurance, this eight-part blog series, pulled from our Be a Prepared Patient resources, has information to help you understand how to pay for your care, how to interact with your doctor's office and what preventive care you might need, much of which is provided free under the Affordable Care Act (visit this page from NPR for more FAQs on the Affordable Care Act).
---
If you're a healthy adult, you might not go to the doctor unless something is wrong. This may not be a bad thing, depending on your age, gender, family history of disease and personal preferences, but getting a checkup periodically is a good step toward staying healthy and developing a relationship with your physician.
Here are resources that explain what doctors look for during a check-up and help for deciding which screening tests are right for you…more