Are Health Insurance Rates Going Up or Down — A Cautionary Tale?
Trudy Lieberman | June 12, 2013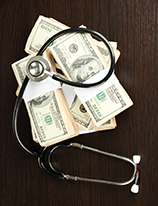 The saga of insurance rates continues: will consumers buying coverage in the new state shopping exchanges find lower or higher rates? On one side are those who say the newly insured will see lower premiums for coverage. Count the president in that camp. Others, including insurance industry types, say for many groups of people rates may be higher. What's been left out of the debate, however, is the question: higher or lower compared to what? And here's where the whole rate discussion gets murky and confusing.
The latest chapter began in May when insurance exchanges in Washington, Oregon, and California announced that the rates filed by insurance carriers in those states looked pretty low, and that was good news for consumers. In Oregon, two carriers were so eager to compete that they re-filed their rates with state regulators to offer more competitive premiums. An official at the Oregon Division of Insurance said these low rates were "a taste of what is to come."
What the Oregon Insurance Division referred to were the $200 to $400 monthly rates range projected for a single 40-year-old who does not smoke and who buys a bronze plan. The bronze plan is one of the four standardized insurance policies called for by the Affordable Care Act. It's designed to cover about 60 percent of a person's medical costs, and it's likely to be the cheapest sold in the exchanges.
A closer look at Oregon rates reveales that older customers will pay much more. In Portland, a 21-year-old would pay $330 for a bronze plan from Family Care Health Plans while a 60-year-old would pay $896. That's to be expected since older people have more health problems and present more of a risk to insurance companies.
Soon after the Oregon announcement, Covered California, the state's exchange, offered a taste of their rates for next year. According to executive director Peter Lee, they were just right—in the Goldilocks range—not too high and not too low. Lee said, "We've hit a home run for consumers. We held insurers' feet to the fire."
CaliforniaHealthline reported: "exchange officials offered a couple of sample scenarios to judge how much monthly premiums will cost." A San Francisco resident earning more than $46,000 a year can choose from five plans with monthly premiums ranging from $221 to $501. The article didn't say which policy the rates applied to or the age of the prospective policyholder.
The media proclaimed that fears of rate or sticker shock had not materialized; adding California's good news could well spread across the country. It turns out, however, that California exchange officials were comparing apples and oranges.
They arrived at their conclusions by comparing the rates that companies will charge next year in the individual insurance market where people buy on their own to rates charged this year by small businesses that insure several workers under the same policy. Lee argued that it was not possible to compare this year's individual market rates with next year's because the policies will not be the same.
Indeed they are not. The new insurance exchange policies have more requirements for comprehensive benefits and may well carry a higher price tag depending on the state, the area in a state where people live, and the age of a policyholder (as we've seen in the Portland example). In other words, people may choose to pay more for better benefits, but wasn't that one of the goals of the Affordable Care Act?
Then, too, the premium subsidies offered by the government will determine for many how cheap a premium really will be. About 60 percent of people buying in the individual market will be eligible for a subsidy; 40 percent won't be.
The real issue going forward is not whether the rates now showing up in the exchanges are comparable to last year's rates, the rates of small or large employers, or rates charged five years ago. It's what you get for the premium that's being advertised.
It's axiomatic in the insurance business that higher premiums almost always buy better benefits. The "what do you get for the money" question is as crucial as the "compared to what" question. In my post next week, I will explain the trade-offs between low premiums and better benefits, a point crucial to understanding what choices shoppers in the exchanges must make.