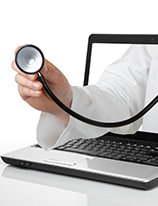 Yesterday the blog of WIFR-TV in Rockford, Illinois, featured a small story about community groups in the state applying for federal grants to help educate customers coming to the new health exchange in October. "People who are uninsured will be able to comparison-shop for affordable health plans on these websites," the post told readers." The word "affordable" got my attention.
Since the beginning of the debate on the Affordable Care Act, the often-stated objective was to make affordable coverage available to the uninsured, the WIFR blog post showed how that notion has sunk in. Judging from the few states that have offered a clue about rates in their exchanges, it does appear that some young people can get a very cheap insurance policy.
In Portland, Oregon, for example, the state's insurance website shows that a single 21-year old could pay as little as $132 a month or as much as $330 for bronze policy, the plan in the exchange hierarchy of insurance that will cover only 60 percent of someone's medical costs. A single 60-year-old could pay between $359 and $851.
Premiums shoot up, however, if coverage improves. A silver plan covers 70 percent of medical expenses; the gold, 80 percent, and the platinum 90 percent. For a gold plan, the 21-year-old could pay as little as $216 or as much as $463 depending on the company selling the product. The 60-year-old would pay $644 for the cheapest gold policy or $1,255 for the most expensive. There's a high likelihood that the $1,255 premium plan has less cost sharing in the form of deductibles, coinsurance, and copayments than plans with lower premiums.
As I noted in my blog post last week, when you buy insurance, higher premiums almost always mean better benefits. Affordable doesn't necessarily mean better, and it seems to me that in the rush to get people covered before January 1, 2014 when the ACA takes full effect, "affordable" will equate with "better" in the minds of a lot of shoppers.
The "what you get for the money" question has been missing from the public discussion, but it's as important as how cheap the premium is. Low-priced coverage will most certainly mean policyholders will pay high deductibles, copayments, or and coinsurance. This cost-sharing business tends to get short shrift in the media and in health policy circles where high deductibles and out-of-pocket limits hitting $12,000 have become as American as apple pie.
What you get in benefits is related not only to the broad cost-sharing requirements of the four standardized plans, they are also linked to the 10 essential benefits the law says every policy sold in the individual insurance market, including those in the state exchanges, must offer. They include such services as in-patient and out-patient hospital care, maternity and newborn care, prescription drugs, and lab tests.
Just because all policies have to offer the same benefits doesn't mean policies will be created equal. They won't be. An insurer can still comply with the law by limiting the number of visits, say for physical therapy, or they can make policyholders pay more out-of-pocket for particular services such going to an urgent care center or the ER. And they can vary the deductibles.
Obamacare limits what people will pay out of pocket, an amount that changes each year. This year it's $6,250 for an individual policy and $12,500 for a family policy.
Buying in the exchanges, or for that matter choosing from among three or four options offered by your employer, takes some thinking and understanding of trade-offs. Buying insurance means weighing the risks against the price of protecting yourself against that risk. It's tricky when it comes to health care because the decision involves not only considering your current health status but also trying to predict what illnesses or injuries you might suffer during the year.
That low premium in Oregon for that bronze plan may be tempting, but if a person buying it gets sick, needs an operation, or ends up with huge drug expenses, out-of-pocket costs could become overwhelming.
Getting stuck with a $10,000 hospital bill may not be what the consumer who becomes a patient had in mind with an "affordable" policy.