Every Move You Make, the Patient Is Watching You
Anne Polta | July 22, 2013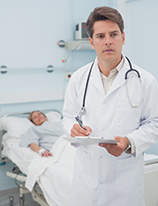 Patients have a way of hanging onto every nonverbal cue they notice, no matter how small.
Was the doctor frowning as he/she entered the exam room? Did the nurse at the hospital bedside seem harried while checking your vital signs? What was up with that brusque welcome from the receptionist? Was that an eye roll behind your back?
In any setting, body language is a big deal. The fact that people are watching, interpreting and judging, especially when it comes to leaders, is illustrated vividly by New York Times columnist Adam Bryant in his latest piece, "Are You Mad at Me?"
One day a colleague pulled him aside and asked to speak privately with him in the conference room. The question, wrote Bryant, "came out of the blue. 'Are you mad at me?'"
He goes on to explain:
I was puzzled, but I realized later what was going on. As an editor, I faced a lot of tight deadlines, and I would often have just a short window to get a story into shape for the next day's paper. I'm guessing I was thinking hard about some story as I walked through the newsroom one day – probably furrowing my brow, my mind a million miles away – when I briefly locked eyes with my colleague, who was startled enough by my body language to later pull me into a conference room to wonder if the air needed to be cleared between us.
Bryant writes, "I learned a memorable lesson that day about how people can read so much into subtle, and often unintended, cues."
How much more so in health care, where patients often feel vulnerable, needy and at the mercy of a system that may or may not be responsive – and where misinterpreting the cues can have very real consequences.
The literature on the role of body language is varied and fascinating. One study carried out in the Netherlands found that people had a positive physiological response to pictures of happy facial expressions. But they showed signs of higher anxiety in response to facial expressions that were fearful or angry – and their reaction to angry signals was heightened when they were already anxious. Other studies have found people are quicker and more accurate at detecting angry faces than happy faces.
Less is known about the impact of nonverbal cues in the health care setting. For just one example of how body language can influence the doctor-patient interaction, however, consider a study, published last year, that examined the differences in nonverbal communication between white and African-American doctors when talking to older patients.
The study found that white doctors tended to treat all their older patients the same way. But black doctors often gave contradictory nonverbal cues to their white patients – smiling, for example, while crossing their arms or legs.
Other studies have found a similar pattern among female physicians interacting with male patients.
Most of these studies are fairly small and don't really explore the impact of the doctor's body language on quality of care or outcomes. Disparities in health care are well known to exist, however, and unconscious social bias can be very difficult to root out and change.
Meanwhile, patients notice these subtle cues and draw their own conclusions, accurately or not.
"How do you say, 'I don't give a damn'?" asks Kristin Baird, owner of the Baird Group and a consultant on improving the patient experience.
She relates the experience of accompanying her sick sister to see the doctor. The doctor barged into the exam room, stood with one hand on the door handle and informed her sister there was nothing he could do and that she should go to the hospital.
"Everything about his demeanor, both verbal and nonverbal, screamed: "I don't give a damn about you. You're not worthy of my time, so don't bother me,'" Baird writes. "This was hard enough for me to witness, and I wasn't the one in need of his care."
Maybe it wasn't personal. Maybe the doctor had just had a terrible encounter with the previous patient, or was distracted by a family crisis or suffering from burnout or depression. It leaves a mark, however, and it can become one more piece of baggage for patients to tote around and unpack in their next visit to the health care system.
There seem to be a lot of angry patients these days, and at least some of it stems from the nonverbal cues that shape people's perceptions of how they're treated: "The person at the front desk barely made eye contact with me. "The doctor just sat there and looked at the computer." "The nurse/physical therapist/radiologic technologist seemed in such a hurry."
One consequence might be heightened anxiety that prevents the patient from communicating honestly and allowing the doctor to reach the right diagnosis. If patients perceive that their participation in their care is met with annoyance or secret eye rolls, they may become frustrated or outright hostile. Perhaps they'll take the opposite route and decide it's better to be passive and uninvolved, even if none of these approaches are beneficial to their health.
Like hawks, patients are watching every move their clinician makes and levying their judgment, whether it's fair and accurate or not.