I Couldn't Do It. Could You?
Susan Shaw | June 27, 2013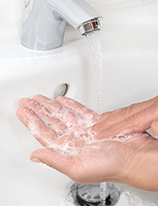 I couldn't do it. I couldn't ask the nurses and doctor who looked after my daughter to wash their hands.
Last week I took my daughter to our local pediatrics emergency room. My daughter is tough, so when she had tears trickling down her cheeks after falling down a couple of stairs, I was pretty sure she had broken her arm.
She received great care during our brief time at the hospital. We loved the new registration process that was done by her nurse and registration clerk at the same time. My daughter was asked about her pain and offered pain medications by every nurse who met her. It was a very busy evening and our wait was not all that bad. I'm confident that everyone who helped my daughter was caring, competent, and eager to help.
But I didn't see anyone wash their hands before or after they cared for my daughter. And I couldn't get out the words "Excuse me, would you please wash your hands for us?" I've thought long and hard about why I didn't say anything.
I was worried about making the doctor and nurses feel uncomfortable. I knew my daughter's care wouldn't be compromised if I upset the doctor and nurses. I just didn't want any awkward feelings. I rationalized this by reminding myself that my daughter is healthy, with an extremely robust immune system. I also know she herself is an excellent hand washer. But that's just me trying to make myself feel better. I should have said something.
Hand hygiene is perhaps the single most important thing that we can do to help keep our patients safe. By consistently washing our hands before and after every patient interaction, we can decrease — even prevent — the transmission of hospital acquired infections. But healthcare worker compliance with hand hygiene has also shown itself to be notoriously difficult to achieve.
Personally I'm a bit of a nut when it comes to hand hygiene. I feel very uncomfortable during that short period of time between finishing with a patient and walking over to a gel dispenser. Out of curiosity, today I kept track of the number of times I either washed my hands or used an alcohol-based gel while working 9 hours in the ICU: 92! I'm even part of a Saskatoon Health Region YouTube video talking about how important it is that physicians practice excellent hand hygiene.
Patient empowerment is a key component of most successful hand hygiene campaigns. My personal experience showed me how difficult patient empowerment might actually be. Patient and family education will be key. But so will changing the culture in our system, so that doctors and nurses invite and remind patients to advocate for themselves. We must make it easier for our patients to speak up and help protect themselves. Some hospitals have been able to empower patients to remind their healthcare workers to wash their hands. Others have not.
Next time I will be braver. I also will continue to encourage the families of my patients to speak up if they have any worry that we might have missed hand hygiene, a critical step in providing safe care.
Have you as a patient ever asked a healthcare worker to wash their hands? What did it feel like and what was the response? Have you, as a healthcare worker, ever been asked to wash your hands by a patient? How did it feel? What did you learn?