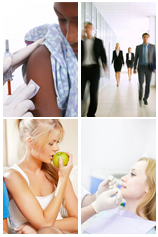 These stories were released by CFAH's Health Behavior News Service (HBNS) between 7/25/13 and 8/06/13. HBNS provides high-quality reports on new scientific studies that can help you make good choices about your health and the health of your family.
When dieting encouragement goes wrong...
A loved one's so-called encouragement can be a double-edged sword when it comes to dieting, finds a recent study in the American Journal of Health Promotion. Marla Eisenberg, Sc.D., of the University of Minnesota and her colleagues surveyed young people and found that many resorted to unhealthy weight loss tactics such as fasting, using diet pills, and self-induced vomiting, tactics which were especially prevalent in those whose significant others frequently commented on their weight. "If someone is genuinely concerned about a loved one's weight, the recommendation is to discuss it emphasizing health rather than appearance, and focusing on adopting a healthier lifestyle long-term rather than dieting," commented Eisenberg.
What works for more walking at work...
As employers strive to cut health care costs, more companies are using programs to encourage their employees to exercise. A study in the American Journal of Health Promotion finds that programs that incorporate tools such as pedometers and web materials can help motivate people to walk more. Using signs to encourage movement, such as those posted near stairways, also help. "Employers need to see the value of having active employees," said study author s Jennifer Gay, Ph.D., of the University of Georgia College of Public Health, "and understand that fostering greater activity can reduce absenteeism and increase productivity."
Vaccines: Not just for babies...
While most adolescents see their doctors infrequently, when they do visit, they're missing out on important vaccinations, finds a new study in the Journal of Adolescent Health. Vaccines for meningococcal (MCV), tetanus, diphtheria, and acellular pertussis (Tdap) and human papillomavirus (HPV) have been recommended for teens, yet researchers found that 82 percent of young people at a particular health clinic missed being vaccinated against MCV, 85 percent missed Tdap and 82 percent missed the first dose of HPV1. "If parents know to expect that their adolescent should receive three vaccines when they turn 11 or 12, they may be more likely to schedule a preventive visit or bring up vaccination with their child's health care provider during any office visit," commented Kristen A. Feemster, M.D., of the University of Pennsylvania School of Medicine.
Health insurance matters for cancer survivors...
The type of health insurance a cancer survivor carries can effect whether they have access to preventive care, according to a new study in the American Journal of Preventive Medicine. The study finds that, on average, people who have been diagnosed and treated for cancer see their doctors for routine wellness check-ups more often than the general population. However, cancer survivors with public health insurance or no insurance at all get preventive care less often, which could lead to health problems down the road. "We need to look at coordination of care among primary care providers and oncologists to make sure cancer survivors are getting the care they need," commented lead researcher Robin Yabroff, Ph.D., MBA of the National Cancer Institute.