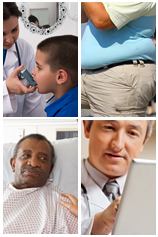 These stories were released by CFAH's Health Behavior News Service (HBNS) between 6/20/2013 and 6/27/13. HBNS provides high-quality reports on new scientific studies that can help you make good choices about your health and the health of your family.
Using shame to promote weight loss doesn't work…
Public health campaigns that rely on negative messages and images to motivate overweight people to lose weight may backfire. A recent study in the American Journal of Preventive Medicine finds that while neutral campaigns that focus on healthy living and more negative campaigns made study participants want to lose weight, the more negative messages undermined people's belief that they could actually do so. "Research shows that when people are made to feel stigmatized or ashamed of excess weight, this leads to a range of different health consequences that can ultimately reinforce obesity" including binge eating, said Rebecca Puhl, Ph.D., of the Rudd Center for Food Policy and Obesity at Yale University. The challenge, she said, is "finding ways to grab the public attention without using shame or stigma."
Black nursing homes face challenges…
Nursing homes serving black communities suffer the double burden of poor financial status and lower-quality care, finds a recent study in Health Services Research. Much of this may be due to Black residents' higher reliance on Medicaid versus private payment, say the researchers. "No one wants to or knows how to do anything" about the differences in reimbursement by payer that leads to selective sorting, comments David Barton Smith, Ph.D., of Drexel's School of Public Health, adding that the field has avoided acknowledging "the naked differences in dollars" available to predominantly White versus predominantly Black facilities.
Hispanic and Black children not getting the right asthma meds…
Clinicians recommend that children with asthma use daily medication for long-term control of their symptoms. Despite this, Hispanic and Black children are less likely than White children to use these drugs and are more likely to rely on fast acting rescue medication for relief, finds a new study in Health Services Research. While the disparity is linked in part to geography, income and family composition, for Black children in particular, much of the difference is unexplained. "This may point to biases in the health system, maybe in prescribing patterns, or in the quality of care," says lead author Eric Sarpong, Ph.D of the Agency for Health Research and Quality.
Electronic health records not widespread…
A new study in Health Services Research finds wide geographic variation in the adoption of electronic health records (EHRs) by ambulatory health care sites, with lower use in large metropolitan areas and higher use in rural ones. The researchers note that efforts to promote EHR use should be targeted to areas where traditionally underserved populations live in order to avoid exacerbating existing health disparities. Jocelyn G. DeWitt, Ph.D., of the University of Wisconsin Health, Madison said, "This study validates that the cost of EHR implementation is still prohibitive in many communities despite efforts by the federal government to provide incentives. Attention needs to be paid to urban areas as much as rural communities for EHR adoption. It is incorrect to assume that urban clinicians have the resources to implement EHRs."