Political Football Season Starts for Medicare
Trudy Lieberman | August 28, 2013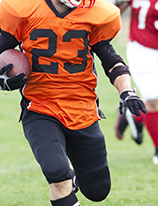 It's the silly season again for Medicare. It comes around whenever a political campaign is about to begin, as it is for next year's mid-term elections. Florida Republican Sen. Marco Rubio has been talking about Medicare quite a bit lately and raising an issue that's been hanging around since the elections of 2010: that the Affordable Care Act takes money out of Medicare by shortchanging Medicare Advantage plans.
Speaking to the Bay County Chamber of Commerce a few weeks ago, Rubio said one of the things the health reform law did was take "a tremendous amount of money out of the Medicare Advantage program, not to fund Medicare or to make Medicare more solvent, but to fund the health care law." Politicians love to play ball with benefits for seniors.
Rubio predicted there would be benefits reductions in Medicare for people who have chosen Medicare Advantage plans, and, in some places, carriers might drop out of those plans altogether. "You're going to start to hear from Medicare Advantage patients on that as well," he said. Even the hint (whether true or not) that seniors might lose their Medicare benefits is enough to throw them into panic mode.
Claims like the ones Rubio is making were staples used by politicians during the 2010 campaign and in last fall's presidential election. Again and again the media, to their credit, corrected the misimpressions seniors were getting. This time, in response to Rubio's recent remarks, PolitiFact, the fact-checking police, a project of the Tampa Bay Times, tackled what's true and what's not so true about Medicare Advantage plans.
About 28 percent of those on Medicare have elected to sign up for a Medicare Advantage plan, the private insurance policies that provide required Medicare services for hospital and physician care using a managed care network. Many plans also provide drug coverage and other services like transportation to doctors, eye glasses, dental care and gym memberships. In some parts of the country, they don't charge monthly premiums, which has boosted their popularity.
Insurance companies have been able to offer these Medicare Advantage extras because the government has overpaid them for several years. According to PolitiFact, last year Medicare Advantage plans cost Medicare seven percent more per person to provide the same benefits as traditional Medicare.
The president came into office vowing to reduce these overpayments, and the Affordable Care Act called for some $200 billion in cuts to Medicare Advantage plans over the next 10 years, a move aimed to preserve the life of the Medicare hospital trust fund that pays beneficiaries' hospital bills. This would help everyone on Medicare.
Political rhetoric, though, is one thing. Actions are another. The administration's actions over the last few years raise questions about how serious the president is about cutting payments to insurers, which have been lobbying fiercely against the cuts.
First, the administration began restoring some of the money to plans that provided better care. Medicare began giving bonuses to plans that earned higher star ratings, but even a mediocre three-star plan could receive a bonus. Go figure! And then last spring, as the plans were facing a 2.2 percent reimbursement cut, the administration overruled Medicare actuaries and instead gave insurers a 3.3 percent increase worth billions to insurers who had waged a strategic lobbying campaign to stop the cuts.
The industry is still complaining. This spring, UnitedHealth Group CEO Stephen Hemsley told investors, "We did not expect the fastest growing, most popular and most effective Medicare benefit option to be underfunded to this extent in 2014." Politicians like Rubio have a way of picking up such comments and passing them on to frightened seniors.
It will be easy to see if the "underfunding" causes United Healthcare, the biggest seller of Medicare Advantage plans, to cut off the extra benefits when the company makes plan details available in a month or so. I'd wager seniors will still have the goodies they've come to enjoy. As for the scheduled future cuts, I'd also wager they may not materialize.