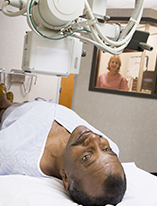 "Will we – you and me and our parents and neighbors – be a significant force in quelling the tide of over-testing for the early detection of disease?" asks CFAH president Jessie Gruman. Or, she wonders, has the decades-long promotion of the value of screening done too much to simultaneously stoke and calm our anxieties about becoming ill to be stopped? There is a darker side to the benefits of disease screening – one that can include false-positives, unnecessary (sometimes expensive) treatment, unforeseen complications, side effects and undue worry.
For example, a recent study in the Journal of the American Medical Association: Internal Medicine found that an overwhelming majority of doctors don't tell people that cancer screening can sometimes lead to overtreatment. In other words, tests can detect abnormalities that will never progress or cause symptoms. Some have suggested that we should not refer to these "incidentalomas" as cancers. Yet, when researchers told people about the risks of overtreatment, almost 59 percent said they would continue to undergo routine cancer screening.
According to a U.S. Preventive Services Task Force review of over 300 studies, there is no proven benefit for routine dementia screening. The review also found that anti-dementia drugs did not significantly improve cognitive performance, leading to a large number of people taking prescription medications without benefit. Lastly, routine screening and medication for dementia did not improve caregiver burden. As the researchers noted, "There is no empirical evidence that screening for or early diagnosis of cognitive impairment improves decision-making or important patient, caregiver, or societal outcomes."
The American College of Physicians (ACP) is speaking out against kidney disease screening in people without symptoms and against periodic lab monitoring of patients with stage 1-3 chronic kidney disease, citing a lack of evidence of their benefits. ACP president Dr. Molly Cooke made the point clear: "The potential harms of all the screening tests – false positives, disease labeling, and unnecessary treatment and associated adverse effects – outweigh the benefits."
How, then, can you find out what preventive health services you should consider? The U.S. Department of Health and Human Services has created a super-simple tool to help. Just enter your age and sex to see what's recommended: http://go.usa.gov/DhbP. Then talk to your doctor and consider your own and your family health history before making a decision about what tests to pursue.
Our Be a Prepared Patient resources Talking About Medical Tests With Your Doctor and Do You Need a Yearly Checkup? can also offer guidance.