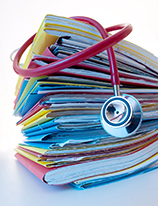 Imagine you've just come across a funny article online, something you know your coworker, spouse and Mom will appreciate. Sharing that article is as simple as copying everyone on an email or clicking the "share" button on a website. But sharing the results of medical tests with multiple physicians often involves taking a step back in time to find a fax machine or take a trip to the post office…and that's only after you manage to track down (and sometimes pay for) a paper copy of the results for yourself.
As CFAH President Jessie Gruman wrote in her piece Take My Damn Data. Please., people with multiple illnesses are often faced with the time consuming task of forwarding their own medical information to multiple clinicians. And despite advances in electronic health records and other health information technology, as Brian Klepper observes in Health Affairs, there has yet to be a high-tech solution for health information sharing because most electronic systems still do not talk to each other.
Until the time comes when patients and their health care providers can securely share health information with the ease of an email, patients and their caregivers must be the shepherds of their own health records. To help with this responsibility, CFAH's Be a Prepared Patient resource Sharing Medical Information with Multiple Doctors offers practical tips for obtaining copies of your medical records and suggestions for maintaining your own personal health record, which can make it easier to keep track of medications, allergies, vaccinations and family and personal health histories.