Some Caregivers Find Hiring a Professional Advocate Helps
Suzie Mitchell | June 25, 2013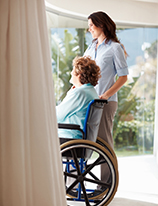 My 80-year-old mom recently retired, ending a 35-year career. At my request, she's selling her northern Virginia home and moving to Michigan to live near me – her only daughter. She's mobile, in good health, vibrant and fiercely independent. She's a cancer survivor and tools around with one hip and two knee replacements. She's tough, and I think of her as my "invincible Mom."
Not long ago, I was visiting an 82-year-old friend in a rehab facility who was recovering from a broken leg. We started chatting about my mom, whose life had revolved around work since my dad died 17 years ago. I was worried that my mother might be lonely, but worse, I didn't know how I would care for her at such a distance if she got sick.
"Tell her to move back here now," my friend said. "She will definitely need your help if something happens to her. Look at me – I'm here getting such good care because my daughter-in-law knew what to do."
I left the rehab facility, called my mom and told her it was time to come home. I wanted to do fun mother-daughter activities, but I also wanted her to be near me in case she got sick. She loved the idea, put the plan in motion and soon she'll be living just a few minutes from me.
Lately, some of my contemporaries who have parents in their mid to late 80s have been greeting the news about my mom with, "Your life is going to change. Things are going to be different soon. You're going to be involved with her medical care now."
It hadn't hit me until then: I have to start thinking seriously about caring for my mom. She handled the logistics for this cross-country move herself, so I don't think of her as needing assistance, but statistics say that each year her mental and physical independence will weaken.
Not long after, I met Linda Adler, founder and CEO of Pathfinders Medical, which offers support to people once they are discharged from the hospital. We talked about my mom and our new situation and I asked if my friends were correct. Did I really need to be concerned about my mom's health care?
"Absolutely," Adler told me. "You need to understand your mother's health insurance, what it covers and what it doesn't. Does she have long-term health care insurance? What does it cover? You need to meet her primary care physician before there is a crisis."
Adler is a private professional patient advocate (PPPA) – an emerging kind of provider that can help families coordinate medical care for elderly loved ones. Most families don't learn about patient advocates until their loved one has suffered a health emergency. Frequently confused and overwhelmed, the family must try to learn how to navigate the health care system on the fly.
Adler explained that PPPAs can help families sort through health care options and help them communicate more effectively with doctors and other providers. PPPAs can be involved a little or a lot in the management of care: You can ask an advocate to participate in every aspect of your loved one's health care, or just hire someone to review bills or help navigate insurance coverage. Some nonprofits offer free patient advocate services while private companies offer hourly-based or retainer-based services that can range from $45 to $300 per hour.
How do you find someone who's a good fit for your family? Check the directory of patient advocates through the National Association of Healthcare Advocacy Consultants (NAHAC) and Alliance of Professional Health Advocates (APHA). Finding the right PPPA for your family requires a lot of questioning, Adler warns. Families should ask for references and really discuss what they expect from the advocate. Most importantly, families need to be able to trust the patient advocate, because that person is likely to become intimately involved in their lives.
Call it karma, providence, or coincidence that I met Adler when I did. My mom and I won't be caught completely by surprise if a health care crisis occurs.