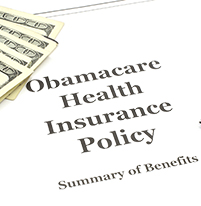 The media has discovered another delay in another provision of Obamacare. There have been several push-backs for the health reform law. The biggest so far was the delay of the employer mandate — the requirement that employers offer insurance to all full-time workers.
While that delay meant workers who were counting on coverage from their bosses will have to wait until 2015, the new delay affects consumers' pocketbooks directly. One of the highly regarded provisions of Obamacare was the limit it set on the amount consumers had to pay out-of-pocket for medical care. Over the last few years, more and more employer-provided insurance as well as coverage bought in the individual market has come with high deductibles and high amounts of cost-sharing — sometimes as much as $15,000 or $20,000.
Because those stratospheric amounts often send families to bankruptcy court, crafters of the Affordable Care Act wanted to limit their out-of-pocket obligation. It was a major consumer protection built into the law. The limits, which would have been $12,700 for families and $6,350 for individuals (they increase every year), were scheduled to take effect January 1, 2014 when the individual mandate and penalties for not buying coverage take effect.
But last February, the Obama administration announced a delay for their proposed out-of-pocket limits until 2015. It seems insurers and employers said they needed more time to comply. The administration also said it had to balance the interests of consumers with the interests of insurers. Although patient advocacy groups knew about this delay and protested in a letter back in April, the delay only became widely known after a New York Times story appeared last week.
As you might expect, bloggers and columnists used the news to fit their political interests. Those on the right called it another nail in the coffin of Obamacare; those on the left said it was no big deal because consumers were already protected by a provision that lifted the limits on lifetime coverage.
Families with lots of medical treatments next year will still have to operate under the current rules, which, of course, means they could amass very high bills if they get really sick. The no-lifetime-cap protection simply means the insurer must continue to provide benefits, but policyholders still must pay whatever cost-sharing the policy requires, no matter how high that may be.
Even when the limits do take effect, some families will still struggle to pay the out-of-pocket costs their coverage will demand. We do know that those are continuing to increase, and purchasing insurance –even with the subsidies available under Obamacare – will continue to be a financial burden for many families.
Let's say a family with an income close to $47,000, somewhat below the median income, would be eligible for a subsidy for health insurance of about $9,000. If an annual policy costs around $12,000, they'd have to pay about $3,000 out of pocket for the rest of the premium, plus they'd face another $10,000 or so of additional costs in the form of coinsurance, copayments and deductibles if they got sick. When you consider taxes and Social Security contributions, what family with that income has that kind of money lying around?
It's reasonable to expect families will be tempted to buy low-cost policies on the exchanges without fully understanding the trade-offs and the cost sharing they will face if they get really sick. A low premium almost always equals high cost sharing.
Buying insurance involves guessing about your risks, which in health care are not always easy to predict. The limits—when they are implemented—take some of the risks out of the decision, but not all of it. In one of last year's election debates, Obama said the main role of government is to keep its citizens safe. While many illnesses cannot be prevented, financial ruin due to uncovered medical costs can be.
Obamacare so far fails to keep that promise.