Alzheimer's Stories That Matter
Marie Marley | March 14, 2014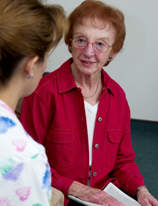 I arrived at Ethel's door one Thursday afternoon.
After a long pause (which made me guess she'd been taking a nap), she opened the door and smiled when she saw me.

"Come in! Come in, honey!"
Before I had a chance to sit down she started showing me the quilt she'd made for herself many years earlier.

"The binding is all frayed. I have to put a new binding on it."

That was a perfectly "normal" thing to say and show me. But the thing is, Ethel shows me the same quilt and makes the same comments about the binding every week.

She also tells me each time that she has two framed pictures of Jesus in her room, and she points them out to me.

In addition, she tells me that the two angels over her bed were supposed to have been centered but they weren't because there wouldn't have been enough room for her walker. (I never could understand that, but she always said it.)

As I've mentioned several times here, I volunteer to visit some ladies with Alzheimer's at Clare Bridge, Brookdale Senior Living's memory care facility. Ethel is one of my three ladies.

Since I've been visiting I've learned that most of my ladies have stories they tell me every time. My assumption is that these stories (and the events they depict) are deeply meaningful to them and constantly on their minds.

Perhaps Ethel's story about the binding gives us a clue that sewing was very important in her life. Similarly, the pictures of Jesus belie her strong religious foundation.

Finally, I wonder if the story about the angels not only reveals her religious beliefs but perhaps also a streak of obsessive compulsiveness – wanting everything to be lined up and perfectly centered. It's almost as though she's embarrassed and has to explain the lack of symmetry to me.

Of course my ladies don't remember they've told me their stories before; each time is like the first. And I always respond as though it's the first time I've heard them.

Here are a few other stories I have the pleasure of hearing every week:
Ruth: Ruth always tells me that during World War II the Army used to bus young ladies to the post to dance with the soldiers. She was one of the ladies, and they had such a grand time. She goes into great detail when she tells me about this. It must have been an important part of her life at the time.
Ruth also always mentions to me that her children took her car keys away and that her husband died. It's easy to understand why these two stories are so significant to her.
Carolyn: Carolyn (since deceased) didn't really have a story, but she did have something critical she told me every week.

As I was leaving I always said, "I'll see you again next Thursday."

And she always answered, "I don't think I'll be here. I'm going home tomorrow."

Going home was evidently one of the most persistent things on her mind.
So I always told her, "Well if you're here I'll see you and if you go home, have a wonderful time there." This response seemed to put her mind at ease.
Sue: Sue is very shy and I've had a lot of difficulty getting her to talk to me. But one day she picked up a book from her table and showed it to me.

"It has information about every country in the world."
She opened the book to the entry about South Africa and began reading it to me. (Sue is still able to read.)
Then she went on to tell in exquisite detail how she had acquired the book and how happy she was to have it.

"Sometimes when I'm reading the newspaper I come across a story in some country I don't know anything about, so I look it up in this book."
The next time I visited her there was a lull in the conversation so I asked about the book. Her face lit up and she told me the same exact information she'd told me the time before.

This tells me the newspaper is important to her and she really needs to know something about the countries mentioned in it.
If my ladies don't spontaneously tell their special stories, I bring them up. Then they cheerfully tell me the details, which are normally perfectly clear in their memories.

The stories told by people with Alzheimer's can teach us a lot about their lives. They also help us find important topics to discuss when we visit, which can make our visits far more pleasant and meaningful to the person we're seeing.
This post originally appeared on the Huffington Post on January 8, 2014.