Getting Bumped to First Class Health Care
Lawrence LeMoal | September 4, 2014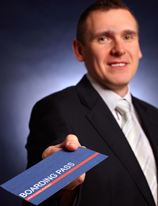 Lawrence lives in Canada and is on permanent disability while receiving palliative care for advanced prostate cancer.
I just got bumped up to first class. I am writing this blog post while seated comfortably in a motorized leather recliner with a window view.
Other perks? 24-hour telephone access to and weekly home visits by a Registered Nurse (RN) familiar with my health situation and history. My home health care team includes a care coordinator, palliative care RN, social worker, home health aides, occupational therapist, chaplain, music therapist and volunteers. My complete medical file binder stays at home with me for easy access by my health care team. I get expedited access to hospital admission, bypassing the emergency department. I have support for assistive equipment like lift chairs, handrails and grab bars. Did I mention I can have nutritious meals delivered? Music therapist? Housecleaning assistance, if I am too tired? Pain management? Integrated, coordinated care?
Now that's the first-class patient-centered care I've been advocating for. I would be ecstatic, except that I had to be dying to get it.
Two weeks ago when I was receiving palliative radiation to alleviate bone pain, radiology staff told me, "The social worker wants to meet you." I wondered why. After the shock of my initial diagnosis, I had seen a social worker twice. But for the last three years of treatment, I thought I was doing very well. I was handling the emotional roller coaster that accompanies this disease with the exceptional support of a loving sweetheart, family, close friends and compassionate providers.
The social worker said, "Lawrence, I asked to meet you because your file flags you as receiving palliative radiotherapy." She was dynamic, compassionate, and efficient, and promptly resolved some tricky coordination of care issues that had been plaguing me for weeks. She facilitated a new appointment with my oncologist, set up a referral for a second opinion about treatment options, and initiated assessment for palliative care services (I had previously tried and failed). She was coordinating my care! I was struck by how much my health provider team and I would have benefited from such support and coordination throughout my chronic disease treatment.
Now that I am officially a palliative patient, the social worker at the clinic is acting as the coordinator of care I have dreamed of and advocated for. The palliative coordinator visited my home last week, then the RN, then the occupational therapist. I really am feeling that my standard of care, and my standard of living – or in this case, my standard of dying – has jumped enormously.
I got bumped up to the first class health services provided by palliative care providers in response to my pain and my prognosis. From my original diagnosis, my cancer was considered terminal, and the goal of treatment was not curative but palliative, both to prolong the duration and quality of my life. Yet, until now, my care was focused almost entirely on treatment and was largely self-coordinated. I've been advocating a longer-term comprehensive care plan for years, largely without success. Essentially, medical decisions appear to be made one appointment at a time. Telephone access to an RN or social worker familiar with my file would have been golden, and I am betting it would have saved the system a lot of money.
Despite my dark prognosis, for the last three years, the system considered me a patient with a chronic disease. I am also betting that many patients with chronic diseases receive uncoordinated, episodic care without the kind of access and support we lucky palliative patients are getting.
I recently discovered that other jurisdictions do not restrict palliative care to those dealing with "a life-limiting illness."A World Health Organization statement describes palliative care as "an approach that improves the quality of life of patients and their families facing the problems associated with life-threatening illness, through the prevention and relief of suffering by means of early identification and impeccable assessment and treatment of pain and other problems, physical, psychosocial and spiritual."
I love the concept that palliative care is focused on providing patients with relief from the symptoms, pain, and stress of a serious illness – whatever the prognosis – and that it is appropriate at any age and at any stage in a serious illness and can be provided along with curative treatment.
Equally important is the goal to improve quality of life for both the patient and the family, as they are the central system for care.
Forgive my return to my aircraft analogy, but now that I have been bumped up to first class (patient-centered care) I will resist being sent back to economy class (uncoordinated episodic chronic care). "Over my dead body" as the saying goes.
"Welcome aboard Mr. LeMoal. Here's your seat, it's a motorized leather recliner. Would you like a blanket, a cup of tea, your laptop?" Comfortably seated, I doze off, dreaming of my grandma's cinnamon buns and the swimming hole at the Little Red River.
I am very grateful for the compassion and vision of those who advocated for the wonderfully patient-centered care we palliative patients and our families receive. What a legacy we would leave Saskatchewan citizens if we could figure out how to extend this first-class patient care to all patients and their families wrestling with chronic disease.
This post originally appeared on the Saskatchewan Health Quality Council's Better blog on January 14, 2014.