How to Prevent Hospital-Acquired Infections
Bonnie Friedman | July 21, 2014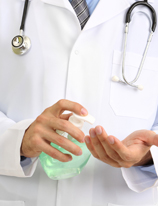 We go to the hospital to get better, right? But it doesn't always work that way. Sometimes patients become sicker, not because their illnesses are untreatable but because deadly bugs can overtake a hospital's ecosystem and wreak havoc, especially among the most ill.
Hospital-acquired infection rates are slowly coming down, but serious problems persist. The Centers for Disease Control and Prevention recently reported that one in 25 hospital patients has an infection associated with their health care. That adds up to about 722,000 hospital-acquired infections a year, with approximately 75,000 patients dying as a result. That's nothing to sneeze at.
What's more, antibiotic-resistant strains of bacteria continue to pose frightening threats. A few years ago, a super bug, Klebsiella pneumoniae, struck the venerated National Institutes of Health Clinical Center in Bethesda, Maryland, killing six patients and afflicting many others. The case produced eye-popping headlines and cries of outrage from the local community.
But most hospital-acquired infections are not as dramatic, involving pneumonia or bloodstream, gastrointestinal, urinary tract and surgical-site infections. Common ones include Staphylococcus or staph, Methicillin-resistant Staphylococcus aureus or MRSA and Clostridium difficile or C. diff. These infections can spread easily and be very difficult to treat.
In June, Medicare announced it will begin fining hospitals with the highest infection rates. That's a positive step, but many patients will continue to be jeopardized. Not long ago, my husband was hospitalized with a life-threatening staph infection requiring major surgery. He went into the hospital already infected but while there, acquired a trifecta of pneumonia, C. diff and a urinary tract ailment. His already lengthy hospital stay grew by weeks. "The longer he's in the hospital, the longer he's in the hospital," I complained to one of his doctors. His take: "You're exactly right."
It's true. The longer a patient is hospitalized, the greater the risk of infection. The sicker the patient, the likelier the threat. Hospitals want to discharge their patients as soon as possible to minimize these risks. So what's a patient or family member to do? We don't have to be sitting ducks, waiting for infection to strike. Some simple steps can help reduce the risks.
For starters, everyone entering a patient's room must wash their hands. That means family members, friends, doctors, nurses, technicians, even the cleaning staff. If you are a patient or have a loved one in the hospital, insist upon that measure. It is the single greatest protective step anyone can take. Most hospitals provide hand sanitizers in the halls and doorways of patient rooms. Use them. It may seem like adding a belt to suspenders, but the extra protection can only help.
If a patient has an infectious condition or is particularly susceptible to one, he or she may be put in an isolation room where gowns, gloves or masks are required. Visitors may be restricted, especially children and people with colds, the flu or other contagious illnesses. Make sure these precautions are observed.
You can also track lab results to see if the patient's white blood count is remaining steady or trending upward. If you see signs of a rising count – an indication of infection – discuss your concern with the doctor. Don't assume everything is under control.
Another thing: Call for help immediately if the patient develops a red or inflamed area, if a catheter or tube becomes dislodged or if a wound dressing is loose. These are all potential infection sites, and medical attention is required stat.
Also, if the patient has a catheter, it must be checked regularly and kept in place only so long as needed. Urinary catheters and PICC lines – peripherally inserted central catheters – are highly susceptible to hospital-acquired infections. Prolonged use can lead to infection and other serious complications.
What else can be done? Research shows that one of the greatest deterrents to the spread of infection is a private room. This is a growing trend, but not all hospitals have the resources to do it. And not all patients can afford it. Nonetheless, private rooms are a significant safeguard.
Even with these precautions, infections can still occur, as we learned much too vividly with my husband last year. Hospitals and other health care institutions have their work cut out for them. Until they successfully rein in infection rates, all patients remain at risk.