Shopping for a Medicare Advantage Plan — Once Again!
Trudy Lieberman | October 15, 2014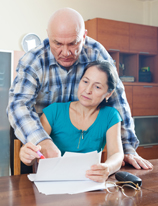 I have just done something I said I would never do: shop for a Medicare Advantage plan to cover my gaps in Medicare. After writing a seven-part series three years ago when I turned 65 and found signing up for Medicare was exhausting, frustrating and confusing, even though I have written about Medicare for 20 years, I said "never again."
This year, though, I changed my mind after reading Tara Siegel Bernard's New York Times Medicare piece where she told the tale of an Alabama woman who had been lured to a Medicare Advantage plan because it had no monthly premium, only to find out that she had to pay a large portion of her medical costs.
"I didn't feel that would give me a sense of ease because of the co-pays and the possible unexpected expenses that can crop up," she said. She enrolled in traditional Medicare, pays $135 a month for a Medigap policy, and, after having a few diagnostic tests, says her decision has paid off as it usually does for millions of other older Americans who often have medical problems at this point in their lives.
"Wow!," I thought. At last the media is featuring a real live person who understands the significant cost-sharing that generally comes with Medicare Advantage plans and who notes the downsides of this arrangement. Yet, despite those tricky coverage loopholes, the low or even no monthly premiums of Medicare Advantage plans appeal to many retirees and drive their growing popularity.
The usual flyers and brochures from sellers of Medicare Advantage plans began to arrive in the mail. One nearly fooled me. It said, "Medicare Health Plan Information Important Information Regarding 2015 Changes Enclosed." For a moment I thought it was Medicare contacting me that I had to pay a higher Part B premium.
Nope, it was a "lead card" used by insurance agents and brokerage firms to collect names of sales prospects who are instructed to give their name and phone number and send the card to the National Reply Center in Indianapolis. Similar pitches from the National Reply Center have been used for years. The other two brochures came from Empire Blue Cross and UnitedHealthcare.
Empire's pitch offered $23 premiums and said to ask for details. I did and got none. The phone intake worker said I had to give some personal data to get specific information from an agent on the phone or to have an agent contact me directly. Or, she said, I could attend a seminar, one of those coffee klatches insurers have where they talk co-pays and deductibles over scrambled eggs and coffee and sign people up.
United's brochure was classier. It was a personal "invitation" to save the date for a special event — one of those coffee klatches — to learn about $0 premium plans. The invite did say "limitations, copayments and restrictions may apply." I was curious about coinsurance and checked the Medicare handbook. Indeed there was 20 percent coinsurance applied to chemo drugs, other Part B drugs, and durable medical equipment. Those are high-ticket items and insurers are eager to transfer some of the cost to beneficiaries.
I called United to find out more. This time I did get through to a representative who answered my questions — sort of. The restrictions, he said, were that I had to have Parts A and B of Medicare. I was expecting some discussion of restrictions on number of visits, the kind of thing common in insurance policies. I had to press him on what the 20 percent co-insurance meant. He thought for a second, then said I would have to pay 20 percent of the bill. That can amount to a whole bunch of money if you are taking some of those uber-expensive cancer drugs. That's usually not part of the sales pitch.
Perhaps the most useful thing he said was that drug expenses wouldn't count toward the maximum out-of-pocket amount I would have to pay. I asked about the plan with a $6,700 out-of-pocket maximum, because that squared with the zero premiums United's "invitation" mentioned. That amount "is strictly medical" expenses, he said.
Now that's important information. That sort of fine print is often overlooked by shoppers and brushed over by sales reps during the coffee shop pitch where attendees are often more interested in whether their doctors are in the plan than in details of coverage that can trip them up later.
He wasn't too informative when it came to the drug benefit, but neither was the Medicare handbook. You have to dig deep into company and government websites to find out if your drugs are covered and how.
Short of going to a seminar and asking reporter-like questions or having someone from one of the Medicare advocacy groups help you or maybe a Medicare representative on the phone, you're stuck in an information swamp. No wonder studies show that Medicare beneficiaries are not eager to shop around even if they can get a new policy with a smaller monthly premium.
It's not just about the monthly premium. With Medicare Advantage plans, the costs to really watch for are those co-insurance amounts, tricky formularies and drug tiering arrangements, and you won't find out which plan is really cheaper until you start using it and learn how it works when you get a chronic disease or a life-threatening illness. Both of which are highly likely as we age.
There is one bright spot in the shopping process. Medicare is listing online the fines and penalties assessed against sellers of Medicare Advantage plans. Pay attention to that list because some of the insurance company household names are on it. The violations say a lot about how they do business.
Nearly two-thirds of Medicare's audits of the plans found "inappropriately rejected claims" for prescription drugs. They enforced "unapproved quantity limits" and made patients get permission before filling prescriptions even though this kind of prior authorization was not allowed.
Once again my shopping trip showed that it's still buyer beware!