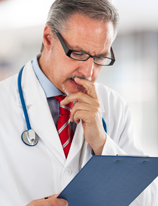 What do you do if your doctor shrugs and says, "I don't know what's wrong with you"? It's a serious problem for the patient and, presumably, the doctor too. As patients we want an answer and a treatment – if not a cure – for what ails us. But sometimes the doctor doesn't know what's wrong.
A friend of mine has been suffering debilitating stomach cramps, along with related gastrointestinal difficulties, for nearly two years. It began with an undiagnosed case of e-coli bacterial infection that progressed untreated, resulting in serious bacterial complications in her gut. Her first doctor missed the diagnosis altogether and threw up his hands in defeat.
A second doctor diagnosed the underlying problem but not the complications that continued to plague her. A third doctor, whom she visited for a consultation, recommended more sophisticated tests. This lead to a fourth doctor who ordered the tests and finally diagnosed her illness: small bowel intestinal overgrowth and gastroparesis, a condition that causes the stomach muscles to work improperly, impeding digestion. It remains unclear what connection exists between the disease and her undiagnosed e-coli infection. Meanwhile, she is being treated, and her painful cramps have subsided but not disappeared. She may yet need another specialist to refine her diet and treatment recommendations.
Another friend, recovering from a double mastectomy, found her abdomen growing larger unexpectedly and painfully. The distention made her increasingly uncomfortable, and the disfigurement added to the profound physical and psychological adjustments already required following her surgery. For months she shuttled from one doctor to another, seeking an explanation and a solution. Multiple tests and examinations provided no answers. Finally, a consultation among several of her doctors yielded a tentative diagnosis: improper reattachment of the abdominal wall following the surgery. Now my friend must decide between having risky plastic surgery to try to correct the situation and learning to live with the increasing discomfort and disfigurement. A Hobson's choice if ever there was one!
Undiagnosed illnesses are not as rare as we might think. All too often, patients or their families must take charge of their own medical management. Doctors, after all, are human, and some are better diagnosticians than others. Here are some things to do if you or a loved one is struggling with an undiagnosed condition:
Keep a comprehensive record of symptoms, doctor visits and test results. It is hard to recall details later on, especially when there are technical or conflicting findings.

Do your own research online or at the library. Not all web sites are trustworthy, so be careful about the ones you choose. Good tips can be found in the Be a Prepared Patient resources section of this site: Finding Health Information You Can Trust.

Write down questions in advance to ask your doctor. Take notes as you get responses; don't be afraid to ask him or her to speak slowly, repeat the information or spell technical terms.

Ask the doctor to discuss varying possibilities, bringing you into the discussion about options, not leaving you out in the cold waiting for answers that may not come.

Get a second or even third opinion if necessary. Don't worry about insulting the doctor; a good physician understands that additional consultation can be beneficial.

Consider obtaining an opinion from a different type of specialist. If you are seeing an internist, you might want to see a gastroenterologist or an endocrinologist, depending on your symptoms.

Coordinate communication among doctors; make sure they have each other's test results, diagnoses and recommendations. It is surprising how often this step is overlooked.

Urge your doctors to meet in person, on the phone or by Skype to discuss your case and possible diagnoses. This may take some extra encouragement on your part, as it is not the norm.

Visit a large teaching hospital, if possible, where state-of-the-art research and medicine are practiced. Usually affiliated with major medical schools or universities, these facilities often specialize in innovative, cutting-edge services.

Last but not least, don't give up. In some rare cases, there may be no answer to your medical dilemma. But most of the time, it's a matter of finding the best doctor to order the proper tests or make the correct diagnosis.
You have the right to demand answers and receive the best care possible. There is no reason to settle for less.