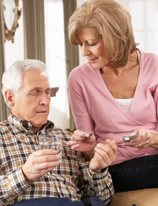 When a loved one is hospitalized, it's easy to feel helpless. I know because my husband has been in the hospital 14 times over the past 24 years. What I've learned is that my role as advocate is just as important to his recovery as the roles of doctors and nurses. Sometimes I have been directly involved in critical care decisions, and at least once I helped make the difference between my husband's life and death.
Being an effective patient advocate starts with being an educated consumer. Most people don't buy cars, make foreign travel plans or even pick a movie without doing some research. But when it comes to health care – arguably the most important area of all – far too many of us feel powerless, unable or unwilling to ask tough questions, assert our rights or get second opinions. Hospital patients are usually too sick to advocate for themselves, so it falls to family members, partners or good friends to speak for them.
Strong advocacy is built on a foundation of knowledge that is bolstered by communication and confidence.
Knowledge: The first step in patient advocacy is information. Learn as much as you reasonably can about your loved one's condition. There are plenty of resources to guide you – good websites like this one, books, librarians, family doctors and other medical experts. You probably won't find everything you need all in one place. If you're in the midst of a crisis, ask a friend or other family member to do research for you.
Communication: Try to get face time with your loved one's doctor. This is not always easy. Doctors typically make rounds very early in the morning. If you can't be at the hospital then, let the nurse know that you need to talk to the doctor. A personal appointment is best, but you may have to settle for a phone call. Either way, it's important that you understand the diagnosis and treatment. Ask about benefits, risks, options and expected outcomes. Don't be afraid to question the course of action or call for a second opinion. Confident doctors should welcome patient and family involvement in decision making.
Equally important, make sure that the doctor knows your loved one's medical history. Nowadays, hospitalists – doctors specializing in hospital medicine – often oversee patient care. Your loved one's primary care physician may not be involved. What's more, the medical file may be incomplete or contain an error. Omissions or mistakes can prove serious, even life-threatening.
Once, when my husband was hospitalized, an orderly arrived to take him for an MRI (magnetic resonance imaging) scan. The orderly said it had been ordered by a doctor. I told him that my husband has a pacemaker, and an MRI could make the pacemaker stop working. Another time, I stopped an order for a CT (computerized tomography) scan using contrast dye. My husband has a history of serious kidney complications resulting from the dye.
Confidence: You may not have a medical degree, but you have intelligence and instincts. Trust them. If something seems wrong, call for a nurse or doctor. Press for answers to nagging questions. There is no way that anyone in the hospital can know your loved one and his or her history as well as you do. Your direct involvement can make all the difference.
A number of years ago my husband was gravely ill in the intensive care unit for weeks. Many doctors visited dutifully every day, each pronouncing specific organs and systems to be functioning acceptably. But I honestly believed he was dying and asked another doctor I knew for advice. He thought I was right and suggested calling in an intensivist, a physician specializing in intensive care. Though common today, it was a new specialty then. The intensivist made changes to my husband's treatment that brought gradual improvements and saved his life.
I shudder to think what might have happened without the intensivist's involvement. For me, a mix of knowledge, communication and assurance form the bedrock of my efforts as an advocate for my husband. To that blend I add a dose of chutzpah, the terrific Yiddish word combining gumption, moxie and savvy. Add a pinch of diplomacy, patience and perseverance. You'll need them all to help care for someone you love.