Birthing Centers Provide Equal or Better Deliveries
Release Date: April 18, 2013 | By Glenda Fauntleroy, Contributing Writer
Research Source: Health Services Research
KEY POINTS
Women who gave birth under the care of a birthing center-based nurse-midwife had as good or better outcomes as women under the care of a hospital based obstetrician.
Women under the care of the birthing center were less likely to have a Cesarean section and more likely to deliver on a weekend, suggesting less intervention with the birth process overall.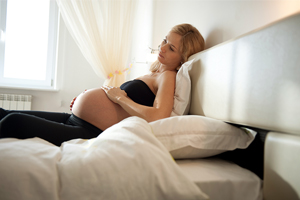 Low-income women who chose to deliver their baby at a birthing center under the care of a certified nurse-midwife had the same or better birthing experience as women under traditional care with a hospital-based obstetrician, according to a new study in Health Services Research.
Certified nurse-midwives can provide primary care to women in all stages of life, including during pregnancy and childbirth. They usually staff freestanding birth centers that are separate from hospitals and offer women another health service option.
In the new study, women who received birth center care, when compared to women under conventional care, were less likely to: have a Cesarean section (19.7 vs. 29.4 percent), to have a delivery with the aid of forceps or vacuum extraction (2.1 vs. 4.4 percent), and to have a preterm delivery (7.9 vs. 11 percent). Women at the birth center were also more likely to deliver on a weekend (28.6 vs. 23.9 percent). The authors noted that these statistics suggest birth centers and midwives offer care that interferes less with the birthing process overall.
"As a result of our study, low-income, low-risk women should feel more confident that receiving prenatal care and, if they so choose, delivery services at a birth center will be safe for them and their infants," said Sarah Benatar, Ph.D., of the Urban Institute in Washington, D.C.
The study evaluated birth certificate data of all District of Columbia residents who gave birth between 2005 and 2008 and compared birth outcomes of 872 women who gave birth at one freestanding birthing center with the care of nurse-midwives with 42,987 women who gave birth in a hospital with obstetrician-gynecologists (conventional care).
For women without medical complications who can be served in either setting, the study concluded that midwife-directed prenatal and labor care results in equal or better outcomes for the mother and newborn.
However, Virginia R. Lupo, M.D., chair of the department of obstetrics and gynecology at Hennepin County Medical Center in Minneapolis, said the problem with these types of studies is that they "compare apples and oranges."
"Women who have no risk factors do better, no matter where they are," Lupo explained. "Patients at midwife freestanding birth centers are self-selected, highly motivated and they've done their homework on how to avoid intervention and are willing to feel the entire experience. And some women have done their homework and realize they don't want to risk the very uncommon but real complications that are a lot more treatable if they occur in a hospital setting."
Benatar added that more research is needed to determine whether the study's findings apply more broadly to birth centers serving low-income women around the country.
TERMS OF USE: This story is protected by copyright. When reproducing any material, including interview excerpts, attribution to the Health Behavior News Service, part of the Center for Advancing Health, is required. While the information provided in this news story is from the latest peer-reviewed research, it is not intended to provide medical advice or treatment recommendations. For medical questions or concerns, please consult a health care provider.
For More Information:
Reach the Health Behavior News Service, part of the Center for Advancing Health, at (202) 387-2829 or [email protected]
Health Services Research is the official journal of the Academy Health and is published by John Wiley & Sons, Inc. on behalf of the Health Research and Educational Trust. For information, contact Jennifer Shaw, HSR Business Manager at (312) 422 2646 or [email protected]. HSR is available online at http://onlinelibrary.wiley.com/journal/10.1111/(ISSN)1475-6773
Benatar S, Garrett AB, et al. (2013). Midwifery care at a freestanding birth center: a safe and effective alternative to conventional maternity care. Health Services Research.