Primary Care Physicians Missing Early Signs of Serious Mental Illness
Release Date: March 21, 2013 | By Valerie DeBenedette, HBNS Contributing Writer
Research Source: Social Psychiatry and Psychiatric Epidemiology
KEY POINTS
Almost 50 percent of people with psychosis are first diagnosed in an emergency room.
People who saw a primary care physician for mental health concerns were less likely to be hospitalized for schizophrenia or psychosis but had longer delays in seeing a psychiatrist.
Primary care physicians may need additional training to recognize early symptoms of schizophrenia and psychosis.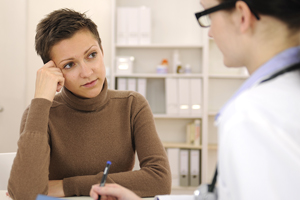 Primary care providers could help people with warning signs of psychosis get critical early treatment and potentially reduce the current burden on emergency departments and inpatient units, finds a study in the journal Social Psychiatry and Psychiatric Epidemiology. However, these providers may need to be trained to recognize the early symptoms of psychosis.
According to the study authors, these symptoms, which include depressed mood, anxiety, sleep disturbance, social withdrawal, odd behavior, suspiciousness, deterioration in functioning, and irritability, may lead people or their family members to seek help before they reach the level of full psychosis. Furthermore, previous research has shown that delays in treatment for a first episode of psychosis are associated with poor outcomes.
The team from McGill University evaluated administrative data from health and social services providers to identify first-time diagnosis of schizophrenia or spectrum psychosis in people age 14 to 25 in Montreal. They then looked to see whether those people had contact with health services for a mental health reason in the four years before their first diagnosis.
They found that 32 percent of patients had had no mental health care before their initial diagnosis, and nearly 50 percent were first diagnosed with psychosis in an emergency room. Those patients who received primary care were less likely to end up in the emergency room or to be hospitalized, but they also had a longer interval before seeing a psychiatrist.
Although the study was done in Canada, the findings are probably applicable to the United States, said Mia W. Biran, Ph.D., professor emerita of Miami University in Ohio, and a clinical psychologist in private practice. "This is especially true for people without insurance coverage. There is no doubt that people are falling between the cracks and are not getting attention soon enough," she said.
Many primary care physicians do not understand that depression and anxiety in a young person may be early symptoms of schizophrenia and psychosis, which usually starts between ages 17 and 25, Biran said. Primary care physicians may prescribe antidepressants or antianxiety drugs and follow up with the patients a few months later, which leaves the developing schizophrenia unrecognized until a psychotic episode occurs, she said.
"In my experience, these patients are often referred to a psychologist, therapist, or counselor, but that is not enough," Biran said. A comprehensive mental health clinic that has professionals on staff who can prescribe and monitor medications along with psychologists and others would provide the best treatment for patients with early psychosis, but such clinics may not be easy to find, especially outside of urban areas, she said. Psychiatrists are also starting to refuse to take health insurance, which can leave even those who have it without treatment, she added.
TERMS OF USE: This story is protected by copyright. When reproducing any material, including interview excerpts, attribution to the Health Behavior News Service, part of the Center for Advancing Health, is required. While the information provided in this news story is from the latest peer-reviewed research, it is not intended to provide medical advice or treatment recommendations. For medical questions or concerns, please consult a health care provider.
For More Information:
Reach CFAH's Health Behavior News Service at (202) 387-2829 or [email protected].
Social Psychiatry and Psychiatric Epidemiology: Sabine Muenst: [email protected]
Anderson K.K., Fuhrer R., Wynant W., et al.: Patterns of health services use prior to a first diagnosis of psychosis: The importance of primary care. Soc. Psychiatr. Epidemiol. Published online, 21 Feb 2013.