Treating Depression Helps Some Smokers Quit
Release Date: September 19, 2013 | By Sharyn Alden, HBNS Contributing Writer
Research Source: The Cochrane Library
KEY POINTS
Adding mood management strategies to smoking cessation programs helped people with depression or a history of depression quit smoking for longer periods than a standard program.
Using bupropion, an antidepressant, helped smokers with a history of depression quit smoking but not smokers with current depression.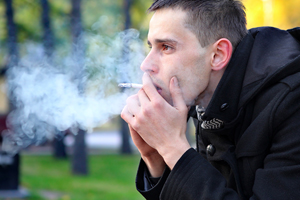 Studies have shown that people with depression are about twice as likely to smoke cigarettes as people without depression and they are less likely to successfully quit than smokers without depression. A new evidence review in The Cochrane Library finds that depressed smokers may stop smoking longer and benefit overall from mood management interventions after they quit smoking.
"Health professionals should encourage their smoking patients with depression to use a smoking cessation intervention that includes a psychosocial mood management component," said the study's lead author Regina van der Meer, MPH, a researcher at the Dutch Expert Centre on Tobacco Control.
The researchers studied 49 randomized controlled trials, including 33 trials that focused on smoking cessation with a mood management element for those with current or past depression. The analysis compared both smoking cessation programs using psychosocial interventions, like counseling or exercise, and those using bupropion, an antidepressant to standard non-smoking programs.
When psychosocial components were added, smokers were able to stop smoking for longer periods. While bupropion was effective for those with a history of depression, it was not found to be effective for smokers with current depression.
Gregory L. Kirk, M.D., director of Rocky Mountain Psychiatry Consultants, LLC in Denver, who agreed with the review's findings, emphasized that smokers with depression, past or present, have more medical problems from smoking and higher death rates from smoking-related illnesses.
"In a standard smoking cessation program, people with depression are more likely to have negative mood changes from nicotine withdrawal, but the non-depressed group can experience mood states as well. But when depressed smokers quit, depression symptoms may actually improve. This makes it all the more critical to understand this high-risk group of smokers and what helps them quit tobacco," he said.
TERMS OF USE: This story is protected by copyright. When reproducing any material, including interview excerpts, attribution to the Health Behavior News Service, part of the Center for Advancing Health, is required. While the information provided in this news story is from the latest peer-reviewed research, it is not intended to provide medical advice or treatment recommendations. For medical questions or concerns, please consult a health care provider.
For More Information:
Reach the Health Behavior News Service, part of the Center for Advancing Health, at (202) 387-2829 or [email protected].
The Cochrane Library (http://www.thecochranelibrary.com) contains high quality health care information, including systematic reviews from The Cochrane Collaboration. These reviews bring together research on the effects of health care and are considered the gold standard for determining the relative effectiveness of different interventions.