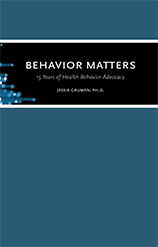 Behavior Matters: 15 Years of Health Behavior Advocacy
In her introduction for this 2008 collection of essays and speeches, Jessie Gruman wrote: "Over the past 15 years, I have written hundreds of editorials for the Center's publications; delivered dozens of speeches to organizations, government agencies, corporations and academic institutions; written articles for academic and popular press and testified before Congress. For the purpose of this volume, I have chosen ten related topics that highlight the key challenges now facing researchers and practitioners who believe that we will not solve the health problems of our time without systematically addressing health behavior."
Chapters
1. Why Study Health Behavior Now?
2. Dilemmas of Progress for Health Behavior Research
3. Is Health Promotion for Older Adults Just Nice or Really Necessary?
4. Are We Really "Consumers" of Health and Health Care?
5. Prevention Deficit Disorder: When Politics and Science Collide
6. Promises and Pitfalls on the Way to Transforming Consumer Health Decision-Making
7. How Science and the Media Undermine Behavior Change
8. Improving Health: Is Clinical Medicine Up to the Task?
9. Follow the Money: What Health Behavior Professionals Need to Know About Foundation Funding
10. The Mutual Obligations of Scientists and Society
Full Collection: Behavior Matters: 15 Years of Health Behavior Advocacy
BOOKS
BLOGS AND ESSAYS
Patient Engagement Is Here to Stay
January 15, 2015
Jessie Gruman founded the Center for Advancing Health in 1992 and served as president until her death in 2014. After over 20 years under her remarkable leadership, CFAH ended operations in December 2014. This post was Jessie's final essay announcing the release of CFAH's last patient engagement research report and sharing some personal reflections on her career...
---
Patient Engagement: Here to Stay
July 1, 2014
What is patient engagement and what does it take to accomplish? With the support of the Robert Wood Johnson Foundation, CFAH set out to explore this concept as it was viewed by various diverse stakeholders. Our interviews with 35 key health care stakeholders lead to an impressive unity of opinion...
---
All You Do Is Complain About Health Care
June 25, 2014
"All your Prepared Patient essays do is complain about your health care and your doctors. That's why I don't read them." Yowzah! Do I really complain? Not to be defensive, but I don't think so. Every week I work to vividly describe insights that might shine a little light on this project that patients, caregivers, clinicians and policymakers – well, the list goes on – share of trying to make health care more effective and fair...
---
Don't Let the Sun Shine Down on Me (It's Too Complicated!)
June 18, 2014
I'm impressed by how much we struggle with seemingly simple health decisions when faced with sorting through too much information. Every week we view diverse arrays of products with health, convenience and cosmetic claims competing for our attention. Think yogurt, Gatorade, running shoes, breakfast cereal...Given the ubiquity of such products and the swirl of marketing and science- or non-science-based information surrounding each, I'm wondering three things...
---
Don't Forget the Hefty Price We Pay to Engage in Health
June 12, 2014
Media-fueled flip-flops and research breakthroughs on lifestyle and health behaviors are wearing down my usual patience with the provisional nature of science. Even simple dietary recommendations like lower fat/salt recommendations have become complicated as old truisms are overturned by new evidence. So I'm asking: To whom should I turn for meaningful guidance about modifying my risk for illness and boosting my health?