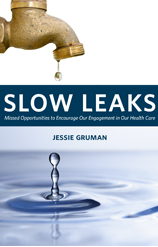 Slow Leaks: Missed Opportunities to Encourage Our Engagement in Our Health Care
The gap between the demands placed on us by U.S. health care delivery and the ability of individuals – even the most informed and engaged among us – to meet those demands undermines the quality of our care, escalates its cost and diminishes its positive impact on our health.
What does it take for us and our families to find good care and make the most of it? And what can be done to help those who lack the skills, resources or capacities, or who are already ill, compensate for their inability to do so?
This collection of essays identifies some of the key challenges posed to most of us by health care as it is currently delivered in many settings. None of these challenges is monumental, but each one contributes to the steady erosion in quality of care and to a waste of resources. Each essay identifies a "slow leak" that saps value from the services and technologies we receive and suggests solutions that would benefit us and those who work with us to improve our health.
Full Collection: Slow Leaks: Missed Opportunities to Encourage Our Engagement in Our Health Care
BOOKS
BLOGS AND ESSAYS
Patient Engagement Is Here to Stay
January 15, 2015
Jessie Gruman founded the Center for Advancing Health in 1992 and served as president until her death in 2014. After over 20 years under her remarkable leadership, CFAH ended operations in December 2014. This post was Jessie's final essay announcing the release of CFAH's last patient engagement research report and sharing some personal reflections on her career...
---
Patient Engagement: Here to Stay
July 1, 2014
What is patient engagement and what does it take to accomplish? With the support of the Robert Wood Johnson Foundation, CFAH set out to explore this concept as it was viewed by various diverse stakeholders. Our interviews with 35 key health care stakeholders lead to an impressive unity of opinion...
---
All You Do Is Complain About Health Care
June 25, 2014
"All your Prepared Patient essays do is complain about your health care and your doctors. That's why I don't read them." Yowzah! Do I really complain? Not to be defensive, but I don't think so. Every week I work to vividly describe insights that might shine a little light on this project that patients, caregivers, clinicians and policymakers – well, the list goes on – share of trying to make health care more effective and fair...
---
Don't Let the Sun Shine Down on Me (It's Too Complicated!)
June 18, 2014
I'm impressed by how much we struggle with seemingly simple health decisions when faced with sorting through too much information. Every week we view diverse arrays of products with health, convenience and cosmetic claims competing for our attention. Think yogurt, Gatorade, running shoes, breakfast cereal...Given the ubiquity of such products and the swirl of marketing and science- or non-science-based information surrounding each, I'm wondering three things...
---
Don't Forget the Hefty Price We Pay to Engage in Health
June 12, 2014
Media-fueled flip-flops and research breakthroughs on lifestyle and health behaviors are wearing down my usual patience with the provisional nature of science. Even simple dietary recommendations like lower fat/salt recommendations have become complicated as old truisms are overturned by new evidence. So I'm asking: To whom should I turn for meaningful guidance about modifying my risk for illness and boosting my health?