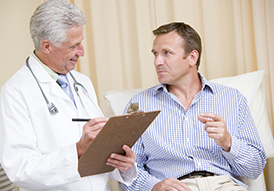 Asking Your Doctor Questions
One of the most important things you can do during a doctor's appointment is to ask questions. Though many people have trouble speaking up or are afraid of questioning their doctor's authority, it's important that conversations about your health be a two-way dialogue between you and your clinician. By asking questions, you can get vital information on:
What tests you will need
What your diagnosis means
What your treatment options are
What steps you will need to take to make sure you or your loved one gets better
It may help to write down your questions ahead of time and bring them with you to the appointment and to have a friend or family member come with you to help take notes and remember what the doctor says.
Asking questions is important at every stage of your health care, whether during a routine check-up or during a hospital stay. For more detailed advice on asking questions about tests, your diagnosis and your treatment, read:
If you feel unsatisfied with your interaction with your doctor, you can talk it out or switch doctors, if possible. Good communication between you and your health care providers is essential.
Sample Questions to Ask Your Health Care Team
There are several online resources with sample questions to ask your doctor and information on your rights and responsibilities as a patient. We suggest the following:
Asking questions is especially important after a doctor has made a diagnosis and you are developing a treatment plan. These websites offer information on treatment plans:
Resources reviewed June 2013
MORE COMMUNICATING WITH YOUR DOCTORS RESOURCES
Who's Who in Your Doctor's Office
Medical offices have a lot of staff but one common goal—helping you, the patient. Here are some of the people you may meet during your doctor's appointment.
Getting the Most Out of a Doctor's Appointment
Doctor's appointments are often brief. Here's how to quickly explain what's wrong so you can get the help you need.
Talking About Medical Tests
Before you agree to medical tests, here are suggestions for some questions to ask, useful websites for understanding medical tests and information about disease screening.
Asking Your Doctor Questions
One of the most important things you can do during a doctor's appointment is to ask questions. Here's advice on what to ask and how.
Understanding a New Prescription
Have a new prescription? Here's what you need to know about taking any new drug and advice for selecting a pharmacy and paying for medications.
Talking About Your Symptoms
Tips on how to research your symptoms online and describe them during your doctor visit.
SHARE
RESOURCES

Find Good Health Care | The quality of doctors and hospitals varies. Here is information to help you find the right care. More

Pay For Your Healthcare | Learn more about health insurance terms, selecting a plan, and Medicare and Medicaid. Plus, resources for help with paying for prescriptions. More

Communicate With Your Doctors | Advice on how to explain your symptoms, talk to doctors and ask the right questions about tests and prescriptions. More

Organize Your Health Care | Tips for doctors' appointments, managing health records and dealing with illness and work. More

Make Good Treatment Decisions | Treatment may involve making important decisions. Here's advice on understanding your options, including watchful waiting and getting a second opinion. More

Participate In Your Treatment | How to manage medical treatments at home, including medications and dealing with side effects. More

Seek Knowledge About Your Health | Advice on understanding your risk for disease(s) and finding online health information you can trust. More

Get Preventative Health Care | Advice about physical check-ups, disease screening, dental exams, vaccinations and immunizations. More

Promote Your Health | Information on healthy lifestyles, improving health habits and help with common concerns, such as weight loss and exercise, pain and depression. More

Plan for Your End-of-Life Care | Information on caregiving, long-term and nursing care, palliative and hospice care and advance directives. More