Who's Who In Your Doctor's Office?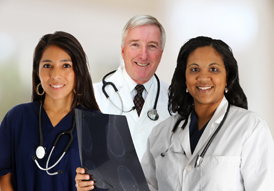 Medical offices have a lot of staff but one common goal—helping you, the patient. Here are some of the people you may meet during your doctor's appointment:
Receptionists or office staff –These professionals are often the first team members you encounter. Typically, they verify your appointment details, request additional paperwork and process insurance information.

Practice manager or administrators – Practice administrators manage the overall business operations. They may be able to answer your financial questions or direct you to someone in billing to discuss payment plans or discounts.

Medical assistant – Medical assistants may take you to the exam room, record vital information and record weight and blood pressure. A medical assistant notes your symptoms and presents that information to the physician, but isn't qualified to offer medical advice.

Technician (or a "tech"), such as a radiology technician, phlebotomist or laboratory technician – This person performs specialized tasks such as taking X-rays, drawing blood or examining laboratory specimens.

Nurse – A nurse can provide medical advice, do wellness checks and give vaccinations. Depending on their level of training and state regulations, nurses may be able to do everything from collect tissue samples to write prescriptions.

Physician's assistant (PA) – PAs are licensed to practice medicine under a physician's direction. A PA can perform exams, treat minor injuries and interpret lab test results. In some cases, they may prescribe medicine.

Physicians – More commonly referred to as doctor, physicians attend eight years of schooling and up to eight years of internship and perform exams and tests, diagnose illnesses, administer treatments and prescribe drugs.
Who Answers Your Questions?
Though it depends largely on the practice, nurses may help solve problems and answer questions over the phone; they may also offer advice on when you should schedule an office visit and whether medication side effects you're experiencing warrant an appointment with a physician. As you're leaving any physician's visit, ask how you'll receive lab results, whether a follow-up visit is required and where you should direct questions.
MORE COMMUNICATING WITH YOUR DOCTORS RESOURCES
Who's Who in Your Doctor's Office
Medical offices have a lot of staff but one common goal—helping you, the patient. Here are some of the people you may meet during your doctor's appointment.
Getting the Most Out of a Doctor's Appointment
Doctor's appointments are often brief. Here's how to quickly explain what's wrong so you can get the help you need.
Talking About Medical Tests
Before you agree to medical tests, here are suggestions for some questions to ask, useful websites for understanding medical tests and information about disease screening.
Asking Your Doctor Questions
One of the most important things you can do during a doctor's appointment is to ask questions. Here's advice on what to ask and how.
Understanding a New Prescription
Have a new prescription? Here's what you need to know about taking any new drug and advice for selecting a pharmacy and paying for medications.
Talking About Your Symptoms
Tips on how to research your symptoms online and describe them during your doctor visit.
SHARE
RESOURCES

Find Good Health Care | The quality of doctors and hospitals varies. Here is information to help you find the right care. More

Pay For Your Healthcare | Learn more about health insurance terms, selecting a plan, and Medicare and Medicaid. Plus, resources for help with paying for prescriptions. More

Communicate With Your Doctors | Advice on how to explain your symptoms, talk to doctors and ask the right questions about tests and prescriptions. More

Organize Your Health Care | Tips for doctors' appointments, managing health records and dealing with illness and work. More

Make Good Treatment Decisions | Treatment may involve making important decisions. Here's advice on understanding your options, including watchful waiting and getting a second opinion. More

Participate In Your Treatment | How to manage medical treatments at home, including medications and dealing with side effects. More

Seek Knowledge About Your Health | Advice on understanding your risk for disease(s) and finding online health information you can trust. More

Get Preventative Health Care | Advice about physical check-ups, disease screening, dental exams, vaccinations and immunizations. More

Promote Your Health | Information on healthy lifestyles, improving health habits and help with common concerns, such as weight loss and exercise, pain and depression. More

Plan for Your End-of-Life Care | Information on caregiving, long-term and nursing care, palliative and hospice care and advance directives. More