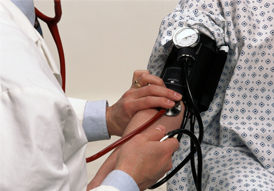 How Do I Find a New Doctor?
Choosing a doctor and building a relationship with him or her is important for good health. While friends or family can sometimes suggest someone, there are also other resources that can give you information on a doctor's background and practice before you make an appointment.
If you have health insurance, one of the first stops in your search should be your insurance company's website or booklet for a directory of doctors within your network. Going to a doctor who's not in your network can result in high out-of-pocket costs for you. If you're on Medicare, visit their Physician Compare site to find a doctor who accepts Medicare. Medicaid providers can be found at Medicaid.gov. Select your state to get to the provider listings.
DoctorFinder from the American Medical Association can help you locate a doctor nearest to you or you can sort by type of medical doctor, such as a heart specialist also known as a cardiologist.
Other resources that can get you started include:
For more information on finding a health care facility, see How to Choose a Hospital.
How Do I Find a Doctor If I Don't Have Insurance?
If you don't have health insurance, the U.S. Department of Health and Human Services (HHS) provides options for free or low cost care. You can visit Healtcare.gov to determine what coverage you are eligible for.
HHS also supports many community health centers that provide care, even if you have no health insurance. You pay what you can afford, based on your income. To find one near you, visit the HRSA site.
Another option is to contact a local doctor's practice and ask if they will provide a discount if you pay with cash or a credit card. Some communities have "free clinics" where doctors volunteer their services. Local social services agencies or state public health departments can often help people find health care.
If you have a minor health problem, like a cold or a small accident, a walk-in retail or urgent care clinic might be a good choice. Walk-in clinics are located in some large chain drug stores such as Rite Aid and CVS or in Wal-Mart's. Retail clinics have information upfront about the cost of care and the range of services they can provide. Costs are usually lower than a private practice and you will be expected to pay when you receive care.
For more information on finding health insurance, see Pay for Your Health Care.
What to Look for in a Good Doctor
Many people want their doctor to be nearby, competent and someone they are comfortable with. Other qualities may be important to you and your family when comparing doctors. These resources can help sort through what to consider:
What about Doctor Ratings Websites?
Online doctor reviews can tell you a little about a doctor's personality, whether they are on time for appointments, what languages they speak and more. Some of the information is collected from medical societies, doctor practices, health plans or even from patients.
However, doctor ratings websites are not well used and many physicians have very little online information or ratings or even none at all.
Organizations like the Informed Patient Institute (IPI), an independent nonprofit organization that provides credible online information about health care quality and patient safety for consumers, rates the usefulness of online doctor, hospital, and nursing home report cards. IPI doesn't rate individual health facilities or practitioners — but they tell you who does.
We've also reviewed many popular doctor rating sites and suggest the following:
Want even more information or help choosing a potential doctor? These companies offer detailed physician reports and patient consultations for a fee:
Resources collected June 2013
MORE FIND GOOD HEALTH CARE RESOURCES
Finding a New Doctor
Advice on what to look for in a new doctor, how to locate one (whether or not you have insurance), and links to trusted physician review websites.
How to Choose a Hospital
Not all hospitals are created equal. Here you'll find popular ratings websites to help you compare before you go and important information about patient safety.
Deciding When to Seek Care
Not sure if you need a doctor? Here's advice about alternatives, including urgent care and retail clinics and information about yearly checkups.
SHARE
RESOURCES

Find Good Health Care | The quality of doctors and hospitals varies. Here is information to help you find the right care. More

Pay For Your Healthcare | Learn more about health insurance terms, selecting a plan, and Medicare and Medicaid. Plus, resources for help with paying for prescriptions. More

Communicate With Your Doctors | Advice on how to explain your symptoms, talk to doctors and ask the right questions about tests and prescriptions. More

Organize Your Health Care | Tips for doctors' appointments, managing health records and dealing with illness and work. More

Make Good Treatment Decisions | Treatment may involve making important decisions. Here's advice on understanding your options, including watchful waiting and getting a second opinion. More

Participate In Your Treatment | How to manage medical treatments at home, including medications and dealing with side effects. More

Seek Knowledge About Your Health | Advice on understanding your risk for disease(s) and finding online health information you can trust. More

Get Preventative Health Care | Advice about physical check-ups, disease screening, dental exams, vaccinations and immunizations. More

Promote Your Health | Information on healthy lifestyles, improving health habits and help with common concerns, such as weight loss and exercise, pain and depression. More

Plan for Your End-of-Life Care | Information on caregiving, long-term and nursing care, palliative and hospice care and advance directives. More