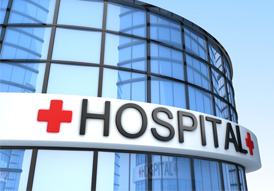 How Do I Choose a Hospital?
Sometimes, choosing a hospital is as simple as picking the one closest to you, the one where your doctor works or the one that accepts your insurance. It's important to remember that not all hospitals are created equal-- they vary in quality and have different strengths and weaknesses. So if you have an option of where to go for care, how do you make the best choice?
Hospital Ratings Websites
Hospitals are rated by a variety of government, regulatory and consumer groups and are judged based on many factors including patient survey results, how well they treat certain conditions, and the hospitals' use of certain tests and technologies. The problem is that many of these report cards have limited information and may not address your problem or concern. . Even so, these report cards and ratings can give you some hints about what a hospital does best and where it might be lacking. For a more in-depth explanation on how to use hospital ratings, read Hospital Report Cards: Grading Facilities Near You.
Today, there are more and more hospital rating sites.
Organizations like the Informed Patient Institute (IPI), an independent nonprofit organization that provides credible online information about health care quality and patient safety for consumers, rates the usefulness of online doctor, hospital, and nursing home report cards. IPI doesn't rate individual health facilities or practitioners — but they tell you who does.
We've also reviewed many of them and suggest the following:
Should I Be Concerned About Hospital Safety?
Patient safety is of utmost importance when considering a hospital's reputation. Government and nonprofit organizations have developed tools to help patients protect themselves when receiving care in a hospital. Consider the following resources when considering hospital safety:
Resources reviewed June 2013
MORE FIND GOOD HEALTH CARE RESOURCES
Finding a New Doctor
Advice on what to look for in a new doctor, how to locate one (whether or not you have insurance), and links to trusted physician review websites.
How to Choose a Hospital
Not all hospitals are created equal. Here you'll find popular ratings websites to help you compare before you go and important information about patient safety.
Deciding When to Seek Care
Not sure if you need a doctor? Here's advice about alternatives, including urgent care and retail clinics and information about yearly checkups.
SHARE
RESOURCES

Find Good Health Care | The quality of doctors and hospitals varies. Here is information to help you find the right care. More

Pay For Your Healthcare | Learn more about health insurance terms, selecting a plan, and Medicare and Medicaid. Plus, resources for help with paying for prescriptions. More

Communicate With Your Doctors | Advice on how to explain your symptoms, talk to doctors and ask the right questions about tests and prescriptions. More

Organize Your Health Care | Tips for doctors' appointments, managing health records and dealing with illness and work. More

Make Good Treatment Decisions | Treatment may involve making important decisions. Here's advice on understanding your options, including watchful waiting and getting a second opinion. More

Participate In Your Treatment | How to manage medical treatments at home, including medications and dealing with side effects. More

Seek Knowledge About Your Health | Advice on understanding your risk for disease(s) and finding online health information you can trust. More

Get Preventative Health Care | Advice about physical check-ups, disease screening, dental exams, vaccinations and immunizations. More

Promote Your Health | Information on healthy lifestyles, improving health habits and help with common concerns, such as weight loss and exercise, pain and depression. More

Plan for Your End-of-Life Care | Information on caregiving, long-term and nursing care, palliative and hospice care and advance directives. More