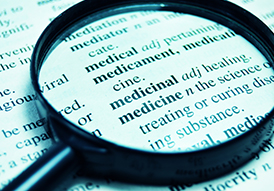 Understanding Medical Terms
Occasionally, it can be useful to have a general sense of what some common medical terms mean in order to understand your condition, medication or treatment plans. Always ask your doctor for more clarification if you are unsure what she is describing to you or what certain terms mean. Check out these sites below for extra clarification:
MedicineNet.com has a medical dictionary where you can search MedTerms and also use their glossary to figure out what medical words mean.
MediLexicon has medical dictionary with over 100,000 medical terms.
The Medical Library Association has a very simple glossary that translates medical terms into everyday language. It also has a handy guide to the medical shorthand that your doctor might jot down on your prescriptions. The glossary is available in Spanish, also.
The American Association for Clinical Chemistry has a comprehensive list of lab tests and the terminology associated with these tests.
Des Moines University offers a Web site full of medical terms related to specific diseases, along with quizzes to test what you've just learned.
The Nemours Foundation has a medical glossary just for kids. For instance, "acne" is described as "little red bumps on the skin called pimples."
See also Health Insurance Glossary.
Resources reviewed June 2013
MORE MAKE GOOD TREATMENT DECISIONS RESOURCES
Finding Treatment Information
Want to find out more about the treatments your doctors suggest? Here are some resources for doing your research and comparing your options.
Understanding Medical Terms
Doctors can sometimes use unfamiliar and complicated terms to describe your illness and treatment. Here are some resources to help you understand.
What Is Watchful Waiting?
Tips to help you weigh the pros and cons of treatment and decide if watchful waiting is right for you.
Should I Get a Second Opinion?
Advice for deciding whether you should get a second opinion, telling your doctor and resources for finding and paying for a second opinion.
SHARE
RESOURCES

Find Good Health Care | The quality of doctors and hospitals varies. Here is information to help you find the right care. More

Pay For Your Healthcare | Learn more about health insurance terms, selecting a plan, and Medicare and Medicaid. Plus, resources for help with paying for prescriptions. More

Communicate With Your Doctors | Advice on how to explain your symptoms, talk to doctors and ask the right questions about tests and prescriptions. More

Organize Your Health Care | Tips for doctors' appointments, managing health records and dealing with illness and work. More

Make Good Treatment Decisions | Treatment may involve making important decisions. Here's advice on understanding your options, including watchful waiting and getting a second opinion. More

Participate In Your Treatment | How to manage medical treatments at home, including medications and dealing with side effects. More

Seek Knowledge About Your Health | Advice on understanding your risk for disease(s) and finding online health information you can trust. More

Get Preventative Health Care | Advice about physical check-ups, disease screening, dental exams, vaccinations and immunizations. More

Promote Your Health | Information on healthy lifestyles, improving health habits and help with common concerns, such as weight loss and exercise, pain and depression. More

Plan for Your End-of-Life Care | Information on caregiving, long-term and nursing care, palliative and hospice care and advance directives. More