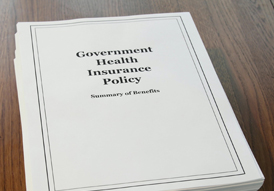 What Are Medicare and Medicaid?
The U. S. government offers several health insurance programs. Most people have heard of Medicare and Medicaid.
Medicare is a federal program available to people older than 65 and some people with disabilities. For more information, visit http://www.medicare.gov. Some people on Medicare may require supplemental insurance, also known as Medigap, to help cover costs that Medicare doesn't, such as copayments. For more information on Medigap coverage, see this document.
Medicaid is administered by the federal government in conjunction with state governments and is available to certain low-income individuals and families who fit into an eligibility group recognized by federal and state law. Benefits and eligibility vary from state to state. For more information, visit this Medicaid general information site or call 1-800-FED-INFO (1-800-333-4636).
The Children's Health Insurance Program (CHIP) is a state and federal program that targets uninsured children and pregnant women in families with incomes too high to qualify for most state Medicaid programs, but too low to afford private coverage.
AARP, a not-for-profit, nonpartisan organization for those over 50 years old, offers information about Medicare
The Medicare Rights Center is a national, non-for-profit organization working to ensure access to affordable health care for older adults and those with disabilities. More information about Medicare is available here.
Legal Services Corporation is the single largest provider of civil legal aid for the poor. It is a nonprofit that can assist low income families with completing forms for Medicaid, Supplemental Security Income (for the disabled) and Children's Health Insurance. A legal aid program near you can be found with this state by state service locator.
Resources reviewed February 2013
MORE PAY FOR YOUR HEALTH CARE RESOURCES
SHARE
RESOURCES

Find Good Health Care | The quality of doctors and hospitals varies. Here is information to help you find the right care. More

Pay For Your Healthcare | Learn more about health insurance terms, selecting a plan, and Medicare and Medicaid. Plus, resources for help with paying for prescriptions. More

Communicate With Your Doctors | Advice on how to explain your symptoms, talk to doctors and ask the right questions about tests and prescriptions. More

Organize Your Health Care | Tips for doctors' appointments, managing health records and dealing with illness and work. More

Make Good Treatment Decisions | Treatment may involve making important decisions. Here's advice on understanding your options, including watchful waiting and getting a second opinion. More

Participate In Your Treatment | How to manage medical treatments at home, including medications and dealing with side effects. More

Seek Knowledge About Your Health | Advice on understanding your risk for disease(s) and finding online health information you can trust. More

Get Preventative Health Care | Advice about physical check-ups, disease screening, dental exams, vaccinations and immunizations. More

Promote Your Health | Information on healthy lifestyles, improving health habits and help with common concerns, such as weight loss and exercise, pain and depression. More

Plan for Your End-of-Life Care | Information on caregiving, long-term and nursing care, palliative and hospice care and advance directives. More