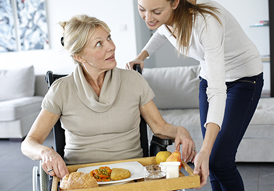 Long-Term Care and Long-Term Care Insurance
What Is Long-Term Care?
Long-term care is a range of services and support that you may need for your health or personal care over an extended period of time. Most long-term care is not medical care, but rather assistance with basic personal activities of everyday living like bathing, dressing, using the restroom, transferring from bed to chair, eating, or caring for incontinence or instrumental activities of daily living such as managing money, housework, or shopping for groceries, for example. Long-term care helps ease the burden of living with an illness such as Alzheimer's Disease. You don't have to be older to need long-term care, though; an accident or illness may cause a disability that requires you seek assistance.
What Is Long-Term Care Insurance?
Medicare only pays for long-term care if you require skilled services or rehabilitative care. Long-term care insurance may protect you if you need non-skilled assistance with activities of daily living. However, according to the American Association for Long-Term Care Insurance, only 10 million Americans have long-term-care insurance, which may reflect the high costs of the insurance. For more information about long-term care insurance, see these resources:
Should I Buy Long-Term Care Insurance?
The following articles may offer some guidance on whether buying long-term care insurance is right for you and what you may expect with premiums in the future.
Resources reviewed June 2013
MORE PLAN FOR YOUR END-OF-LIFE CARE RESOURCES
What Is Palliative Care?
Learn more about palliative care, which can help ease the effects of treatments or serious illnesses, and find out more with resources for locating palliative care services.
Long-Term Care and Long-Term Care Insurance
Resources to help you learn about long-term care, which provides assistance with daily needs in case of disability or illness, and information on long-term care insurance.
Choosing a Nursing Home
Selecting a nursing home for a family member can be a challenging process. Here are some private and governmental resources to help you compare homes and learn about their services.
Making Plans for Your End-of-Life Health Care
Advice for having conversations about your end-of-life care and tips and online resources for creating an advance directive.
What Is Hospice?
Hospice care can provide extra support for people near the end-of-life and their families. Here's advice on how to find hospice care, including online directories and advice for paying for this valuable service.
SHARE
RESOURCES

Find Good Health Care | The quality of doctors and hospitals varies. Here is information to help you find the right care. More

Pay For Your Healthcare | Learn more about health insurance terms, selecting a plan, and Medicare and Medicaid. Plus, resources for help with paying for prescriptions. More

Communicate With Your Doctors | Advice on how to explain your symptoms, talk to doctors and ask the right questions about tests and prescriptions. More

Organize Your Health Care | Tips for doctors' appointments, managing health records and dealing with illness and work. More

Make Good Treatment Decisions | Treatment may involve making important decisions. Here's advice on understanding your options, including watchful waiting and getting a second opinion. More

Participate In Your Treatment | How to manage medical treatments at home, including medications and dealing with side effects. More

Seek Knowledge About Your Health | Advice on understanding your risk for disease(s) and finding online health information you can trust. More

Get Preventative Health Care | Advice about physical check-ups, disease screening, dental exams, vaccinations and immunizations. More

Promote Your Health | Information on healthy lifestyles, improving health habits and help with common concerns, such as weight loss and exercise, pain and depression. More

Plan for Your End-of-Life Care | Information on caregiving, long-term and nursing care, palliative and hospice care and advance directives. More