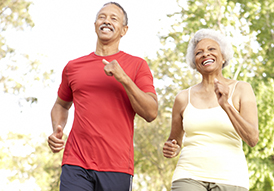 What Are Some Steps to Living a Healthy Lifestyle?
Regular physical activity and a healthy diet helps improve your overall health and fitness, and reduces your risk for many chronic diseases. These important health behaviors get a lot of attention from health care providers, the media, politicians and policy makers and society in general. While fitness and diet trends may change with the times, there are basic steps you can take to live a healthy lifestyle.
These websites offer trusted information you can use to make healthy choices:
Local chapters of the YMCA, Weight Watchers, community health organizations such as the American Cancer Society, American Heart Association and American Diabetes Association, and even some faith-based organizations can all be sources of support for healthy choices. Ask your doctor and trusted friends for their recommendations.
Attending community-sponsored health fairs can also be a good source to learn about the range of health support opportunities locally. Information is available from major community health organizations.
In this digital age, some people are turning for support from family, friends or online communities for encouragement or to monitor their health through tools like blogs, Twitter, Facebook groups, apps for smart phones, or public calendars.
Learn more at Getting Support for Healthy Living.
Resources reviewed June 2013
MORE PROMOTE YOUR HEALTH RESOURCES
Tips for Workplace Health
Quick tips for integrating healthy habits into your work day
Living a Healthy Lifestyle
Here are some helpful web resources for advice on living healthy every day.
Improving Your Health Behaviors
Online tools to help you improve your health and health behavior and advice for getting started.
Getting Support for Healthy Living
Sometimes it can be easier to live well with help from others. Here are some helpful sites to connect with organizations and people who understand what you're going through.
Depression: When Should You Get Help?
Depression is a common condition, especially in people with chronic illnesses. Here's advice on recognizing the symptoms of depression and resources for finding help for you or a loved one.
Living With Pain
Learn about pain, both temporary and chronic, ways to treat pain at home, when to go to the doctor and more about palliative care.
Facts About Vitamins and Supplements
Learn the facts from trusted experts about vitamins and supplements along with tips for safe use.
SHARE
RESOURCES

Find Good Health Care | The quality of doctors and hospitals varies. Here is information to help you find the right care. More

Pay For Your Healthcare | Learn more about health insurance terms, selecting a plan, and Medicare and Medicaid. Plus, resources for help with paying for prescriptions. More

Communicate With Your Doctors | Advice on how to explain your symptoms, talk to doctors and ask the right questions about tests and prescriptions. More

Organize Your Health Care | Tips for doctors' appointments, managing health records and dealing with illness and work. More

Make Good Treatment Decisions | Treatment may involve making important decisions. Here's advice on understanding your options, including watchful waiting and getting a second opinion. More

Participate In Your Treatment | How to manage medical treatments at home, including medications and dealing with side effects. More

Seek Knowledge About Your Health | Advice on understanding your risk for disease(s) and finding online health information you can trust. More

Get Preventative Health Care | Advice about physical check-ups, disease screening, dental exams, vaccinations and immunizations. More

Promote Your Health | Information on healthy lifestyles, improving health habits and help with common concerns, such as weight loss and exercise, pain and depression. More

Plan for Your End-of-Life Care | Information on caregiving, long-term and nursing care, palliative and hospice care and advance directives. More