What Health Insurers Told CFAH About Patient Engagement
CFAH Staff | August 20, 2014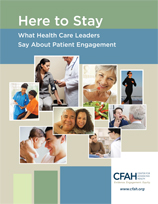 As part of our Here to Stay: What Health Care Leaders Say About Patient Engagement report, CFAH interviewed senior administrators from BlueCross BlueShield of South Carolina, PacificSource Health Plans, Blue Cross Blue Shield of Michigan, and Kaiser Foundation Health Plan.
In total, over 35 health care stakeholders were interviewed, representing seven key groups: patients, clinicians, employers, health plans, community health programs, governments, and health care consultants and contractors. From the eight questions we asked about patient engagement, six overarching themes emerged:
Engagement is active.
The health care system doesn't make engagement easy.
Everyone benefits from engagement.
Engagement is demanding, and many are unprepared.
Partnerships are required.
It's like the Wild West.
Here are highlights from the health plan representatives:
Susan Black, RN, BSN, Senior Director of Population Health for BlueCross BlueShield of South Carolina (BCBSSC); Tamika N. Richardson, RN, Disease Management Supervisor for BlueChoice Health Plan; Ramona Angelo, RN, MPH, Managing Director of Disease Management for Population Health for BCBSSC; and Jane Vaughan, MS, Disease Management Supervisor for BCBSSC, Columbia, SC
Tom Ewing, MD – Executive Vice President and Chief Medical Officer, PacificSource Health Plans, Springfield, OR
Thomas L. Simmer, MD – Senior Vice President and Chief Medical Officer, Blue Cross Blue Shield of Michigan, Detroit, MI
Arthur Southam, MD – Executive Vice President of Health Plan Operations, Kaiser Foundation Health Plan, Oakland, CA
CFAH: What do you see as the greatest barriers to patients being more effectively engaged in their health?
EWING: Gaps in people's health literacy and numeracy skills are great barriers to effective engagement. For some people there are cultural barriers that stymie engagement. In addition, there is generally a lack of solid clinical insights into what it takes for clinicians to share information in a way that patients can really understand and use. There is a lack of training to help patients and clinicians have more effective connections and conversations
SIMMER: Habit. Behaviors we do now are habitual, and our habits contribute to our lifestyle health conditions. The key is to create new habits to help us succeed as stewards of our health. We all need to prioritize what behaviors to change, to consider which ones are important to do for health and which ones we're willing to do and feel confident that we can succeed.
SOUTHAM: People are really busy with their lives (the time barrier). Also, they have different personal interests and seek different levels of engagement. A third barrier is having different priorities. People are "solving to" and focusing on their priorities in life at any point in time, whether it's feeding their families, going to school, a relationship, or improving a health behavior. They solve to what's needed to survive and/or maximize their utility. A fourth is the obtuse language of the medical profession, which is difficult for non-clinicians to understand and isn't meaningful to them. Medical terminology helps the profession to communicate efficiently, but it also can limit consumer understanding and communication. A final factor is that some providers are not interested or skillful in enhancing patient engagement.
CFAH: To what extent do you think that efforts by health plans can reduce these barriers/increase the capacity of people to engage?
BCBSSC: We have to find the right communication styles to connect with people and reach them in a way that makes them want to be engaged in their health. Some of our lines of business have offered key free services for members that remove personal cost barriers, such as a free annual physician exam for members with diabetes... patient engagement requires a group effort that includes health plans, providers and employers.
SOUTHAM: Health plans can help by efficiently providing easy-to-access and useful information, including general health information or information/reminders relevant to the particular consumer (e.g. preventive services, prescription refills). They can provide various forms of health coaching or care management support for some or all beneficiaries.
However, the limited relationship between most health plans and their beneficiaries makes it difficult for most plans to support or maintain significant behavioral change. For example, plans can remind people that smoking is dangerous and provide information about ways to change. However, the superficiality of the relationship between a health plan and a beneficiary makes it difficult to significantly affect behavior. Meaningful change usually requires the influence of a social circle that is meaningful to the individual.
CFAH: How would you characterize the general attitude of your colleagues/constituents toward patient engagement – its importance, the extent to which it is their concern, etc.?
BCBSSC: Most are convinced patient engagement matters a lot. Health plans are operating in a highly competitive market, so they need to keep costs down and get good population health outcomes... Overall, society has seen the tremendous cost impact of neglecting engagement, so it truly should be everyone's concern. Health care cost increases result in health plan premium increases, then employers' cost increases, as do employees' health insurance premiums (or their cost sharing and out-of-pocket expenses). Everyone is gradually getting the idea that engagement makes a difference.
EWING: In my circles, my peers are convinced about the importance of patient engagement. At this point there is enough solid evidence that it can help improve health outcomes. At face value it just seems obvious, but I have often been warned about over-trusting/-relying on a "blinding glimpse of the obvious." So best to move ahead but be cautious and not overpromise. We may not know enough yet. Some of what we think we know may not be right.
SOUTHAM: Most health plans view engagement as important and want to support it. But they recognize that they are only one (relatively weak) factor in supporting patient/consumer engagement. Some see their obligation as providing information, but not too much. Their customers want their insurance premiums going to medical care, not a bunch of mailings about things they already know they should do...
CFAH: What are some interventions that you've heard of that show promise in helping people to engage in their health and health care?
BCBSSC:
Engaging providers that are patient-centered medical homes (PCMHs) and encouraging others to become PCMHs, because this practice model delivers collaborative care.
Periodic health newsletters.
Social media, such as Facebook and health texts, has a lot of promise, especially for reaching different populations. We haven't done much yet in this channel but hope to because of the potential to reach younger generations. So many people have smart phones now.
For disease management and health coaching interventions, motivational interviewing helps our members stay engaged and make healthy lifestyle changes. It works because you're leveraging people's motivations.
SIMMER: Some of the best interventions are those that help people set goals for themselves and then let them get prompts for things that they may forget to do, such as get information, return to the portal to see their lab tests, or schedule appointments. Providers need synchronous prompts so they can, for example, call the patient on their quit date and offer encouragement. In five years, all this may seem quirky because we've already achieved it.
Full interviews and the results of our study are available in our report: Here to Stay: What Health Care Leaders Say About Patient Engagement.