Comparative Effectiveness Research: Ann Fonfa, President and Founder of the Annie Appleseed Project
Ann Fonfa | March 6, 2013
This is the 21st in a series of interviews between CFAH President and Founder Jessie Gruman and patient and consumer group leaders about their experiences with and attitudes toward comparative effectiveness research (CER).
Gruman: Tell me about yourself and your organization.
Ann Fonfa: I was diagnosed with breast cancer in 1993. Because I have multiple chemical sensitivities, I decided that chemotherapy wouldn't be good for me, and after surgery, made use of only alternative medicine. There was enough information out there to support my decision and I thought others might want to consider doing the same, so I started a Website. There was a lot of interest among cancer [advocacy] groups, and I founded the Annie Appleseed Project. Today, the website gets about 90K hits per month.

As a cancer patient advocacy group, we can work with any group because we focus on natural strategies. No matter how conservative you are medically, there is always room for complementary therapies. We are very interested in looking at journals and attending scientific meetings where we gather information relevant to this focus. Our job is to spread information widely via our website, newsletter, YouTube and our annual conference so that it is considered by people as they make decisions about their response to having cancer.
Gruman: Where do you see comparative effectiveness research (CER) fitting in the effort to improve the effectiveness of health care?
Ann Fonfa: Waiting for level 1 evidence [randomized controlled trial evidence] is crazy when making decisions about cancer treatment, whether you are talking about conventional, complementary or alternative treatments. What evidence other than level 1 is available? This should be the decision making criterion for much of cancer treatment.

Both doctors and patients often forget, in the midst of cancer treatment, that the aim is to get people well. Our focus is on complementary and alternative approaches to cancer, in the belief that many of them have a great deal to add to this goal. Complementary approaches like diet, deep breathing and exercise are always outside the conventional treatment armamentarium. Alternative medicine can be researched enough to be incorporated into the mainstream. This has happened before and continues to – when something is adopted into mainstream, it ceases to be 'alternative' and its origin can be forgotten. Complementary, of course, will always be just that (in addition to conventional).

I'd like to see every CER study have an arm that includes diet and exercise. I want to see meaningful comparisons with things in the natural world in a meaningful way, where, for example, one arm is conventional chemotherapy, another arm is chemo plus deep breathing and diet and exercise.

People don't have the strength to get well. I'd like to see CER and clinical studies be about what helps people get well. Right now we are looking for the "active ingredient" of a food. In my mind, it's not one ingredient, it's a food. We can't treat food as a pharmaceutical.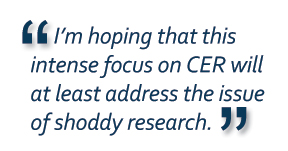 Gruman: Tell me how your organization views the relationship between CER and patient-centered outcomes research (PCOR).
Ann Fonfa: To me it's obvious that CER is a good way to get to meaningful patient outcomes. It compares real things that will make a difference. Right now we have efficacy without effect. In my field, we are worried about drug-herb interactions; what about drug-drug interactions? I'm looking forward to CER really drilling down to what works for patients in a meaningful way.
Gruman: Can you give me an example of how your constituents have been affected by CER?
Ann Fonfa: We don't have a lot of ways to bring complementary medicine into the mainstream. If we are going to compare among approaches, this is a good way to bring natural things into the equation. We see it as real opportunity.

One good example of this is that it has been shown that the combination that healthy eating and exercise make a difference for breast cancer patients. A study in J Clinical Oncology, Sept 2005, with breast cancer survivors, showed that those who ate more fruits and vegetables (up to NCI-recommended 5-9 a day) AND were physically active had much better outcomes. And in 2007, this was published in J Clinical Oncology: "The approximate 50% reduction in risk associated with these healthy lifestyle behaviors [healthy eating and exercise] was observed in both obese and nonobese women, although fewer obese women were physically active with a healthy dietary pattern (16% v 30%). Among those who adhered to this healthy lifestyle, there was no apparent effect of obesity on survival. The effect was stronger in women who had hormone receptor–positive cancers". The headline for this study was Greater Survival. And there are others like this. When mind/body programs are examined, some of them benefit as many as 30% of participants. Hypnosis too – yet these outcomes are disregarded by mainstream even as new drugs are touted that benefit few people for very short periods of time, and none are without adverse effects that matter.
Gruman: How do you see the increased attention to CER affecting the care your constituents will receive in the future?
Ann Fonfa: We believe that it will open the door to complementary therapies because we can directly compare the addition of these treatments to conventional treatment. This is an opportunity to open that door.

We'd love to see a real and honest examination of so-called alternative therapies. Too many have been dismissed without benefit of a (or an appropriate) clinical trial – think of IV vitamin C, Laetrile and Hydrazine Sulfate. Stories of how these studies went wrong, or in the case of Laetrile, were never done, are on our and other groups' websites.
Gruman: Be more specific about the concerns you like to see CER address.
Ann Fonfa: I would like to have included in protocols natural substances that can't be patented yet they seem likely to enhance effectiveness and reduce toxicities. This opens the door for natural substances to become a part of conventional treatment. We believe the effectiveness and impact on patient-centered outcomes of natural substances should be included in CER studies. We need evidence to show whether there is an effect and how much we can expert.
Gruman: What are your fears and hopes for CER?
Ann Fonfa: I don't want to see this new emphasis on CER or PCOR as being more of the same. On one hand, it wouldn't be horrible if the only thing that was compared was new drugs to older effective drugs. It's easy to get up a trial where you go with too low a dose. I'm hoping that this intense focus on CER will at least address the issue of shoddy research.

We truly believe that CER can make a difference to people; that evidence from CER will enable people to have access to natural substances through their doctors' offices and hospitals. One way this will happen is if it is studied legitimately through CER.