Expecting Great Beginnings – and Endings
Amy Berman | September 23, 2013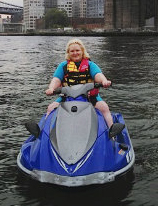 It tickles me to report that I live with incurable cancer and I am expecting. I am expecting that the cancer will take its toll, that I will need to make choices about my health and care, that I will need the support of my family and that I will need resources.
Imagine if everyone understood that they are expecting. We should all plan for great beginnings and endings.
Recently, as I read about the birth of Kate and William's beautiful baby, Prince George, I was reminded that people all over the world plan for expected milestones in life and in health. Among the most joyous of these events is the birth of a child.
Knowing that one is expecting allows many months to prepare. There is a steep learning curve and lots of opportunity for decisions to be made. Today, more than half of first-time parents in the United States take childbirth classes. Others read books or use online resources to inform the development of a birthing plan.
There are so many choices. Will mom opt for natural childbirth? What about breastfeeding? And what parenting style will be chosen? Expectant parents often visit the hospital where they intend to deliver and meet with the pediatrician before birth.
In addition to learning about birth and baby care, there are basic needs that must be attended to in preparation for the new arrival. Clothing, diapers, a crib and carriage are often purchased in advance. The nursery is decorated. A suitcase may sit by the door, ready for the onset of labor. And last but not least, parents-to-be talk about the fact that they are expecting with family and friends. They prepare those around them to be of much-needed support.
It makes good sense to plan for impending birth. It increases the chance of good health while reducing fear and stress. Planning helps the family to develop a shared sense of responsibilities and values.
Why don't we plan for our later life like we plan for birth? Death is certain and our risk of dying or experiencing serious illness increases as we age. Approximately 2.5 million people die each year in the United States, making it a common occurrence – something we should expect and plan for, just like childbirth.
How one arrives at the end of life and what one experiences certainly varies, but there are still critical choices to be made. Sadly, 75 percent of people are unable to make some or all decisions at the end of their lives. So planning can make a crucial difference. Some folks will experience serious illness in the form of acute emergencies. However, it's more common for serious illness to come in the form of a set of chronic and progressively disabling conditions.
Yet, there is no national plan for the preparation of people and family caregivers when they are "expecting" to approach the other end of life's continuum. What if we started by accepting that illness and end-of-life occur? What lessons could we derive from childbirth and parenting classes?
As a person who lives with Stage IV cancer I think about these issues and have been making plans. Some essential components, such as access to advanced care planning, have been mentioned in previous Health AGEnda blogs. I have an advance directive. Everyone should pick a health care proxy and tell them their wishes when they are well, long before illness strikes. As end-of-life approaches and decisions get more granular, the Physicians Orders for Life Sustaining Treatment (POLST) can be used as a process to document these choices.
My version of later-life planning for older adults and their families would go much further than just documenting choices. It would introduce important resources such as palliative care. People should hear from families and those receiving palliative care services, in addition to treatment, in order to fully understand the value of this extra layer of support. It helps us live longer and better lives when we are very ill. It helps me live a great life. (Did I mention that I went jet skiing to the Statue of Liberty last weekend?)
The most complex and important part of my version of later-life planning would be in support of family caregivers. People have no idea how complicated it is to manage the care of someone who is very ill. It is physically and emotionally demanding. It requires endless attention to details about health and medications that are seemingly in a foreign language.
Families provide care valued at more than $450 billion per year, more than our total annual Medicare expenditure. Families are expected to be there at all times, in all ways as needed, without any significant preparation. The Hartford Foundation recently supported a report from AARP and the United Hospital Fund, Home Alone: Family Caregivers Providing Complex Chronic Care, which found that nearly half of family caregivers of persons with medically complex conditions were doing medical/nursing tasks and felt unprepared.
There is little focus on policies in support of family caregivers, an important issue that the Institute of Medicine (IOM) and the John A. Hartford Foundation are interested in addressing. I look forward to joining the IOM's Katie Maslow and Kali Peterson of the SCAN Foundation to present this issue to health foundations at Grantmakers in Aging (GIA) in October.
As I prepare for GIA, I'm expecting, once again. I'm expecting this will serve as a great beginning to a better ending for older adults and their families.
This post was originally published on the Health AGEnda blog, August 20, 2013.