Is Weed Legal in Alabama? AL Cannabis Laws (2023 Update)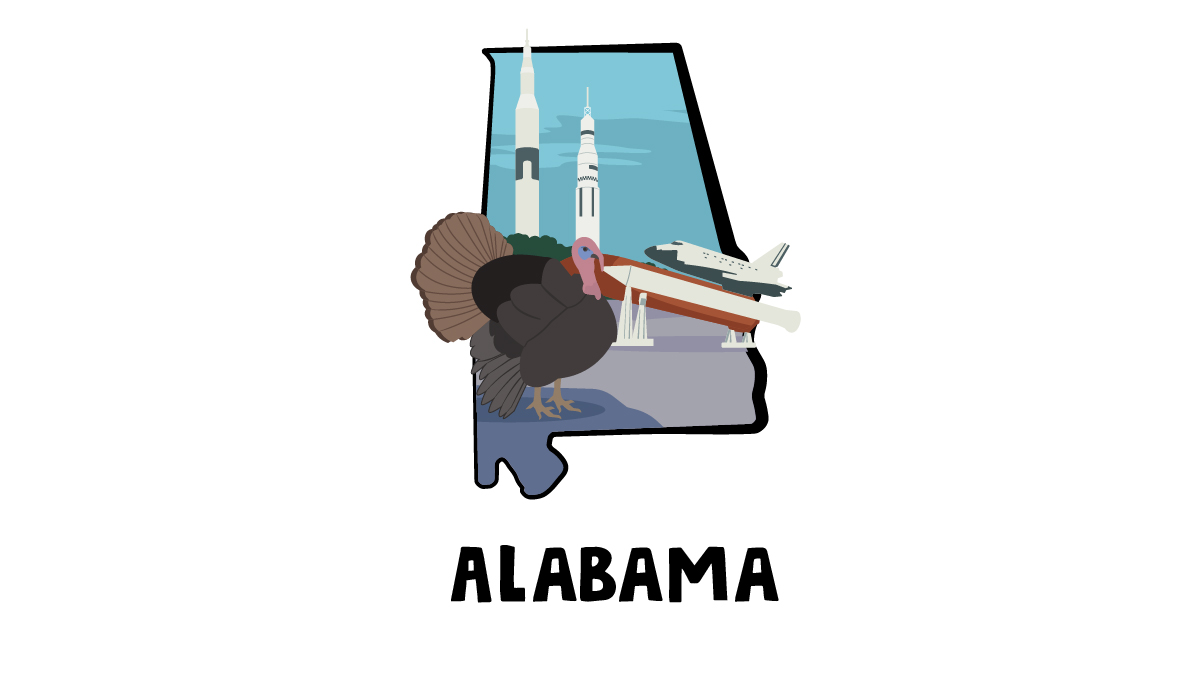 Medical marijuana is legal in Alabama, but recreational users from the cotton state can still face harsh penalties for having cannabis with them.
Hopefully, there are legal alternatives to enjoy psychoactive cannabinoids, such as delta 8 THC.
In this article, we cover marijuana laws in Alabama from roots to branches, including recreational marijuana, medical marijuana, and hemp-derived delta 8 products.
Let's jump in.
Is Weed Legal in Alabama?
Alabama isn't the best state to be for cannabis enthusiasts. Your options are limited to medical marijuana because the state doesn't have a legal recreational market.
Related: Marijuana Legalized Map 2023
Here's a brief overview of marijuana laws in Alabama.
Is Recreational Marijuana Legal in Alabama?
Marijuana in Alabama is illegal for recreational use. You can be fined and sent to jail even for possessing a small amount of marijuana.
Is Medical Marijuana Legal in Alabama?
Alabama has a long and bumpy history with medical marijuana legalization.
In April 2015, Governor Robert Bentley signed Carly's Law, permitting the University of Alabama at Birmingham to provide low-THC CBD oil to children with intractable epilepsy for the purpose of a clinical study.
Then, on May 4, 2016, the law expanded to include any person with a debilitating disease or condition to purchase CBD oil with a THC content of no more than 3%.
In the meantime, voters in Alabama tried to legalize medical cannabis (in 2012 and 2015) fully but to no avail.
Moreover, two bills were turned down in 2019 that would have reduced penalties for non-medical possession.
Finally, on May 17, 2021, Governor Kay Ivey approved Senate Bill 46, also known as the Darren Wesley 'Ato' Hall Compassion Act. The new law allowed qualified patients to use cannabis for medical reasons.
Penalties for Marijuana Possession in Alabama
First-time possession of small amounts of cannabis is punishable by a fine of up to $6,000 and a maximum prison sentence of one year. Your driver's license will also be suspended for six months if you're caught with marijuana.
Repeat offenses and possession with intent to sell are classified as felonies.
Is Marijuana Decriminalized in Alabama?
In 2019, Alabama lawmakers tried to push a decriminalization bill to expunge the criminal records of individuals sentenced for possession. However, the bill died without a floor vote. So far, no county or city in Alabama has decriminalized marijuana.
What's the Future of Cannabis Legalization in Alabama?
Cannabis advocates in Alabama are working to reintroduce the decriminalization bill on the next ballot, but so far, there are no mentions of recreational marijuana legalization.
Delta 8 THC: A Better and Legal Alternative to Marijuana in Alabama
Marijuana is heavily restricted in Alabama, and nothing seems to be changing any time soon.
While you can find weed on the streets, we don't recommend buying it from dealers.
First, you don't know what you're smoking. Black market cannabis isn't tested for pesticides and heavy metals. Results? Over 90% of illicit cannabis farms in California were reported to be contaminated with pesticides and heavy metals in concentrations exceeding a safe threshold for humans.
Not to mention that buying marijuana in Alabama is illegal, so you'll be better off without a jail sentence and a fine.
Fortunately, thanks to the recent extraction breakthroughs, there's a new-ish cannabinoid on the block. It's twice less potent than delta 9 THC from marijuana, and it's federally legal.
Ever heard of delta 8 THC?
Delta-8 THC vs Delta-9 THC
Both delta 8 and delta 9 THC are different versions of the THC molecule.
They come with similar chemical structures, but there's a slight difference in the way their atomic bonds are arranged.
For delta 9 THC, the atomic bond is at the 9th chain, while for delta 8 THC, the bond is at the 8th chain.
Delta-9 THC is twice as strong as delta-8. This comes with some therapeutic benefits, but it can be a double-edged sword if you have a low tolerance for marijuana.
Cons of Delta 9 THC from Marijuana
Before we elaborate on delta 8 THC, let's discuss why some people choose to stay away from regular weed.
Low and moderate doses of marijuana are known to relieve stress and induce deep relaxation. Its psychoactive properties are actually beneficial when it comes to managing different types of physical and psychological ailments.
Most people can enjoy cannabis high without any undesired reactions.
However, some cannabis users don't respond well to delta 9 THC, and their cannabinoid receptors easily get overstimulated by normal doses.
A dose that breaches your sensitivity to THC may trigger:
Anxiety
Paranoia
Increased heart rate
Confusion
Feelings of discomfort
Dizziness
Cold sweats
A drop in blood sugar level
The high from delta 8 THC is more easy-going. Here's what it feels like in comparison with delta 9.
Benefits and Effects of Delta 8 THC
Since delta-8 THC is about 50% less potent than delta-9, the high feels smoother and less anxious. In fact, you'd need to consume a ridiculously high dose of delta 8 THC to experience anxiety similar to delta 9.
Delta 8 THC also comes with similar health benefits for relieving pain, inflammation, appetite issues, sleep deprivation, and anxiety.
While significant levels of delta 9 THC are synthesized only by marijuana plants, delta 8 can be extracted from hemp using a multi-facet conversion process from CBD.
Is Delta-8 THC Legal in Alabama?
Yes. You can legally buy hemp-derived delta-8 THC products in Alabama. The only requirement is that they contain no more than 0.3% delta-9 THC on a dry weight basis.
The 2018 Farm Bill legalized hemp and its derivatives, including cannabinoids, terpenes, flavonoids, salts, isomers, and salts of isomers.
Delta-8 THC is an isomer of delta-9, so if the end product has less than 0.3% delta-9 THC, you're on the safe side.
Benefits of Buying Delta 8 THC Online
Delta 8 THC is a young and dynamically changing space. There are no regulations in place when it comes to quality standards in terms of the manufacturing and labeling of these products.
This provides ripe opportunities for fly-by-night companies that offer cheap, untested delta 8 THC extracts that can be dangerous to your health.
We're not saying that everybody lies, but there's a large share of scammy companies on the delta 8 THC market.
That's why you should carefully vet your potential vendors before handing them your hard-earned money.
Reading certificates of analysis, combing through user reviews on independent websites, and scanning forums and social media — following these steps can help you make an educated decision.
But it's not easy to verify those features when you're buying delta 8 somewhere near you. If you're looking for the best deals on delta 8 THC, we recommend finding a reputable online store.
Best Delta 8 THC Online Vendors
If you're short on time and looking for a quick recommendation for high-quality delta 8 products, we've prepared our two personal favorites. Both brands are well regarded on the delta 8 scene and make their products with organic hemp, testing every batch in a third-party laboratory for potency and purity.
Area 52
Get 15% off all Area 52 products. Use code "CFAH" at checkout.
Area 52 is a brand from Nevada that specializes in the extraction of unique cannabinoids. Recently, the company has shifted into making pure delta 8 THC distillate, which it sources from organic hemp plants grown in Colorado and Kentucky.
The Area 52 products are gently extracted without hazardous solvents or harsh acids thanks to highly skilled lab workers who convert CBD into delta 8 to ensure the purity and safety of the final product.
You can choose from traditional cannabis formats, such as vape carts, tinctures, and gummies. All products are potent and come with high levels of terpenes that leverage the entourage effect in cannabis.
Finest Labs
Finest Labs is a better option if you're a lightweight user or just getting started with delta 8 extracts. The company offers a similar product selection to Area 52 — gummies, tinctures, and vape pens — but in lower potencies.
This translates into lower cost per product, so Finest Labs is a great pick if you're just dipping your toes in the delta 8 space and don't want to spend too much money on trying different products.
Similar to Area 52, Finest Labs tests each product batch in a third-party laboratory for quality and safety.
FAQs
Who Can Buy Medical Marijuana in Alabama?
Medical marijuana is legal for 15 qualifying conditions listed in the aforementioned bill. Patients can only use medical marijuana if a doctor certifies that traditional medications have failed to improve the patient's symptoms.
Qualifying conditions include:
Autism spectrum disorder
Panic disorder
Depression
Post-traumatic stress disorder
Crohn's disease
Tourette's syndrome
Parkinson's disease
Sickle cell anemia
Epilepsy
HIV/AIDS
Cancer-related cachexia, nausea, vomiting, weight loss, or chronic pain
Muscle spasticity
A terminal illness
The only medical marijuana products available in Alabama are flowers and oils. No raw plant materials or food products such as cookies and gummies are allowed.
Can You Grow Weed in Alabama?
No, growing weed in Alabama is illegal. Even medical marijuana patients can't grow their own plants. Growing cannabis is the same offense as possession, with penalties varying depending on the number of plant you're caught with.
Can You Buy Weed Online in Alabama?
Buying weed online isn't an option in Alabama — at least not legally.
While you may find some profiles of people claiming to sell weed for delivery, these are either scams or high-risk illegal activities that can cause you serious trouble with the local law.
That's because the recreational use of marijuana is illegal in the state of Alabama.
Can You Smoke Weed in Public?
No, you can't smoke weed in public, even if you're a medical marijuana patient. Marijuana consumption must take place on private properties in Alabama.
Traveling with Weed in Alabama
Recreational users can't travel with marijuana because it's considered drug transportation. Medical marijuana patients are allowed to travel with their medicine provided they can show a valid medical marijuana card and prove their cannabis comes from a legal source.
Is CBD Oil from Hemp Legal in Alabama?
The 2018 Farm Bill legalized all hemp-derived products, including CBD oil in Alabama. The only requirement is that these products contain no more than 0.3% of THC by weight.
You can find CBD oil in hemp stores, head shops, vape stores, pharmacies, wellness centers, and grocery stores, but similar to buying delta 8 THC, the best deals on high-quality CBD oils are found online.
Key Takeaways on Buying Weed in Alabama
Alabama has a long way to go when it comes to cannabis legalization.
While the cotton state allows marijuana for medical use, recreational users can still face severe punishment for simple possession.
If you're looking for a better alternative to delta 9 THC from marijuana, check out delta 8 THC products.
Delta 8 is derived from hemp, making it legal at the federal level. The high from this cannabinoid is also less intense so you won't get as anxious as with regular weed.
Since the local market is unregulated, we recommend finding a trustworthy online store if you're looking for good prices on high-quality products.
In a rush? Check out products from Area 52 and Finest Labs. Both companies offer unparalleled transparency and make premium-grade extracts for both beginners and seasoned users alike.