Best CBN Gummies for Sleep & Insomnia in 2023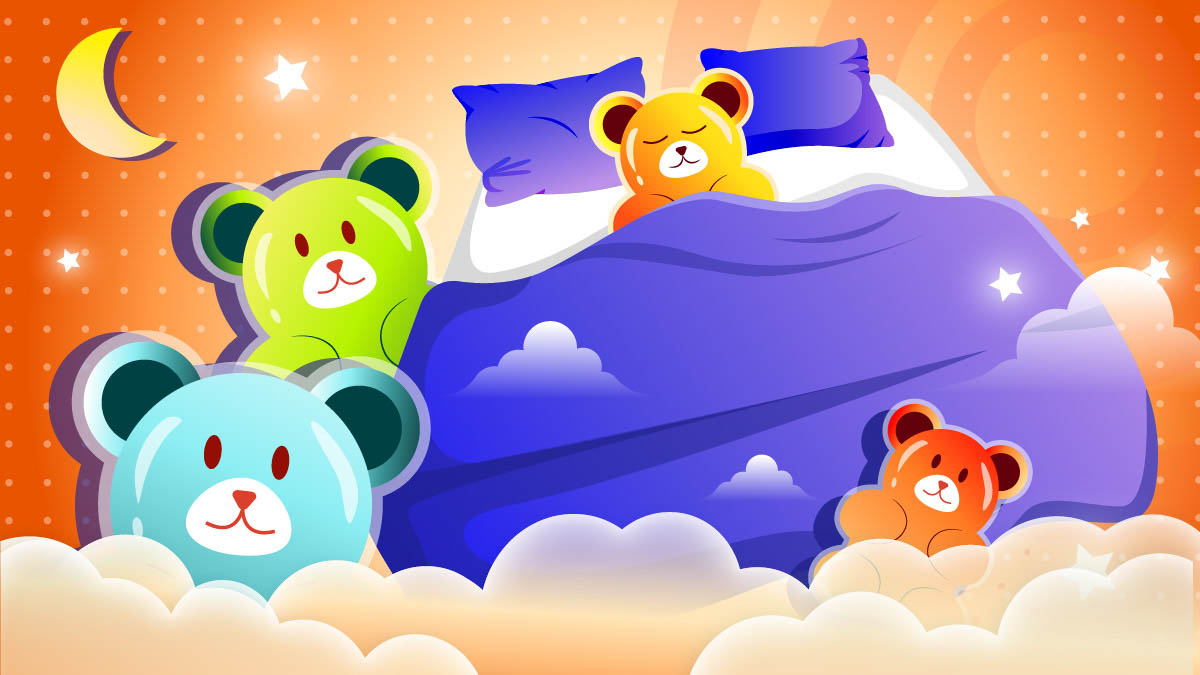 CBN — or cannabinol — is a minor cannabinoid praised for its alleged sleep benefits. CBN gummies are relatively new on the market, but due to the buzz around their sedative properties, they've already garnered much attention from cannabis users and people struggling with sleep issues.
In this article, we shed light on CBN, its health benefits, and common misconceptions about this cannabinoid. We also review the best CBN gummies from reputable suppliers, focusing on their formulas, hemp source, cannabinoid spectrum, and lab reports.
Continue reading to discover more about using CBN gummies for sleep.
Best CBN Gummies for Sleep
Get 15% off all Area 52 products. Use code "CFAH" at checkout.
| | |
| --- | --- |
| Type of Extract | Full Spectrum |
| CBN Potency | 25 mg |
| CBD Potency | 25 mg |
| Additional Ingredients | Passionflower, 5-HTP, lemon balm, l-theanine, chamomile, melatonin |
| Flavors | Mango |
Area 52 is a company based in Nevada. It specializes in full-spectrum cannabinoid-based extractions. Area 52 started out as a delta 8 THC brand first, but after succeeding with its initial collection, it expanded the line-up with CBD, CBG, and CBN products.
The Area 52 gummies contain a 1:1 ratio between CBN and CBD, and a blend of sleep-inducing terpenes, such as myrcene and humulene.
The formula has been infused with common natural sleep aids (I describe them in the sections below), such as passionflower, melatonin, 5-HTP, chamomile, l-theanine, and lemon balm.
This pacifying blend, along with a well-thought-out phytocannabinoid profile, makes these gummies a great companion for the nights when you can't get that desired 8 hours of shut eyes.
All of Area 52 products are extracted from non-GMO, pesticide-free hemp and come with batch-specific certificates of analysis (COA).
| | |
| --- | --- |
| Type of Extract | Full Spectrum |
| CBN Potency | 25 mg |
| CBD Potency | 25 mg |
| Additional Ingredients | Passionflower, 5-HTP, lemon balm, l-theanine, chamomile, melatonin |
| Flavors | Strawberry |
Gold Bee was launched in 2019 as a brand specializing in CBD extractions. Today, the brand is a true wellness powerhouse, offering CBD, CBN, and Kava products for health-conscious consumers.
What sets Gold Bee apart from most of the competition is its attitude toward quality. Gold Bee's products are made with all-organic ingredients and certified by the U.S. Hemp Authority.
Moreover, every product batch is thoroughly tested in an ISO-certified lab for potency, pesticides, herbicides, solvents, and microbial impurities; you can view the certificates of analysis on the company's website.
About the Gold Bee gummies, they feature the same formula as Area 52, with the 1:1 ratio of CBD to CBN (25 mg), terpenes, and natural sleep enhancers like chamomile, passionflower, lemon balm, l-theanine, melatonin, and 5-HTP.
The only difference is that these gummies come in a strawberry flavor.
What is CBN?
Cannabinol (CBN) is a naturally occurring cannabinoid found in hemp and marijuana — two types of cannabis. It doesn't have intoxicating properties but has been long touted for its sedative effects — although this topic isn't as clear as it seems to be.
We'll get to that later in the article.
Back to the point, CBN is a minor cannabinoid because it doesn't occur in significant concentrations in regular cannabis plants.
Unlike other cannabinoids, which are synthesized from the "mother cannabinoid" cannabigerolic acid (CBGa), CBN is formed from THC.
In other words, THC and its precursors tetrahydrocannabinolic acid (THCa) degrade over time into CBN and CBNa, respectively, over time when exposed to air.
CBN offers an array of potential health benefits. As I mentioned earlier, it's becoming increasingly popular as a sleep aid.
CBN products can be extracted in a variety of ways, including using specifically-bred cannabis plants, converting THC into CBN, and even converting CBD into THC — and then into CBN.
How is CBN Different from CBD?
Both cannabinoids are intoxicating, so they won't get you high. They can be found in both regular cannabis and hemp, the low-THC subspecies of the plant.
However, while both CBD and CBN share some similar therapeutic properties, CBN is a distinct cannabinoid, and researchers are working hard to determine how they could use it as a potential treatment for a range of health conditions.
For example, CBD is known to be a potent anti-anxiety compound. CBN, on the other hand, doesn't seem to affect our stress response and anxiety levels.
How Are CBN Gummies Made?
CBN gummies are made in a very similar way as other cannabinoid-infused gummies. They use the same appealing gummy base, sweeteners, and acid regulators as regular gummies.
The only difference is the type of extract because CBN gummies are made with full-spectrum CBN hemp oil or with CBN distillate blended with terpenes. They can be molded into different shapes and sizes, or sprinkled with a sour coating.
Depending on the brand and type of extracts, the gummies may contain anywhere from 10 mg to 50 mg of CBN.
Does CBN Really Help You Sleep?
CBN, just like CBD for sleep, has gained a reputation as a powerful sedative. However, the belief surrounding its sedating properties is based on one small study that leaves a bit to be desired when it comes to methodology and data quality.
According to various observations, CBN occurs in higher concentrations in aged cannabis, which seems to work remarkably well for sleep.
However, as noted by a reputable cannabis researcher Dr. Ethan Russo, CBN doesn't produce sedative effects on its own. Instead, the sedation may be caused by the higher levels of oxygenated terpenes — another potential reason why aged cannabis is such a potent sleep aid.
Another possibility is that CBN might amplify the sleep-inducing properties of other cannabinoids. This was shown in a 1975 study that analyzed the effects of CBN and THC on sleep.
The authors concluded that isolated CBN didn't make people more sleepy. However, when CBN occurred alongside THC and terpenes, it potentiated its sedative effects.
Nevertheless, one small and old study isn't enough to draw definitive conclusions about the sedative sleep properties of CBD.
According to a 2021 review of studies, "… there is insufficient published evidence to support sleep-related claims. Randomized controlled trials are needed to substantiate claims made by manufacturers of cannabis products containing CBN."
So, long story short, CBN may improve the sedating effects of other cannabis compounds, so it makes sense to look for full-spectrum hemp products with high levels of CBN. But the current evidence is limited and not strong enough to support claims that CBN is a sleep aid.
CBN Benefits
Research suggests that the health benefits of CBN may reach beyond its sleep-inducing properties. Here's what the scientific literature tells us about them:
In a 2005 study, researchers found that CBN slowed the onset of amyotrophic lateral sclerosis (ALS), suggesting it may act as a neuroprotectant.
A 2008 study concluded that CBN has antibacterial properties.
A 2012 study found that CBN increased food intake in rats, meaning it could act as an appetite stimulant.
A 2016 study reported that CBN has anti-inflammatory qualities.
A 2019 study pointed to CBN as a potential muscle relaxant and analgesic.
In a 1984 study, the authors noted that CBN reduces ocular pressure, which may be useful for glaucoma.
The above examples are just a few indicators that CBN has a wide range of potential health benefits, including pain-relieving, anti-inflammatory, appetite-stimulating, and neuroprotective effects.
However, this is still preliminary research, so we can expect to see more studies being conducted in the coming years.
Is CBN Safe?
Current evidence doesn't say much about the side effects of CBN. However, that's caused by the lack of research.
Once more studies are performed, we can expect to see similar potential side effects to other cannabinoids, such as dry mouth, red eyes, and dizziness.
Fortunately, it's impossible to fatally overdose on cannabinoids because they don't interact with the brainstem regions responsible for controlling respiratory functions.
Are CBN Gummies Legal?
CBN is completely legal — and so are other minor cannabinoids. However, they must meet two requirements:
They must be derived from hemp, a type of cannabis with 0.3% or less THC
The final product must also contain 0.3% or less THC.
You can try finding CBN products somewhere near you, but since the subject is relatively new, the majority of high-quality CBN gummies for sleep are available only online.
How Many CBN Gummies Should You Eat for Sleep?
There are no official guidelines on dosing CBN for sleep due to a lack of sufficient research.
Besides, there are many individual factors that determine the optimal dosage of cannabinoids for every person. This includes body weight, tolerance, expected effects, and the type of extract you're using.
If CBN dosage is the same as CBD's dosage range, then the best way to figure out your dosage range is to start with low amounts of CBN gummies and wait for about two hours after a dose to see how the effects will develop.
Once you know how your body responds to certain doses of CBN, you can increase your intake to test what higher levels of CBN feel like.
How to Buy CBN Gummies
Much like the CBD market, the CBN space is unregulated when it comes to manufacturing and labeling standards. It's important to be aware of several risks associated with buying CBN gummies for sleep online. Most importantly, you'll need to run a thorough check on your potential vendor to make sure the product contains as much CBN as stated on the jar and is safe for consumption.
Here are the most important features to tick off.
Hemp Source
Just because a company says it offers CBN gummies, that doesn't necessarily mean CBN will be the main active compound.
They could be regular CBD gummies infused with a small amount of CBN, yet large enough to mention it among the other ingredients.
Read the product description carefully and make sure there's enough CBN in your gummies. Anything with less than 5 mg of CBN per serving is a waste of money.
Third-party Testing
I always encourage people to make an effort and take a look at the lab reports of your CBN gummies. Third-party lab reports come from an independent laboratory that can confirm the cannabinoid levels and purity of such products.
Although the CBD industry has matured since its birth, there are still many companies that ignore lab testing — being either unaware of its importance or simply doing that on purpose to save some money.
Choosing third-party tested brands is the best way to ensure your CBN gummies are safe.
Type of CBN
Like CBD, CBN products are available in three main types:
Full-spectrum CBN: this type contains a certain dose of CBN alongside CBD, other cannabinoids, terpenes, and trace amounts of THC. When buying full-spectrum products, you should check whether the main ingredient is CBD, CBG, or CBN.
Broad-spectrum CBN: – these extracts are very similar to full-spectrum ones, except for the lack of THC, which is removed further during extraction.
Pure CBN: also known as CBN isolate, pure cannabinol doesn't contain other ingredients.
According to the current consensus, full-spectrum CBN products are more effective than their pure counterparts because of the synergism coming from the entourage effect between cannabinoids and terpenes. Therefore, if you're looking to get the most out of supplementation, I recommend full-spectrum CBN gummies for sleep.
Potency
Just because your gummies are labeled as "CBN gummies" doesn't necessarily mean it will be the main active compound.
Again, make sure to read the product label. If the amount of CBN is lower than advertised or there's a higher ratio of CBD to CBN, then you might be looking at a rip-off.
Company Reputation
I always choose reputable brands with positive customer feedback to make sure I'm getting a legitimate product. The company's transparency should be top-notch, including disclosing information about hemp sources, third-party test results, and other information that indicates reliability.
Price
CBN extracts are more difficult to obtain, which is often reflected in the price of CBN gummies. They're usually a bit more expensive than CBD gummies. That being said, it's totally possible to find a brand that combines high-quality CBD with affordable prices. Always look at the cost per milligram (mg) of CBD.
Other Natural Supplements for Sleep
CBN is just one of the many natural remedies for sleep. Keep in mind that the sedating effects of CBN gummies might just as well stem from the oxidation of terpenes from the source strain; or from the amplification of the sedating effects of other cannabinoids by CBN.
Looking for other natural supplements for sleep besides CBD gummies?
Here are some of the best-researched sleep aids.
Melatonin
Melatonin is a natural hormone that signals your brain it's time to go to bed.
The melatonin cycle production is influenced by the time of day — its levels naturally go higher in the evening and drop in the morning.
That's why melatonin supplements have become a popular nightcap, particularly in cases involving a disrupted melatonin cycle.
According to several studies, melatonin improves sleep duration and quality. That's particularly important for individuals with tight schedules that require them to sleep during the daytime (e.g. shift workers).
In addition, melatonin may improve overall sleep quality in people with sleep disorders. In essence, melatonin seems to reduce the time people need to enter the first stage of sleep — also known as sleep latency — and increase the total amount we spend sleeping.
Melatonin supplements have a good safety profile for adults when used as a means of intervention as well as in the long run.
Chamomile
Chamomile is an herb known for its subtle floral flavor and potential calming benefits.
Chamomile contains an antioxidant known as apigenin, which can support muscle relaxation and healthy sleep.
A review of 12 studies has concluded that chamomile was able to safely improve sleep quality — although it didn't show significant improvements in individuals with insomnia.
Another study found that chamomile reduced the number of sleep-difficulty-related symptoms in women compared with a control group.
Nevertheless, research is still limited to fully understanding how chamomile tea may affect sleep quality.
Lavender
The lavender plant appears on almost every continent. It yields purple flowers that can be used for a wide range of household purposes when dried.
Furthermore, lavender's floral fragrance is believed to calm the mind and improve sleep.
Studies show that taking a waft of lavender essential oil shortly before going to bed can enhance sleep quality. This effect is especially noticeable in those with mild insomnia — particularly in women and younger people.
A small study on dementia patients also reports that lavender can reduce sleep disturbances symptoms.
That being said, lavender essential oils shouldn't be consumed orally, as it may lead to nausea and stomach pain. This supplement is dedicated exclusively to aromatherapy.
Magnesium
Magnesium is a mineral that controls hundreds of processes in the human body that are essential for proper brain function and cardiovascular help.
Magnesium may also calm the mind and body, making it a potential sleep aid.
Magnesium's relaxing effects can be attributed to its ability to regulate the release of melatonin. Magnesium is also a muscle relaxant.
According to one study, a combination of magnesium, melatonin, and vitamin B was effective at easing insomnia across all subjects.
Insufficient levels of magnesium in your body may be the cause of poor sleep quality and disturbances.
On the other hand, increasing the amount of magnesium in your diet and supplementation can help you optimize the quality and quantity of your sleep.
In another study, participants took 500 mg of magnesium or a placebo in the same dose. The magnesium group benefited from overall improvements in sleep quality, showing higher blood levels of melatonin and renin.
Still, it's not certain whether these effects would be reflected on a younger group because the study involved older adults, who have lower levels of magnesium, to begin with.
Passionflower
Passionflower is associated with sleep improvements. In a recent study of people with insomnia, individuals who took passionflower extract for 2 weeks reported significant improvements in certain sleep markers compared with a placebo group.
Those parameters included:
Total sleep time
The ratio of time spent sleeping to lying awake in bed
Wake time after sleep onset
However, an older study compared the effects of a 1.2-gram passionflower extract with conventional sleeping pills and a placebo — finding no difference between the efficacy of passionflower and the two.
Although more studies are needed, it's worth noting that supplementation with passionflower is safe for adult users.
Glycine
Glycine is an amino acid that has a significant effect on the activity of the nervous system. Studies show it may also help enhance sleep quality.
Though the exact mechanism is unknown, glycine is believed to act in part by lowering body temperature in the evening, prompting the brain that it's time to go to bed.
One 2006 study discovered that participants who consumed 3 grams of glycine reported feeling less tired the next morning than the placebo group. They also said that their focus, clearheadedness, and attention span were also improved.
A study conducted one year later showed that glycine improved objective measures of sleep quality compared with the placebo group. Glycine supplements also helped participants enter the first stage of sleep faster.
Interestingly, glycine may also improve daytime performance in people suffering from temporary sleep deprivation according to one small study. The study found that 3 grams of glycine were enough to reduce fatigue and daytime sleepiness; it also showed better results than the placebo.
Valerian Root
Valerian is an herb native to Europe and Asia. Its root has been popular as a treatment for symptoms of anxiety, depression, and menopause in folk medicine.
The root is also one of the most commonly used sleep inducers in the United States and Europe.
However, research is still inconclusive.
According to randomized controlled trials, menopausal and postmenopausal women have seen their sleep quality and sleep disorder symptoms improve after valerian supplementation.
Two other literature reviews also highlighted the benefits of valerian for sleep, stating that 300–900 mg of valerian taken just before bedtime may improve self-reported sleep quality.
However, it's worth noting that the assessments surrounding the efficacy of valerian for sleep came from subjective reports and thus aren't of the highest quality as far as data collection is concerned.
Key Takeaways on the Best CBN Gummies for Sleep
CBN gummies are another trending topic on the market after CBD, CBG, and Delta 8 THC. They are gaining popularity due to their supposed benefits for sleep.
But, relying solely on CBN when it comes to improving your sleep and regulating sleep cycles isn't the best option due to the limited evidence that the cannabinoid alone can provide a significant change.
That being said, there's a growing body of evidence supporting the theory that higher levels of CBN in cannabis extracts can potentiate the sedating properties of other cannabinoids, such as THC. Strains rich in CBN also have higher concentrations of oxidized terpenes, which are known to cause sedation.
Just make sure to consult your doctor before taking CBN, especially if you have an underlying medical condition.
Sources:
Tahir, M. N., Shahbazi, F., Rondeau-Gagné, S., & Trant, J. F. (2021). The biosynthesis of the cannabinoids. Journal of cannabis research, 3(1), 7. https://doi.org/10.1186/s42238-021-00062-4 [1]
Russo E. B. (2011). Taming THC: potential cannabis synergy and phytocannabinoid-terpenoid entourage effects. British journal of pharmacology, 163(7), 1344–1364. https://doi.org/10.1111/j.1476-5381.2011.01238.x
Karniol, I. G., Shirakawa, I., Takahashi, R. N., Knobel, E., & Musty, R. E. (1975). Effects of delta9-tetrahydrocannabinol and cannabinol in man. Pharmacology, 13(6), 502–512. https://doi.org/10.1159/000136944
Corroon J. (2021). Cannabinol and Sleep: Separating Fact from Fiction. Cannabis and cannabinoid research, 6(5), 366–371. https://doi.org/10.1089/can.2021.0006
Weydt, P., Hong, S., Witting, A., Möller, T., Stella, N., & Kliot, M. (2005). Cannabinol delays symptom onset in SOD1 (G93A) transgenic mice without affecting survival. Amyotrophic lateral sclerosis and other motor neuron disorders: official publication of the World Federation of Neurology, Research Group on Motor Neuron Diseases, 6(3), 182–184. https://doi.org/10.1080/14660820510030149
Appendino, G., Gibbons, S., Giana, A., Pagani, A., Grassi, G., Stavri, M., Smith, E., & Rahman, M. M. (2008). Antibacterial cannabinoids from Cannabis sativa: a structure-activity study. Journal of natural products, 71(8), 1427–1430. https://doi.org/10.1021/np8002673
Farrimond, J. A., Whalley, B. J., & Williams, C. M. (2012). Cannabinol and cannabidiol exert opposing effects on rat feeding patterns. Psychopharmacology, 223(1), 117–129. https://doi.org/10.1007/s00213-012-2697-x
Zurier, R. B., & Burstein, S. H. (2016). Cannabinoids, inflammation, and fibrosis. FASEB journal: official publication of the Federation of American Societies for Experimental Biology, 30(11), 3682–3689. https://doi.org/10.1096/fj.201600646R
Wong, H., & Cairns, B. E. (2019). Cannabidiol, cannabinol, and their combinations act as peripheral analgesics in a rat model of myofascial pain. Archives of oral biology, 104, 33–39. https://doi.org/10.1016/j.archoralbio.2019.05.028
Colasanti, B. K., Craig, C. R., & Allara, R. D. (1984). Intraocular pressure, ocular toxicity, and neurotoxicity after administration of cannabinol or cannabigerol. Experimental eye research, 39(3), 251–259. https://doi.org/10.1016/0014-4835(84)90013-7
Lucas, C. J., Galettis, P., & Schneider, J. (2018). The pharmacokinetics and the pharmacodynamics of cannabinoids. British journal of clinical pharmacology, 84(11), 2477–2482. https://doi.org/10.1111/bcp.13710
Sadeghniiat-Haghighi, K., Bahrami, H., Aminian, O., Meysami, A., & Khajeh-Mehrizi, A. (2016). Melatonin therapy in shift workers with difficulty falling asleep: A randomized, double-blind, placebo-controlled crossover field study. Work (Reading, Mass.), 55(1), 225–230. https://doi.org/10.3233/WOR-162376
Ferracioli-Oda, E., Qawasmi, A., & Bloch, M. H. (2013). Meta-analysis: melatonin for the treatment of primary sleep disorders. PloS one, 8(5), e63773. https://doi.org/10.1371/journal.pone.0063773
Costello, R. B., Lentino, C. V., Boyd, C. C., O'Connell, M. L., Crawford, C. C., Sprengel, M. L., & Deuster, P. A. (2014). The effectiveness of melatonin for promoting healthy sleep: a rapid evidence assessment of the literature. Nutrition Journal, 13, 106. https://doi.org/10.1186/1475-2891-13-106
Hieu, T. H., Dibas, M., Surya Dila, K. A., Sherif, N. A., Hashmi, M. U., Mahmoud, M., Trang, N., Abdullah, L., Nghia, T., Y, M. N., Hirayama, K., & Huy, N. T. (2019). Therapeutic efficacy and safety of chamomile for state anxiety, generalized anxiety disorder, insomnia, and sleep quality: A systematic review and meta-analysis of randomized trials and quasi-randomized trials. Phytotherapy research: PTR, 33(6), 1604–1615. https://doi.org/10.1002/ptr.6349 [2]
Chang, S. M., & Chen, C. H. (2016). Effects of an intervention with drinking chamomile tea on sleep quality and depression in sleep disturbed postnatal women: a randomized controlled trial. Journal of advanced nursing, 72(2), 306–315. https://doi.org/10.1111/jan.12836
Lillehei, A. S., Halcón, L. L., Savik, K., & Reis, R. (2015). Effect of Inhaled Lavender and Sleep Hygiene on Self-Reported Sleep Issues: A Randomized Controlled Trial. Journal of alternative and complementary medicine (New York, N.Y.), 21(7), 430–438. https://doi.org/10.1089/acm.2014.0327
Koulivand, P. H., Khaleghi Ghadiri, M., & Gorji, A. (2013). Lavender and the nervous system. Evidence-based complementary and alternative medicine : eCAM, 2013, 681304. https://doi.org/10.1155/2013/681304
Takeda, A., Watanuki, E., & Koyama, S. (2017). Effects of Inhalation Aromatherapy on Symptoms of Sleep Disturbance in the Elderly with Dementia. Evidence-based complementary and alternative medicine : eCAM, 2017, 1902807. https://doi.org/10.1155/2017/1902807
Djokic, G., Vojvodić, P., Korcok, D., Agic, A., Rankovic, A., Djordjevic, V., Vojvodic, A., Vlaskovic-Jovicevic, T., Peric-Hajzler, Z., Matovic, D., Vojvodic, J., Sijan, G., Wollina, U., Tirant, M., Thuong, N. V., Fioranelli, M., & Lotti, T. (2019). The Effects of Magnesium – Melatonin – Vit B Complex Supplementation in Treatment of Insomnia. Open access Macedonian journal of medical sciences, 7(18), 3101–3105. https://doi.org/10.3889/oamjms.2019.771 [3]
Ikonte, C. J., Mun, J. G., Reider, C. A., Grant, R. W., & Mitmesser, S. H. (2019). Micronutrient Inadequacy in Short Sleep: Analysis of the NHANES 2005-2016. Nutrients, 11(10), 2335. https://doi.org/10.3390/nu11102335 [4]
Abbasi, B., Kimiagar, M., Sadeghniiat, K., Shirazi, M. M., Hedayati, M., & Rashidkhani, B. (2012). The effect of magnesium supplementation on primary insomnia in elderly: A double-blind placebo-controlled clinical trial. Journal of research in medical sciences: the official journal of Isfahan University of Medical Sciences, 17(12), 1161–1169.
Lee, J., Jung, H. Y., Lee, S. I., Choi, J. H., & Kim, S. G. (2020). Effects of Passiflora incarnata Linnaeus on polysomnographic sleep parameters in subjects with insomnia disorder: a double-blind randomized placebo-controlled study. International clinical psychopharmacology, 35(1), 29–35. https://doi.org/10.1097/YIC.0000000000000291 [5]
Schulz, H., Jobert, M., & Hübner, W. D. (1998). The quantitative EEG as a screening instrument to identify sedative effects of single doses of plant extracts in comparison with diazepam. Phytomedicine: international journal of phytotherapy and phytopharmacology, 5(6), 449–458. https://doi.org/10.1016/S0944-7113(98)80041-X
Inagawa, K., Hiraoka, T., Kohda, T. et al. Subjective effects of glycine ingestion before bedtime on sleep quality. Sleep Biol. Rhythms 4, 75–77 (2006). https://doi.org/10.1111/j.1479-8425.2006.00193.x
Yamadera, W., Inagawa, K., Chiba, S. et al. Glycine ingestion improves subjective sleep quality in human volunteers, correlating with polysomnographic changes. Sleep Biol. Rhythms 5, 126–131 (2007). https://doi.org/10.1111/j.1479-8425.2007.00262.x
Bannai, M., Kawai, N., Ono, K., Nakahara, K., & Murakami, N. (2012). The effects of glycine on subjective daytime performance in partially sleep-restricted healthy volunteers. Frontiers in neurology, 3, 61. https://doi.org/10.3389/fneur.2012.00061
Taavoni, S., Nazem Ekbatani, N., & Haghani, H. (2013). Valerian/lemon balm use for sleep disorders during menopause. Complementary therapies in clinical practice, 19(4), 193–196. https://doi.org/10.1016/j.ctcp.2013.07.002
Taavoni, S., Ekbatani, N., Kashaniyan, M., & Haghani, H. (2011). Effect of valerian on sleep quality in postmenopausal women: a randomized placebo-controlled clinical trial. Menopause (New York, N.Y.), 18(9), 951–955. https://doi.org/10.1097/gme.0b013e31820e9acf
Bent, S., Padula, A., Moore, D., Patterson, M., & Mehling, W. (2006). Valerian for sleep: a systematic review and meta-analysis. The American journal of medicine, 119(12), 1005–1012. https://doi.org/10.1016/j.amjmed.2006.02.026