Buy Delta-8 Online: Best D8 THC Products for Sale in 2023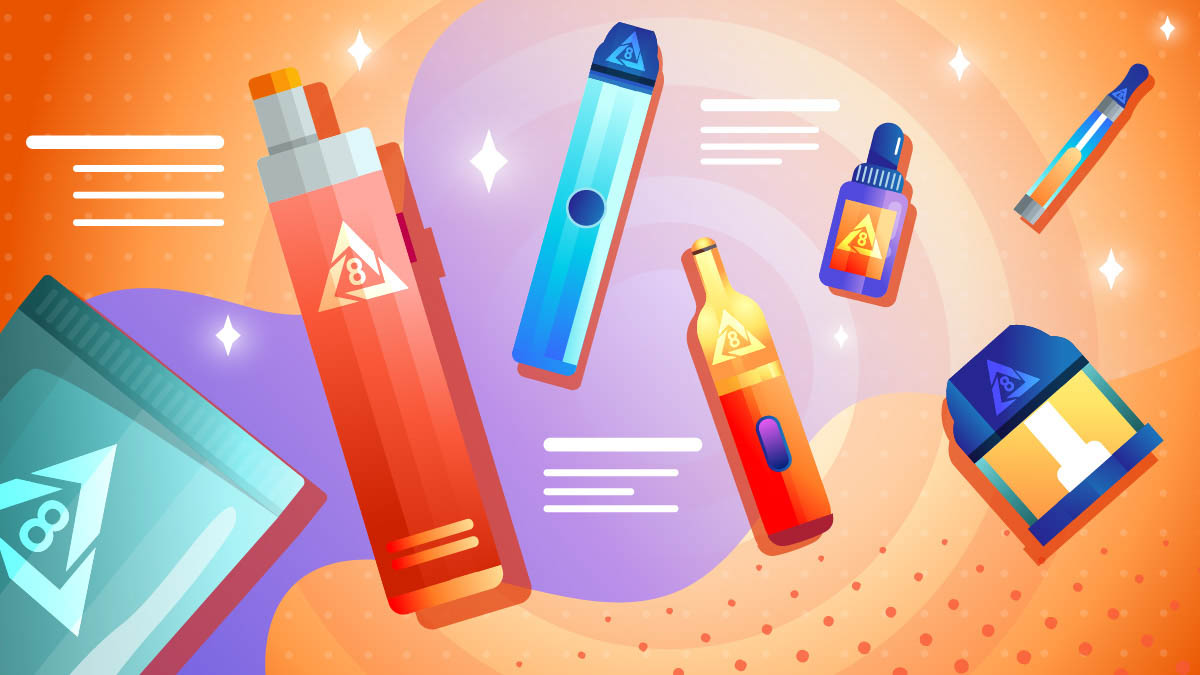 Delta 8 THC products are like books — masterpieces, decent products, and books that should never see the daily light.
However, unlike some delta 8 THC products — bad books aren't toxic, at least not literally.
As a young and booming market, the delta 8 THC space is home to many great companies offering high-quality products for reasonable prices. However, there are also many scammers in this space, which you should avoid at all costs.
In today's article, we present the top delta 8 THC vendors and some tips on distinguishing between reputable brands and sketchy ones.
Best Delta 8 THC Products for Sale
Get 15% off all Area 52 products.  Use code "CFAH" at checkout.
Area 52 has quickly become one of the most reputable brands in the delta 8 THC market, although it is relatively new. The guys at Area 52 make pure and certified delta 8 THC extracts from organic hemp — and gently extracted using CO2 extraction followed by a gentle conversion from CBD into delta 8 THC. Their products are available in cannabis extracts' formats, such as vape liquid, gummies, oils, and tinctures.
We've chosen Area 52 as the best delta 8 THC brand in 2023 because of the effort they put into laboratory testing. Each product comes with a batch-specific certificate of analysis that provides the results for their potency, cannabinoid profiles, and contaminants such as pesticides, heavy metals, and residual solvents.
Area 52 admits that its products are more expensive than the competition. Still, the top-notch quality of ingredients and their transparency as a delta 8 vendor is second-to-none, in our opinion.
Products Offered by Area 52
Delta 8 THC Gummies
Delta 8 THC Tinctures
Delta 8 THC Vape Cartridges
Delta 8 THC Disposable Vape Pens
Learn more: Best Delta 8 THC Pre-filled Pens
Finest Labs is a California-based brand specializing in low-potency delta 8 THC extracts. This is the go-to choice of many new users who want to find their optimal dosage without going too far. The company offers the same product range as Area 52 — tinctures, gummies, and vape carts — but in slightly lower concentrations.
Their tincture contains 500 mg of delta 8 THC; the gummies come with 10 mg in each piece; the vape cart offers 500 mg of pure distillate and cannabis-specific terpenes.
Lower potencies also mean lower costs per product. Finest Labs will meet your expectations if you benefit from lower doses in your routine or are into microdosing. Every product from the company's lineup has been tested by a third-party laboratory and has relevant certificates of analysis.
Products Offered by Finest Labs
Delta 8 THC Tinctures
Delta 8 THC Gummies
Delta 8 THC Vape Cartridges
3. Delta Effex
Delta Effex shows great commitment to providing customers with delta 8 THC extracts that are natural and of decent quality. The company sells hemp-derived delta 8 THC cartridges, pods, hemp flowers, gummies, tinctures, and disposable vape pens.
It's one of the most affordable companies in the delta 8 THC space. That being said, we prefer brands that offer fewer products but are crafted to perfection. On top of that, cheaper doesn't always mean better — not to mention that Delta Effex doesn't share any information on where their hemp is grown.
Products Offered by Delta Effex:
Delta 8 THC Gummies
Delta 8 THC Tinctures
Delta 8 THC Disposable Vape Pens
Delta 8 THC Pods
Delta 8 THC Flower (hemp buds infused with D8)
How to Find a Trustworthy Delta 8 THC Company
Finding a reputable delta 8 THC manufacturer can be a hard nut to crack, especially if you're just dipping your toes in the delta 8 markets. There are no regulations regarding the quality standards for delta 8 THC extracts, which has paved the way for scammy brands to rip people off their hard money with cheap products that should never see the daily light.
Here's what you need to consider if you want to avoid scammy brands and always find high-quality delta 8 THC products.
1. Certificates of Analysis (THE Most Important)
The best way to ensure the quality of any given product is to test it in a third-party laboratory.
However, delta 8 THC manufacturers should be particularly scrupulous about testing their products.
Unless the delta 8 is extracted from marijuana (which may be illegal where you live), it needs to be converted from CBD and then synthesized from delta 9 THC, which requires the use of zinc bromide and hydrochloric acid. Both compounds are toxic for humans and should be purged before bottling up.
Third-party testing is conducted to analyze the potency of the tested sample, check its cannabinoid profile, and look for common contaminants to make sure the above chemicals have been purged from the end product.
A laboratory is considered a "third-party" if it's not affiliated with the producer. There are several such laboratories throughout the United States.
Only purchase from companies that publish relevant certificates of analysis.
2. Many Positive User Reviews on Third-Party Websites
Reading user reviews can tell you a lot about the company's reputation and the quality of its products. Just make sure to check for the reviews posted on third-party websites for the best D8 brands, as they often stay in stark contrast to what you can read in the company's section with testimonies.
Here's how you can tell that a company sells low-quality products:
Clear signs that the company is being dishonest
No mentions of the brand anywhere
Too many negative reviews on the internet
3. Transparency
Reputable delta 8 THC companies pride themselves on making their products, so they share as much information on their activities as possible. They also have a concise mission statement that is based on facts rather than marketing buzz. If a company doesn't say anything about the source of their hemp, extraction method, or lab testing, they may not be honest with their customers.
4. Extraction Method
The extraction method is a paramount factor when it comes to the quality of delta 8 THC. The best delta 8 THC products are extracted using supercritical CO2, a solventless method of making pure and consistently potent extracts. This method doesn't add any heat during extraction, preserving the original chemical profile of the plant.
5. Source of Delta 8 THC
As mentioned earlier in the article, delta 8 THC can be extracted from both hemp and marijuana, which affects its legal status.
Marijuana-derived delta 8 THC products are illegal on a federal level; this method is free of any chemicals, but you can purchase such products only in the states that have legalized marijuana for recreational use.
Hemp-derived delta 8 THC is legal on a federal level. However, extracting delta 8 THC from hemp is more difficult than the classic extraction and thus may translate into a higher cost per product.
Speaking of which…
How Much Does Delta 8 THC Cost?
The price of delta 8 THC products is evaluated by calculating the cost of a milligram of delta 8 THC. This calculation allows for an objective comparison of different brands and their extracts.
On average, delta 8 THC costs around $0.06 – $0.010.
Here's how different types of delta 8 THC are priced:
Distillate – $0.03 – $0.07
Vape Cartridges – $0.08 – $0.15
Tinctures – $0.06 – $0.012
Types of Delta 8 THC Products
The raw form of delta 8 THC is distillate. It's a thick, concentrated liquid that can be infused into various products, including oils, capsules, edibles, and vapes. Below we cover the most common types of delta 8 THC products that you can find online and locally.
1. Delta 8 THC Tinctures
D8 THC tinctures are much like CBD tinctures. They are made from a hemp extract (distillate) suspended in a food-grade oil such as MCT oil or hemp seed oil. Cannabinoids dissolve in fats, so the infusion in a carrier oil improves their bioavailability.
You can take a tincture under your tongue and hold it there for up to one minute for fast-acting effects. Tinctures can also be swallowed directly, but doing so will delay their onset.
The strength of your tincture will determine the intensity of the effects, so remember to choose it according to your tolerance. The potency of delta 8 THC in tinctures ranges between 300–3000 mg of delta 8 per bottle.
2. Delta 8 THC Gummies
Gummies are hands down the most common format of cannabis edibles. They come in different shapes, sizes, formulas, and flavors.
Delta 8 THC gummies contain the same fruity gummy base with a fixed delta 8 THC in each treat.
Since the gummies are processed in the digestive system, the effects are delayed and can be felt after as long as 2 hours from consumption.
3. Delta 8 THC Vapes (Distillates)
Vaping delta 8 THC delivers the highest amount of active ingredients to your system. It also provides the fastest-acting effects, as the delta 8 THC is absorbed through the lung tissue. Most people experience the high from delta 8 THC vapes within a few minutes after inhalation. However, the effects last shorter than tinctures capsules (usually up to 4 hours).
How to Spot Delta 8 THC Scammers?
Until 2020, the delta 8 THC space remained in the underground. However, recent scientific breakthroughs have allowed manufacturers to obtain large quantities of this cannabinoid and sell it broadly. However, as with any new industry, there are many mislabeled and poor-quality products churned out by fly-by-night companies. Such manufacturers fabricate lab reports, use low-quality ingredients, or incorporate dangerous additives into their products.
The biggest problem in this space is a lack of transparency and a very liberal approach to third-party testing. Pure Delta 8 THC is less potent than delta 9 THC and has a lower chance of triggering anxiety, paranoia, and a racing heart. It is the chemicals that haven't been purged from the final product after extraction.
Delta 8 THC can be produced using three basic methods:
Extracting it Directly From Marijuana – it's the safest method to produce delta 8 THC, but its use is limited due to current marijuana's legal status.
Synthesizing Delta 8 THC From Delta 9 THC – this method is inexpensive and safe, but similar to the above method, it also requires the use of delta 9 THC, which may be illegal in your state.
Extracting CBD, Converting it Into Delta 9 THC, and Synthesizing Delta 8 THC From it – this method is legal on a federal level but the least efficient, as it uses ridiculously large amounts of hemp to extract delta 8 THC. It also calls for using toxic chemicals to maximize the yield.
These chemicals are difficult to purge from the end product, so the producer must send every batch to a third-party laboratory for content analysis.
After monitoring the market for the last year, we've compiled a black list of companies, an anti-ranking of delta 8 THC producers.
Read our in-depth review of Scam Delta 8 Brands to Avoid
Scammy Delta 8 Companies – Never Order from Them
These are the worst brands in the United States. Some of these companies have been caught fabricating their lab reports or lying to their customers about the source of hemp and other important details.
1. Cake
The company's products are available on Alibaba — they don't even have a website where we could get any proof of their products' quality. Cake claims to make ultra-cheap delta 8 THC, but it's likely that they are a scammy company or sell contaminated delta 8 bulk powders intended to find a low-cost source of this cannabinoid.
2. CannaAid
CannaAid has been posting fake Reddit reviews on fabricated accounts. These reviews were suspiciously positive and described the effects that aren't typical of delta 8 THC. According to one Reddit user, this company was using the same proxy server as 3Chi, one of the most well-known brands in the industry. This could indicate that the companies are managed by the same mother company.
3. CannaClear
What raises eyebrows when it comes to this company is that you can find their packaging available on many third-party websites. Many poor-quality delta 8 THC products branded as CannaClear have been reported to be contaminated with different synthetic agents such as vitamin E acetate. None of these ingredients should be present in high-quality delta 8 THC products.
4. Truelive
Truelive claims their delta 8 THC comes from Charlotte's Web hemp strain. However, the problem with that claim is that this strain doesn't offer significant amounts of delta 8 THC. The company is probably far-fetching the information about the source of their delta 8 to leverage their reputation using a popular name on the market. What's more, Truelive products aren't tested for zinc bromide and zinc chloride.
5. Honey Creek Labs
Honey Creek Labs has been caught forging its lab reports. The company also doesn't answer any questions about the source of their delta 8 THC and extraction methods. One Reddit user sent their tincture to a third-party laboratory, and there was a world of difference between the results and the company's claims about the product's potency.
The total amount of delta 8 THC should score 95%, while in fact, they contained only 15% of delta 8.
It's also difficult to tell if these products are safe because they aren't tested for contaminants.
Companies That Don't Publish Certificates of Analysis – Another Slippery Slope
While the companies we list below don't have a negative history with customers, they don't publish any lab reports or are very liberal about their testing standards. A lot of these brands test their products only once, moving forward. Every single batch should be tested in the laboratory and certified with a respective document.
Other companies use in-house laboratories to test their products, which may provide biased results.
Here's the list of companies that can be considered as sketchy:
BeeZBee
Catskill Hemp Co
Cloud 8
Cosmo
Delta XL
Earthbound Hempz
Miracle Leaf
Palm Trees
Puff Delta 8
Saliv-8
Straight 8
Turnt
Your Cure CBD
Z.E.N.
Companies That Test Potency, Bud Don't Test for Contaminants – Only At Your Own Risk
Source: Getty Image
The lab reports from these companies are up-to-date, but they don't list contaminants, making it difficult to tell whether or not these products are safe.
Below we share a list of the brands you can order from — but only at your own risk:
10 Dollar Cartridge
A Gift From Nature CBD
Apical Greens
Apotheca
Bay Smokes
Barely Legal
Bearly Legal
Binoid CBD
Black Tie
Black Water Hemp
Buffalo Puff
Buy Delta 8 Online
Canna River
Canna Stillery
Cannagarden Co
Colorado Cures
Compassionate Buds
Crystal Creek Organics
D8 Brand
D8Hi
D8 Savvy
Delta Effex
Delta Farms
Delta Remedies
Deltiva
Drip
Exotics Delta 8
Extract Labs
Georgetown Hemp
Green Post CBD
Green Rush Hemp Co.
Half Moon CBD
Harbor City Hemp
Hemp Masters
HempHio Cannabis Co
HempHop
Hempire Direct
Hempy Longstocking
Herbee's Holistics
JahRootz
Koi CBD
Krystilion
Loud House
Lula CBD
My CBD Haven
No Cap
Oakwood Botanicals
Owl's Oil
Pharma CBD
Phat Hempies
Pure D8 Flower
Quality Control Carts
Rogue Cloud
Rogue River Extracts
Royal Highness
Savage
Secret Nature CBD
Shop.Lucidity
SnapDragon Cannabis
Star Thistle Ranch
Sun State Hemp
The Helping Friendly Hemp Co
The Hemp Barn
The Hemp Collect
The Hemp Doctor
Treetop Hemp Co.
Triangle Trading Company
Urb
Urth Tree
Utoya
Wellness Collection
Zilla
Summarizing the Best Delta 8 THC Products
People have seen an opportunity in delta 8 THC products for enjoying the high from cannabis but without the anxious side effects induced by high doses of its analog, delta 9 THC.
Not everybody responds well to the standard THC, which makes delta 8 an appealing alternative on the market. Studies suggest that aside from milder intoxicating effects, delta 8 THC can be used to treat anxiety, pain, inflammation, insomnia, and nausea — providing similar benefits to delta 8 THC.
Recent technological breakthroughs have made it possible for producers to make delta 8 THC from hemp, using a novel conversion process from CBD. However, this method also requires a lot of skill and expensive equipment, so not every manufacturer can afford to make high-quality delta 8 THC products.
If you want to avoid sketchy companies, make sure to follow the steps listed in our buyers guide. Only purchase delta 8 THC from companies that are transparent about their production process and laboratory testing.