Best Delta-8 THC Carts: Top 10 Vape Cartridges Reviews of 2023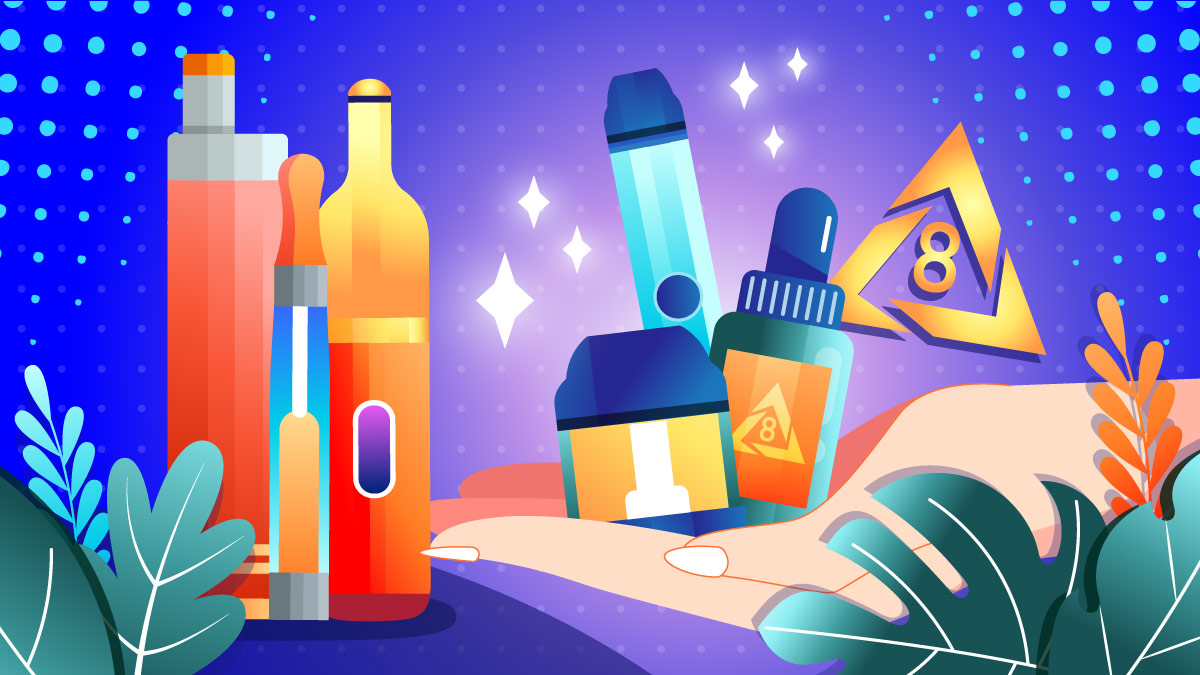 There are several forms in which you can take delta 8 THC: tinctures, gummies, capsules, and more.
But, there's one particularly desired format among cannabis users — delta 8 THC vape carts.
They're portable, convenient, easy to use, and most of all, they offer the fastest way to enjoy the effects of delta 8 THC.
They're also (theoretically) legal in all 50 states.
This article covers the best delta 8 THC companies that offer certified products at reasonable prices, including an all-around buyer's guide for beginners.
Top 10 Best Delta 8 THC Cartridges on the Market 
Area 52 (Most Reputable Brand)
Finest Labs (Best for Beginners)
Delta Effex
Delta8 Pro
Diamond CBD
Everest
Moonwlkr
Binoid
3Chi
Exhale Wellness
1. Area 52 (Most Reputable Brand)
Get 15% off all Area 52 products.  Use code "CFAH" at checkout.
Area 52 is a California-based brand known for its commitment to the quality of ingredients and rigorous laboratory testing. The company offers a classic range of Delta 8 THC products, including tinctures, edibles, and vape carts. Each product comes with a batch-specific certificate from a third-party laboratory with results for potency, cannabinoid and terpene profiles, and purity.
Area 52 Delta 8 THC cartridges are available in one option so far. The product features pure delta THC distillate blended with cannabis-derived terpenes from the Pineapple Express strain. This vape cart feels very energizing, providing a clear-headed vibe that fills you with positive energy throughout the day. It's the best delta 8 THC vape liquid for daytime use.
The guys at Area 52 openly admit that their products are priced a bit higher than the market's average. Still, the integrity of their testing, as well as their transparency, makes it worth spending a few dollars more on a cutting-edge product.
2. Finest Labs (Best for Beginners)
Finest Labs is another top-rated company in our ranking. This is the best brand if you're looking for low-strength delta 8 THC vape carts to get started with this cannabinoid. Similar to Area 52, Finest Labs' products are crafted to the highest quality standards — including their farming practices, extraction method, and laboratory testing.
The Finest Labs delta 8 THC vape cart features a delta 8 THC distillate infused with terpenes from the Blueberry cannabis strain. The sweet and fruity scents contribute to a calmer state of mind, pronounced physical relaxation, and a boost of creativity.
The cartridge is compatible with the standard 510-thread battery.
3. Delta Effex
It looks like most of the best delta 8 THC vape carts are made in California. Delta Effex is a brand owned by a popular vape manufacturer Savage Enterprises. Thanks to its high-quality standards and creative marketing, the company has become an industry leader ever since its launch in 2013.
Delta Effex offers delta 8 carts in three tasty flavors that get their names from popular cannabis strains, such as Grand Daddy Purp, Cali Orange Kush, and Strawberry Cough.
Grand Daddy Purp features grape flavors; Cali Orange comes with a refreshing orange taste; Strawberry Cough is a sativa-dominant vape with a nice hint of strawberries.
Despite its decent selection of delta 8 THC vape carts, Delta Effex doesn't mention where they get their hemp from. The brand also doesn't have any cruelty-free or vegan products — let alone their strict return policy. The products can't be returned once opened.
4. Delta8 Pro
Delta 8 Pro specializes in high-quality delta 8 THC products, such as tinctures, gummies, and vape carts. Some of these formats are in high demand, so they're often out of stock.
This company is a good example of how one should make high-quality D8 carts. They contain a pure delta 8 THC distillate infused with cannabis-derived terpenes such as Cali Orange Kush or Banana Candy Kush.
Delta 8 Pro offers some of the best d8 vape carts flavor-wise, and it certainly knows how to market its products. However, the company doesn't display any information about their hemp sourcing, making it difficult to tell if it's actually organic and pesticide-free.
5. Diamond CBD
Diamond CBD is one of the largest CBD suppliers in North America. Recently, the brand has added a selection of delta 8 THC extracts in the form of capsules, creams, delta 8 flowers, moon pre-rolls, and vape cartridges.
Diamond CBD's vape carts are among some of the best d8 products we've tested so far. The range of flavors is impressive, and the element of choice adds much fun to shopping. You can choose from flavors like Blue Dream, Strawberry Lemonade, Grape Ape, or Apple Fritter. These strains are either sativa or indica to choose them based on different times of the day.
The Diamond CBD D8 vape carts are made with all-natural ingredients and are lab-tested for their cannabinoid and terpene profiles; that being said, there are no results for pesticides, so it's not clear if the company uses actual pesticide-free and non-GMO hemp.
6. Everest
Everest is a brand that sets transparency standards for other companies in the delta 8 THC space. Its products tick off every quality mark on our list, with each batch being certified by an independent laboratory in terms of the products' potency and purity.
Everest's vape carts are available in four variants: White, Pink, Purple, Red, and Green — all resembling different cannabis strains, such as:
Bubble Gum
Granddaddy Purple
Green Crack
Strawberry Cough
Wedding Cake
All strains provide 800 mg of delta 8 THC per cart and are designed to suit any 510 vape battery.
The only drawback is the narrow product selection. Everest sells only vapes and gummies for now, so if you're looking for greater diversity, check out the companies listed above.
7. Moonwlkr
Moonwlkr combines high-quality formulas with outstanding marketing — providing some of the best delta 8 THC vape carts out there. These products can pack a punch at 800 mg of delta 8 per cart if you're new to delta 8 THC.
These vapes come in four flavors, all of which get their names from cannabis terpenes.
You can choose from the following strains:
Orange Chemdawg
Sour Lemon Haze
Strawberry Gelato
Moonwlkr has also added a new d8 disposable vape pen with Strawnana and Watermelon Iced OG flavors. Each lasts for 300 draws and comes in the same strength as the company's vape carts. However, the current flavor selection leaves a bit to be desired, so we're waiting for Moonwlkr to add more strains — their quality deserves that.
8. Binoid
Binoid was one of the pioneering companies in the delta 8 THC market, and it quickly became one of the leading names in this space. The company offers a broad selection of products, including capsules, tinctures, gummies, concentrates, vape carts, and bundles.
The company has an impressive range of vape carts and disposable pens available in the following strains:
Blue Zkittlez
Cookies & Cream
Do Si Dos
Maui Wowie
Pineapple Express
Strawberry Cough
White Runtz
These products can be purchased as either pure delta 8 or with a blend of delta 8 and delta 10. Binoid offers complete lab analyses for the entire collection.
Unfortunately, the lack of discounts, gift cards, or reward programs makes Binoid more expensive than competitor brands.
9. 3Chi
3Chi is a true cannabis powerhouse that offers products from different cannabinoids, including CBD, CBG, THCV, Delta 10 THC, and delta 8 THC.
The company offers the broadest selection of delta 8 THC vape carts, featuring 52 strain options in two sizes (0.5 ml and 1 ml). Each vape cart contains 95% delta 8 THC oil, and the remaining 5% consists of terpenes derived from sativa, indica, and hybrid cannabis strains.
The vapes are very potent and deliver a nice buzz paired with a natural flavor experience from the cannabis terpenes. However, the effects are shorter-lasting than other companies, and the draws can feel a bit harsh if you inhale for longer than 3 seconds.
10. Exhale Wellness
Exhale Wellness is a well-established brand that has been mentioned by prestigious industry magazines, such as Observer, LA Weekly, and the Ministry of Hemp. The company was founded in Los Angeles to innovate hemp extracts. As of now, Exhale Wellness offers delta 8 THC tinctures, weed edibles, and vape carts.
The vapes from Exhale Wellness come in mouth-watering flavors, providing smooth, dense, and quality vapor. The company uses organic hemp for extraction, and its products are free of PG, VG, PEG, or MCT Oil.
These vape carts are available in 10 strains, but there's only one size (2 oz.) and strength (900 mg) to choose from. The flavors stem from natural terpenes instead of artificial flavorings, the golden standard for making delta 8 THC vape liquid.
That being said, we'd love to see a greater choice of strengths from this company; it would pair perfectly with the broad range of flavors.
What Are Delta 8 THC Carts?
A cart means cartridge in short — which refers to a prefilled container with vape juice. The best delta 8 THC cart features delta 8 distillate and a blend of other cannabinoids and terpenes. Most of the time, the distillate is blended with cannabis-derived terpenes.
Vape carts are more affordable than disposable vape pens because you can reuse the battery components.
Several companies offer delta 8 THC vape carts, but most use the same type of threading, which is compatible with the majority of tanks available for sale today. Some vape carts may not use the standard 510 threading, so it's best to check your pen before placing an order.
You can get rid of the cart once you've used up the number of puffs they have been emptied. You don't need to refill them and play with e-juices or sticky distillate. You just purchase another one and screw it into your battery.
What Does Delta 8 THC Feel Like?
The high induced by delta 8 THC is similar to delta 9 — but with half the potency.
Delta 8 THC is a mild intoxicant, so it can get you slightly high, just as if you vaped smaller amounts of marijuana. If you want to get the same intensity of effects, you'd need to take about twice as much.
Delta 9 THC can feel overwhelming when you cross a certain dosage, especially if your cannabinoid receptors in the brain are sensitive to its psychoactive effects. Reactions like anxiety, paranoia, and racing heart aren't uncommon among this type of user.
Delta 8 THC produces fewer side effects overall; the incidence of anxiety and paranoia is also much lower than with regular weed.
Why Are Delta 8 THC Vape Carts So Popular?
There are many forms of delta 8 THC available for sale, including delta 8 tinctures, gummies, capsules, concentrates, and D8-rich cannabis flowers (CBD buds sprayed with delta 8 distillate).
Why are people choosing delta 8 THC vape carts over other forms of consumption?
The benefits of vaping delta 8 THC include:
High bioavailability
Ease of use
Fat-acting effect
Consistent doses of delta 8 THC
Reusability
Portability
Several years of shelf life
How to Store Delta 8 THC Vape Cartridges
Delta 8 THC is a very stable molecule — it demonstrates a much longer shelf life than its delta 9 THC counterpart. That being said, you shouldn't expose your vape carts to air, direct sunlight, or too high temperatures, as they cause delta 8 THC to break down and lose potency. Other than that, they should be good to use for several years.
We recommend storing delta 8 THC carts in a dark container, a cabinet, or a drawer away from the light and heat source.
How Much Delta 8 THC Should I Vape?
Dosing delta 8 THC is tricky, and so is the case for other cannabinoids. The amount of delta 8 THC that gets you high from using your vape cart will depend on the force you take the draw and the temperature settings.
The best method to evaluate how certain doses make you feel is to start at the lowest dose possible and slowly increase the amount of delta 8 THC to the point where the smooth high meets the other health benefits.
Delta 8 THC is known to reduce pain, inflammation, nausea, and anxiety. It's also a strong appetite stimulant so Delta 8 THC is made available for sale locally and online.
Most people benefit from doses like 5-6 puffs. This gives them relatively potent effects but without inducing any mental discomfort or impairing motor functions.
Can You Build Tolerance to Delta 8 THC?
Tolerance is a common concept that refers to your body's ability to adapt to certain substances. When you take any substance daily, you will need a higher dose to experience the same effects as before over time.
Unfortunately, people build a tolerance to THC at a fast rate, even faster than delta 9 THC. If you take it regularly for a month, you can expect to need a larger amount for the same buzz.
The good delta 8 THC news is that tolerance to delta C dissipates as quickly as it builds. You only need a few days of T-brake to return to your previous levels.
Is Delta 8 THC Legal?
According to the 2018 Farm Bill, hemp and its derivatives — including recreational products and health supplements — are legal federal.
The only condition is that these products must contain 0.3% of delta 9 THC or less.
Hemp-derived delta 8 THC products fit into these criteria, so you can (theoretically) buy them in all 50 states.
The extraction of delta 8 THC from hemp plants has become possible only recently, thanks to scientific breakthroughs in synthesizing cannabinoids. Manufacturers now extract CBD directly from hemp, convert it into delta 9 THC, and then synthesize delta 8 from it.
However, a few states have already banned the sale of delta 8 THC products. Currently, you won't buy d8 vape carts locally in the following states:
Alaska
Arizona
Arkansas
Colorado
Delaware
Idaho
Iowa
Kentucky
Mississippi
Montana
Rhode Island
Utah
Is Delta 8 THC Safe?
The biggest insight into the effects of delta 8 THC comes from anecdotal reports; there aren't many studies on the side effects of delta 8 THC.
To date, there have been no records of a fatal overdose from using delta 8 THC. That's because there are no cannabinoid receptors in the brainstem area that controls respiratory function.
The risk of getting anxious and paranoid after delta 8 THC is also much lower than with regular weed.
Still, there are a few side effects you should know about when using this cannabinoid:
Dry eyes
Dry mouth
Difficulty focusing
Slight mental discomfort (very rarely)
Impairment of motor functions
Potential Risks of Using Delta 8 THC Carts
Delta 8 THC has a good safety profile — but the chemicals some companies use in their carts can make these products dangerous.
The delta 8 content in hemp plants is extremely low (around 0.1% or less) because cannabis doesn't synthesize it naturally. Manufacturers must synthesize it from hemp, which requires the use of toxic chemicals, which can have harmful effects on our health.
It's paramount that the end product has been purified from these compounds. You can check it by reading the certificate of analysis of your delta 8 carts.
Companies that don't provide valid certificates of analysis for their products might want to hide something — an evident red flag.
How to Buy Delta 8 THC Cartridges (What to Look for)
When browsing between delta 8 THC brands and their vape carts, you need to remain cautious if you don't want to fall victim to fly-by-night companies. The Delta 8 THC space is evolving; many decent brands make some really amazing cartridges, but many poorly manufactured products should never be made available for sale.
Here's what you should look for when buying delta 8 THC carts near you or online.
1. Third-party Testing
Delta 8 THC companies have the option to send a small sample of their product to a third-party laboratory for testing. "Third-party" means that the facility has no affiliation with the manufacturer.
Lab testing is considered the golden standard and tells you a lot about how the product is made. Having the aforementioned extraction process in mind, lab workers should thoroughly examine any delta 8 THC product.
Third-party testing is the only way to ensure the quality and purity of the product in this unregulated industry.
The lab report from the content analysis should include:
The potency of delta 8 THC
Cannabinoid profile
Terpenes
Bleaches
Pesticide testing
Residual solvent testing
Heavy metal testing
If the company you're interested in doesn't offer third-party testing on their products, you should no longer be interested in buying from them.
Companies avoid publishing their certificates of analysis for three reasons:
The Product Failed The Test – this could result from failing to deliver the promised D8 concentration or by the presence of toxins and contaminants.
The Company Skipped The Testing – if the company doesn't care about testing their products, why would they care for your health and safety?
The Company Isn't Aware of The Importance of Testing – many aspiring delta 8 companies don't know their niche and the standards they should follow. Never buy from brands that simply want to reap the benefits from a booming market.
2. Ingredients
Many companies have been adding dangerous chemicals to their vape cartridges, including vitamin E acetate, seriously damaging the lungs. Other brands suspend their distillates in MCT oil, which is okay for sublingual consumption but should never be vaped due to the risk of developing lipid pneumonia.
The only ingredients you should see on the list besides delta 8 THC distillate are the minor cannabinoids, terpenes, vegetable glycerin, vegetable glycol, and flavorings (optional).
3. Source of Delta 8 THC
Delta 8 THC is the same molecule no matter the source.
However, the source of delta 8 THC does affect its legal status.
Delta 8 vape carts from marijuana are illegal on a federal level. You can purchase them only in the states that have legalized marijuana for recreational use. It's actually safer to buy marijuana-derived delta 8 in a legal market because it calls for using fewer chemicals to produce the distillate from this type of cannabis than it does from hemp.
But, if you don't live in a marijuana-friendly state, your only option for getting high-quality and legal delta 8 THC vape carts is to buy hemp-derived ones.
As mentioned, hemp-derived delta 8 extracts contain less than 0.3% of delta 9 THC.
Companies to Avoid when Buying Delta 8 THC Cartridges
The problem with the delta 8 THC space is that it remains unregulated. There are no official quality standards in place so that you can have great companies selling premium products. Still, you may very well stumble upon a scammy company that is only looking to take your money.
The purity problems result from the way delta 8 THC is extracted.
As we said, delta 8 isn't naturally synthesized by cannabis plants. Instead, it's a byproduct of delta 9 THC.
THC is first synthesized from another cannabinoid known as CBG (cannabigerol). The plant enzymes either convert CBG into CBD, CBC, and delta 9 THC.
Most cannabis extracts are made by pulling the desired compounds directly from the plant. However, making delta 8 THC is more difficult because the manufacturer must first extract CBD, convert it into delta 9 THC, and then delta 8.
This process requires high-tech equipment and well-trained workers to purge the end product from the toxic chemicals used on the way.
Trustworthy companies will take time to invest in the right extraction method, avoiding the use of dangerous chemicals. This can make the final extract more expensive, but you're getting a safe product on a positive note.
This is where most brands on the delta 8 THC market are failing. They're using dangerous toxins (e.g., heavy metals and acids) to convert CBD into delta 8 THC. Then, they usually add bleaches to make the product appear cleaner.
The only way to avoid companies using the above chemicals is to read third-party lab reports. The lab assistants and chemists will analyze the chemical profile of the sample and write down the results on a certificate of analysis.
The main brands to avoid are:
Truelive
Skyhio
Honey Creek Labs
CannaClear
CannaAid
Cake
Terp Flex
What Other Forms of Delta 8 THC Are There?
Delta 8 THC vape carts are the most popular form of this cannabinoid, but they aren't the only ones by any means. You can also try delta 8 THC edibles in many different forms and flavors.
Final Thoughts on the Best Delta 8 THC Carts in 2023
Delta 8 THC has become a popular choice for cannabis users who are sensitive to the trippy effects of delta 9 THC from regular weed. If you're looking for a smooth and clear-headed buzz that is about half as potent, then delta 8 THC may be the answer to your prayers.
Although delta 8 THC can get you high, the buzz is lighter than the one created by delta 9 THC. D8 products can also improve sleep, appetite, and stress response, on top of helping with pain management and inflammation.
The most desired format of delta 8 THC is a vape cartridge — which fits the standard 510 threading of most vapes. Such products offer high bioavailability, cost-efficacy, and ease of use.
However, not all delta 8 carts are made according to the generally agreed standards. There are many manufacturers selling vape carts contaminated with pesticides, heavy metals, or residual solvents. There are also many brands whose products contain much less delta 8 THC than stated on the label.
If you're looking for the best online delta 8 THC vendors, we recommend you check out the vape carts offered by Area 52 and Finest Labs. These two companies use top-notch ingredients and employ rigorous testing practices throughout the entire production process.