Is Weed Legal in California? CA Cannabis Laws (June 2023)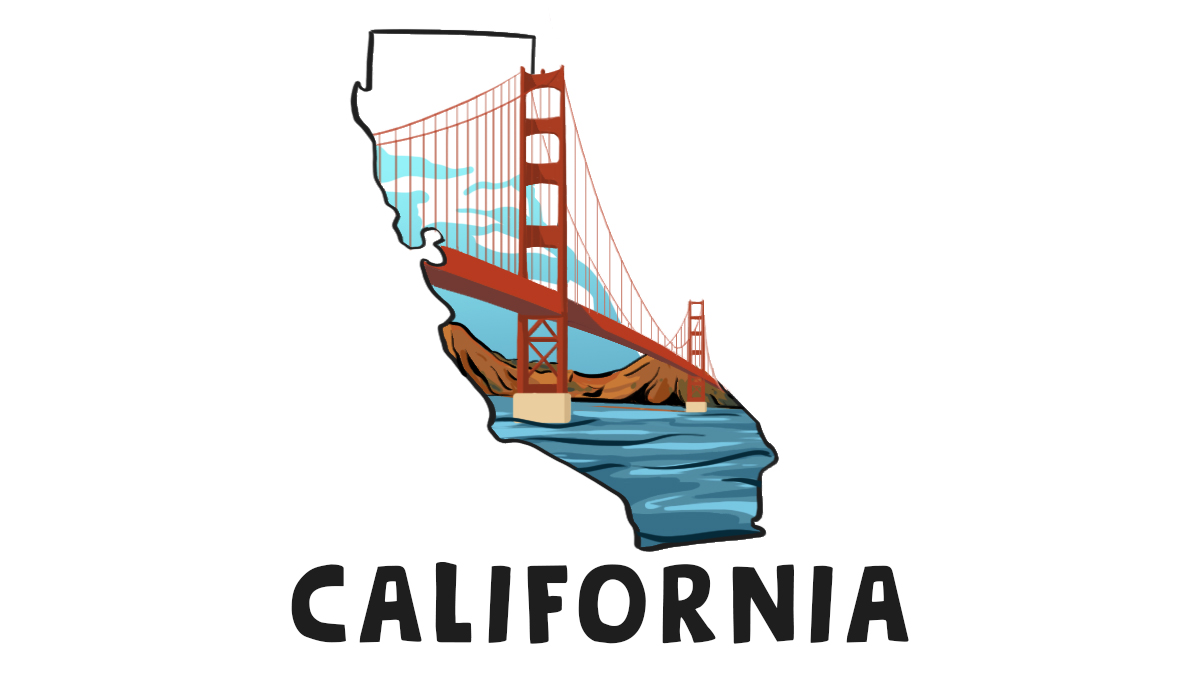 This article covers the legal status of marijuana in California. We discuss what's legal in the state and what's not — for both medical and recreational users. We also explain the possession limits, cultivation, traveling with weed, and smoking in public. 
Asking for legal weed in California is like asking if there are any trees in the forest.
Of course, marijuana is legal in California. It's one of the best states to live in if you want to enjoy top-shelf weed and innovative cannabis products.
Interestingly, California was the first state to ban cannabis in the early 20th century (1912).
Now that the state has redeemed itself, let's take a look at what you can and can't do with weed as you're sinking into the green culture of Los Angeles and other weed havens.
Is Weed Legal in California?
Yes. California legalized weed for both recreational and medical users.
The medical marijuana bill was passed in 1996, and 20 years later, voters approved recreational cannabis.
Related: Where Is Cannabis Legal?
Below we break down medical and recreational marijuana laws in the Golden State.
Is Recreational Marijuana Legal in California?
Yes. Recreational marijuana became legal in California in 2016.
The state law allows adults over 21 years of age to use and possess cannabis for recreational purposes.
They can also share cannabis with other adults (without financial benefits).
You're allowed to possess the following:
Up to an ounce (28 grams) of usable marijuana per day
Up to 8 grams of cannabis concentrates
There are no limits for edibles, and you can grow 6 cannabis plants at home.
If you turn cannabis into a product, it can't contain solvents like butane or propane.
Is Medical Marijuana Legal in California?
Medical marijuana has been legal for patients in California since 1996 when voters approved the Compassionate Use Act, also known as Proposition 215.
The new law allowed for the medical use of marijuana when a doctor recommended it. In 2003, the state added new protections by introducing a state ID card program for medical cannabis patients and allowing the formation of non-profit cannabis collectives.
Patients aren't subject to any specific possession limits. They must use the amount that's consistent with their needs.
If you have a medical marijuana card, you can grow up to 6 living cannabis plants. If your physician recommends growing more plants, you can increase the limit by their health needs.
Penalties for Marijuana Possession
Now that marijuana has been legalized by the voters of California, you may think that you can do whatever you want with weed.
Well, that's far from the truth.
It's still a misdemeanor if you carry more than one ounce. You may face up to 6 months in jail, $500 in fines, and probation if the judge deems you guilty.
In addition, carrying less than one ounce by a minor (under 18 years old) involves the penalty of a $100 fine.
Is Weed Decriminalized in California?
Yes. Possession of less than one ounce of weed has been decriminalized in California. You won't even get a ticket for this amount.
What's the Future of Cannabis Legalization in California?
California continues to set trends in the cannabis industry and is the leading state in marijuana reforms.
Earlier in 2022, Governor Gavin Newsom signed several cannabis bills, one of which legalized the interstate cannabis trade.
This means that other states where marijuana is legal can buy it from licensed growers in California.
How come isn't it prosecuted by federal law enforcement? There's a legal loophole allowing Attorney General in California to lay protection over the bill, meaning that federal authorities can't mess with the new law.
Delta-8 THC: A Better and Federally Legal Alternative to Marijuana in California
As mentioned earlier, cannabis is legal in California for both recreational and medical use.
You can be pretty liberal about your green activities as long as you follow the law.
However, not everybody reacts well to the psychedelic nature of delta-9 THC, the main intoxicant from marijuana.
Fortunately, there's a better alternative if you're too sensitive to handle high-potency cannabis.
It's called delta-8 THC.
Delta-8 THC vs Delta-9 THC
Delta-8 THC and delta-9 THC are different variants of the THC molecule. As isomers, they have similar chemical formulas, but their atomic bonds are arranged differently.
Delta-8 THC comes with a double bond at the eighth carbon chain; meanwhile, delta-9 THC has this bond at the ninth chain.
Although subtle, this difference makes delta-8 THC about twice less potent as its more popular counterpart.
That's the primary reason why some people choose to avoid delta-9 and are turning to delta-8 products.
Cons of Delta-9 THC from Marijuana
When you consume delta-9 THC in low and moderate doses, it can soothe nerves, ease pain, elevate your mood, and even sharpen your focus and motivation.
Larger doses get you high, leading to euphoria, giggles, increased appetite, and changing the perception of your surroundings and time.
Most people like the weed high, but some individuals are oversensitive to the effects of delta-9 THC.
When they take too much, they experience a range of unpleasant side effects, such as:
Anxiety
Paranoia
Feelings of discomfort
Cold sweats
Dizziness
Confusion
Increased heart rate
Short-term memory problems
Effects and Benefits of Delta-8 THC
Since delta-8 THC is about 50% as strong as delta-9 — hence the nickname "diet weed" — it's also less likely to drive you anxious or paranoid.
Of course, when you take more than enough, you can still have a bad time with your mind for several minutes, but as long as you're using it responsibly, you should be able to enjoy the buzz.
People use delta-8 THC for similar benefits to delta-9 THC, including:
Anti-nausea
Anti-inflammatory
Pain relief
Increased appetite
Feelings of calmness and relaxation
Euphoria
Neuroprotection
Most people report that delta-8 THC makes the high feel smoother, easy-going, and mellow.
Is Delta-8 THC Legal in California?
Yes. delta-8 THC is legal under California's state law. The 2018 Farm Bill legalized hemp and its derivatives, including cannabinoids, terpenes, flavonoids, isomers, salts, and salts of isomers.
As long as the end product doesn't contain more than 0.3% delta-9 THC by dry weight, it's legal at the federal level.
Individual states have the right to amend the federal law within their jurisdiction. So far, 14 states have banned delta-8 THC products — but not California.
You can easily find delta-8 THC in local dispensaries, hemp stores, and online stores.
Read more: Is Delta-8 THC Legal in The United States?
Benefits of Buying Delta-8 THC Online
Buying delta-8 THC from a local vendor sounds like a convenient idea, but truth be told — you'll be better off buying from an online retailer.
Online stores offer a few benefits local shops can't compete with, namely:
Lower prices: online vendors don't have to deal with the middleman; they can offer better deals on high-quality products than local retailers. On top of that, you can join reward programs, use coupon codes, and register for subscription orders to save even more money.
Convenience: nothing comes close to the convenience of buying delta-8 THC online. You can compare different products and their prices without leaving your house. You can do it whenever you want, even when it's late at night. You'll need to wait 2-3 days for your delivery, but it's worth waiting if you know you're getting a safe, certified product.
Transparency: when you shop for delta-8 THC online, you can look into the certificates of analysis (CoAs), comb through customer reviews on independent websites, and look at forums and social media platforms to see what other people are saying about the brand, its product, customer service, etc.
Best Online Delta-8 THC Stores in California
Buying delta-8 THC can be overwhelming with all those options in online stores — especially if you're new to the topic.
Don't worry, I've done the digging for you. If you're in a rush, here's my recommendation for two leading brands on the market.
Both companies excel at product quality, customer service, integrity, and lab testing; I've been buying from them for the last two years and can recommend them with a clear conscience.
1. Area 52
Get 15% off all Area 52 products. Use code "CFAH" at checkout.
Area 52 is a Nevada-based manufacturer, although it doesn't have any products in traditional stores (yet). Its online store lets you choose from a variety of d8-infused products, including delta-8 THC tinctures, gummies, vape carts, and pre-rolled joints.
These products are potent — packing between 25–40 mg of delta-8 THC per serving — and they also contain high levels of terpenes. The addition of terpenes strengthens the cognitive effects of delta-8 and drives them in a specific direction. Depending on the terpene profile of your product, it can make you feel energized, creative, talkative, or mellow and sleepy.
Recently, Area 52 has released a line of "true full-spectrum" products; the collection includes novel formats like honey sticks and HHC gummies and more classic products, such as CBG gummies CBN gummies, immunity gummies, and CBD oil.
2. Finest Labs
Finest Labs is a great pick if you're tired of hemp brands that sell everything but the kitchen sink. This company offers a modest selection of products, but its formulas are mastered to perfection.
You can choose from tinctures, gummies, and vape carts infused with pure delta-8 THC distillate and terpenes. Similar to Area 52, Finest Labs uses indica, sativa, and hybrid strains in its line to cater to different types of users and their health goals.
Finest Labs is also one of the most respected manufacturers of botanical terpenes in the USA. It offers single terpenes as well as unique blends that resemble the aroma and flavor profiles of various cannabis strains.
FAQs
Who can use medical marijuana in California?
If you want to get qualified as a medical marijuana patient, you must be diagnosed with one of the following conditions:
Anorexia
Arthritis
Cachexia
Cancer
Chronic pain
HIV/AIDS
Glaucoma
Migraines
Persistent muscle spasms (e.g. from Multiple Sclerosis)
Severe nausea
Seizures
Any debilitating medical condition where marijuana has been considered an appropriate form of treatment by a doctor.
Can you grow weed in California?
Ye. Adults over the age of 21 may grow up to six plants per household. Growing more than that can lead to misdemeanor charges; you may be sentenced to prison for six months and pay $500 in fees.
Medical cannabis patients must follow the same cultivation limits as recreational users. However, doctors can recommend extending this limit if the patient has more serious medical needs.
Can you smoke weed in public?
No. Smoking or vaporizing weed in public places is prohibited. The same applies to private places that ban smoking and vaporizing within their premises.
Can you travel with marijuana in California?
Yes. You can possess marijuana in a car, but it must be kept in a closed container and out of the driver's reach. You can't smoke while driving or riding as a passenger in any motor vehicle, boat, airplane, or other means of transportation.
It's illegal to drive under the influence of cannabis. If you're suspected of being high behind the wheel, the police may run a few tests to see whether or not you're intoxicated.
The first offense may result in six months in jail, a maximum fine of $1,000, a four-month suspended license, and a DUI program at the driver's cost.
For second offenses, the jail time increases up to 1 year; the fine remains unchanged, and so do the other penalties.
Is buying weed online an option in California?
Yes. Licensed businesses in California can deliver to people at physical addresses. However, local municipalities can prohibit or regulate cannabis delivery, according to a recent court verdict.
Is CBD oil from hemp legal in California?
Yes, hemp-derived CBD oil is legal in California. The state follows the provisions of the 2018 Farm Bill, which legalized hemp at the federal level.
Hemp plants are now an agricultural commodity that can be grown and sold for any use, from foods, ropes, and paper to construction materials, clothes, biofuel, food, and health supplements.
You can easily find CBD oil over the counter in pharmacies, hemp stores, wellness centers, and cannabis dispensaries. However, since the market is unregulated, I recommend getting hemp-derived CBD oils from online retailers.
There are plenty of great online stores selling high-quality products at reasonable prices, and as I said before, nothing can beat the convenience and transparency of online shopping.
Buying Weed in California: Bottom Line
Despite having banned marijuana as the first state at the beginning of the 20th century, California has paid its moral debt and is now a trailblazer in the legalization movement.
The state produces the majority of cannabis in the country, and now that Governor Newsom has signed the bill legalizing interstate sales, we may soon witness a new wave of the green revolution across the states.
Delta-8 THC is also legal in California, so if you're sensitive to the psychedelic effects of delta-9 THC from marijuana, check out my recommendations for the best online delta-8 stores. Making a well-informed decision will save you time, money, and nerves, knowing that you're getting a safe and effective product.