Is Delta 8 Legal in Georgia? GA State Laws 2023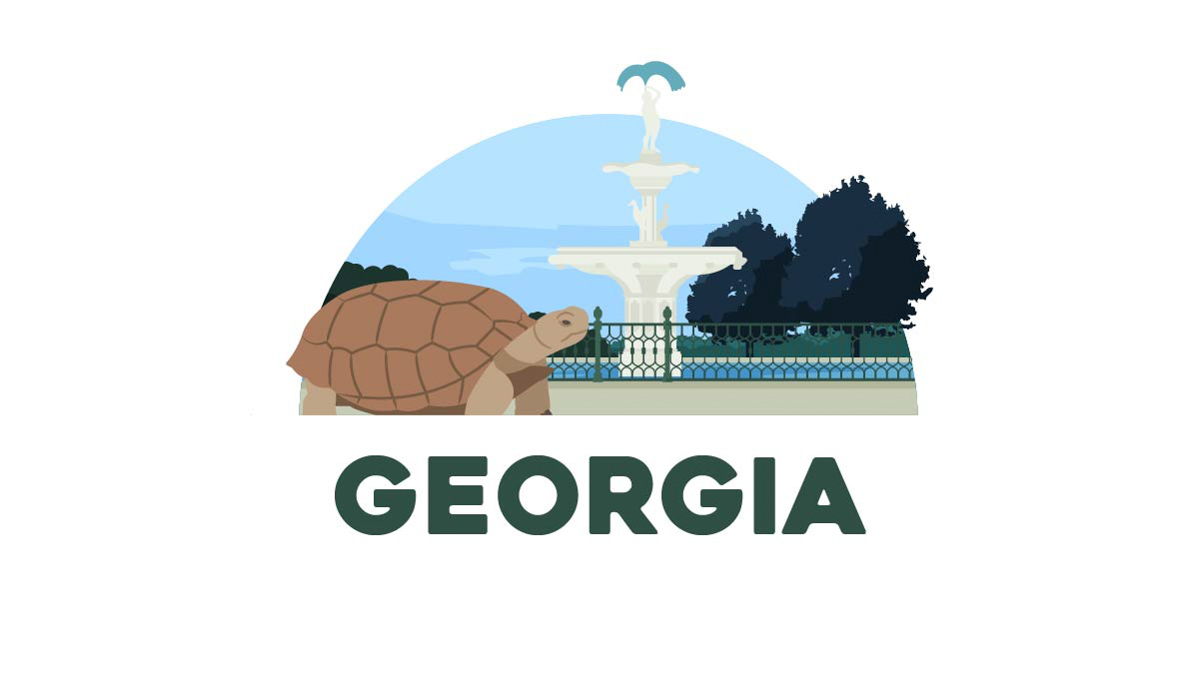 Looking for high-quality delta 8 THC in Georgia? Here's good news – possession, use, sale, and distribution of hemp-derived delta 8 products is legal.
The Georgian state law coincides with federal law created by the 2018 Farm Bill. All hemp-derived cannabinoids, isomers, terpenes, flavonoids, and salts are allowed for sale.
The only illegal cannabinoid in Georgia is delta 9 THC. The state has a long way to go when it comes to the full legalization of cannabis, but Georgians can at least legally enjoy delta 8 products.
But where do you find high-quality delta 8 in Georgia?
Read on to find out.
Is Delta 8 THC Legal in Georgia?
Yes, but not all sources of delta 8 THC are treated equally.
Delta 8 THC can be extracted from both hemp and marijuana, meaning the end products will differ in their chemical composition.
Related: Delta 8 THC Legality in the US
Marijuana and hemp are subject to different regulations. Here's what you need to know.
Marijuana-Derived Delta 8 THC
Georgia has one of the harshest cannabis laws in the U.S. It's going head to head with Texas and Indiana when it comes to penalties for possession.
If you're caught with 1 ounce of cannabis or less, it's classified as a misdemeanor. You can spend up to 1 year in prison and pay a fine of $1,000.
Possession of more than 1 ounce of weed will land you in jail for up to 10 years on top of a $5,000 fine.
That's anything but cannabis-friendly laws.
Can Doctors Prescribe Marijuana in Georgia?
Yes, but the medical marijuana program is virtually nonexistent. If you suffer from a qualifying health condition, you can register with the Georgia Ministry of Health and apply for a medical marijuana patient status.
However, even then you won't be able to buy any delta 8 THC. That's because the state law only allows low-THC oils to be prescribed by licensed doctors.
Hemp-Derived Delta 8 THC
With hemp-derived delta 8 THC, it's a different story. This type of delta 8 is legal at the federal level, so you shouldn't have problems buying it in Georgia.
Why is that so?
Let's have a primer on delta 8 THC.
Delta 8 is an analog substance of delta 9 THC – the primary intoxicating ingredient in marijuana. Both compounds have similar chemical structures, but the difference in their bonding makes delta 8 about half as strong as delta 9.
For that reason, delta 8 has become the new favorite of beginners and those who are sensitive to the psychedelic effects of high doses of delta 9 THC.
But isn't THC federally illegal?
Here's the catch.
Delta 8 THC is a minor cannabinoid, meaning that cannabis plants come with 1% or less of delta 8. This makes direct extraction cost-prohibitive.
However, hemp manufacturers have found a workaround for that problem.
Delta 8 THC can be extracted from hemp by converting CBD with a series of complex chemical processes using acids and heavy metal reagents.
The end product still contains 0.3% THC or less – making it legal at the federal level.
Individual states can extend the federal regulations on cannabis, and so far, 14 states have banned delta 8 products.
Fortunately, Georgia didn't follow them. You can legally buy delta 8 THC as long as it comes from hemp and doesn't exceed the legal limit for delta 9.
Related: Is CBD Legal in Georgia
Where to Buy Delta 8 THC in Georgia
There are a lot of delta 8 THC local stores in Georgia, including hemp stores, vape shops, head shops, wellness centers, and gas stations.
However, we don't recommend buying delta 8 locally any longer because most products sold by in-store vendors don't raise to the generally agreed quality and safety standards.
You need to do serious research before handing your money to a local store.
If you still want to look for delta 8 THC near you, we've put together a list of the top-rated local suppliers at the end of this guide.
PRODUCT
DETAILS

Area 52 Delta 8 THC Tincture

Organic hemp
Up to 1500 mg Delta 8 THC
Cherry and vanilla flavors
Third-party tested for quality and safety

Click for Best Price

Finest Labs

Non-GMO, pesticide-free hemp
500 mg delta 8 THC
Great for beginners
Berry flavor
Batch-specific certificates of analysis

Click for Best Price
Buying Delta 8 THC Online in Georgia
If you're searching for high-quality delta 8 products in Georgia, online retailers are the safest and most convenient option.
Buying delta 8 THC online comes with many benefits, such as lower prices, higher safety, and greater product diversity.
Not to mention that shopping for delta 8 online is way more convenient than driving around the city to find a decent vendor.
But before you order delta 8 THC from an online store, make sure that you understand the local law surrounding cannabis and individual cannabinoids in Georgia.
Where to Buy Delta 8 THC Locally in Georgia
As mentioned, there are many local vendors offering delta 8 products in Georgia. A quick search in Google should help you find several locations near you.
However, not all of these stores know how to select high-quality delta 8 THC, so you need to do your homework on your potential suppliers.
Here are the best delta 8 stores in Georgia according to customer reviews on Google Maps.
Delta 8 THC Stores in Georgia
| | |
| --- | --- |
| Name | Address |
| Vape City | 3895 Cherokee St NW ste 330, Kennesaw, GA 30144 |
| Green Diamond CBD | 129 S Hill St, Griffin, GA 30223 |
| Hemp Haven ATL | 2765 E College Ave, Decatur, GA 30030 |
| ATL Dispensary | 728 Monroe Dr NE Suite B, Atlanta, GA 30308 |
| Sam's Paradise Vape | 3380 Sunset Ave, Hapeville, GA 30354 |
| Xhale City | 1977 Jonesboro Rd, McDonough, GA 30253 |
How to Shop for Delta 8 THC in Georgia
Delta 8 THC is home to many hemp stores, but since the market isn't regulated, you need to keep a watchful eye on any company offering delta 8 products out there.
No two delta 8 extracts are created equal, but there are a few steps you can take to distinguish between the top-of-the-line delta 8 THC products and the substandard products:
Choose organic hemp. Hemp absorbs and accumulates both nutrients and toxins from its environment. The goal is to avoid toxins and maximize the number of nutrients. The best material for the job is organic, non-GMO hemp grown on local US farms.
Opt for CO2-extracted products. CO2 extraction yields pure and consistently potent extracts without using high temperatures or hazardous solvents. It's also the most expensive extraction method, so if a company invests in it, it shows its dedication to quality and safety.
Steer clear of bleaches. Some manufacturers bleach their distillate to make it appear cleaner, but in fact, the natural distillate isn't transparent. It can be delicately amber or pink-ish, so when you see a company selling translucent delta 8 distillate, it's a red flag.
Ask for lab reports. Third-party lab testing provides a detailed insight into the chemical makeup of the tested sample. A lab analysis looks at the potency of delta 8 THC, checks the level of delta 9, and looks for common contaminants, such as pesticides, heavy metals, mycotoxins, and residual solvents. If there are no lab reports available on the company's website, or the company doesn't send it on request, it's a sign you should look for delta 8 somewhere else.
Buy only from reputable brands. It's always better to purchase from established delta 8 brands than from a newcomer who has no reviews on the internet. Reputable companies are more likely to deliver the desired quality, and they have a long list of returning customers that can back their claims with real reviews.
Key Takeaways on Buying Delta 8 THC in Georgia
Delta 8 THC has quickly become a trending cannabinoid. With half of the potency of delta 9 and a lower risk of anxiety and paranoia, delta 8 is a decent alternative to regular weed for beginners.
However, since the market isn't regulated by the FDA, there are a lot of scammy delta 8 companies that only want their fair share of the cannabinoid cake.
While you can easily find local delta 8 vendors in Georgia, online stores are a better pick if you're looking for the best deals on high-quality products.
Buying delta 8 online gives you access to more products, lower prices, and a better toolset for researching your potential supplier.
If you still prefer to shop for delta 8 near you, check out the top-rated stores in our guide. And if you don't know where to start with the online space, Area 52 and Finest Labs are decent picks for beginners.
Enjoy buying delta 8 THC in Georgia!