Is Delta 8 Legal in Wisconsin? WI State Laws 2023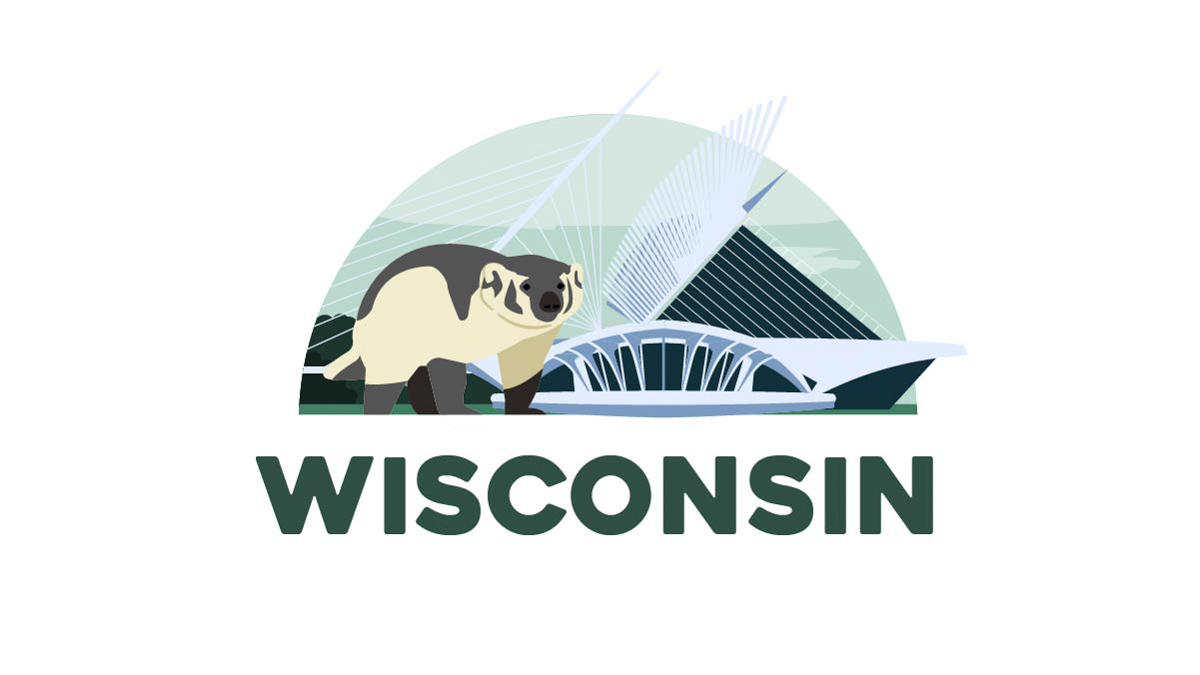 You can easily buy and sell delta 8 THC in Wisconsin, although a recent law enforcement crackdown in one extreme case has left the subject in a grey area.
Because marijuana and hemp laws in Wisconsin closely align with federal regulations, the new variant delta 8 THC is widely available.
In a state where medical and recreational marijuana is illegal, it's relieving to know you can at least purchase some delta 8 here.
In this article, we elaborate on delta 8 THC laws in Wisconsin, provide a neat buyer's guide, and highlight the best deals on high-quality products.
Is Delta 8 THC Legal in Wisconsin?
It's unclear whether delta 8 THC is fully legal in Wisconsin. After local police raided a vendor selling delta 8 products, state officials and legislators are trying to take a stance on its legal status.
For now, delta 8 THC remains in a legal grey area there.
The good news is that the police didn't press charges against the store owner — possibly because there was no straight reason for the charges.
Delta 8 THC can be extracted from both hemp and marijuana. The plants have different chemical compositions and so are treated differently by Wisconsin regulators.
Related: List of Delta 8 THC Legal States
Marijuana-Derived Delta 8 THC
Marijuana in Wisconsin is illegal for recreational use. Possession of any amount is punishable by up to 6 months in jail and a $1,000 fine for first-time offenders.
A second offense is classified as a felony with up to 3.5 years in jail and a maximum fine of 10,000.
Individual counties and cities have come up with their own regulations. Some of them decriminalized the possession of small amounts of cannabis (up to 25 grams) for personal use. Decriminalization means there's only a fine without jail time.
Can Doctors Prescribe Marijuana in Wisconsin?
Medical marijuana is legal in Wisconsin, but not in a way one would like it to be. If you have a qualifying condition, you can use low-THC marijuana oil, which is CBD oil that can have up to 1% THC. Wisconsin has dragged behind other states in legalizing medical marijuana in the full spectrum.
Hemp-Derived Delta 8 THC
With hemp-derived delta 8 THC, it's a different story.
The 2018 Farm Bill legalized hemp and all its derivatives, including cannabinoids, terpenes, flavonoids, salts, and isomers.
Delta 8 THC is an isomer of delta 9 – the main psychoactive compound in marijuana.
Normally, it would be illegal to sell delta 8 THC, but hemp manufacturers have found a workaround that allows them to achieve usable quantities of delta 8 from hemp plants.
They convert CBD into delta 8 THC in a series of complex processes, using acids and heavy metal reagents.
The end product contains 0.3% delta 9 THC (or less), so it's legal in light of federal law.
Related: Is CBD Legal in Wisconsin?
Where to Buy Delta 8 THC in Wisconsin
Delta 8 THC is a popular cannabinoid in Wisconsin. Despite uncertainties regarding the legality of delta 8 on the state level, you can still find it in many hemp stores, wellness centers, and even gas stations across the state.
However, we no longer recommend buying delta 8 THC from local vendors due to a shocking influx of low-quality, untested products.
If you're looking for high-quality products with relevant certificates of analysis, we recommend finding reputable online stores to get d8.
Product
Details
 

Area 52

Organic hemp
Up to 1500 mg Delta 8 THC
Cherry and vanilla flavors
Third-party tested for quality and safety

Finest Labs

Non-GMO, pesticide-free hemp
500 mg delta 8 THC
Great for beginners
Berry flavor
Batch-specific certificates of analysis
Buying Delta 8 THC in Wisconsin Online
Most transactions on delta 8 THC are made online these days — and for a good reason. Buying delta 8 online is cheaper, easier, and gives you a better toolset for vetting the vendor before you commit.
As we said, there are a lot of lousy delta 8 products being sold in Wisconsin today. Plenty of convenience shops, gas stations, and vape shops are selling products of dubious quality.
With cannabinoids, quality is of the essence. If the extract isn't made with Swiss precision, it could be contaminated with dangerous chemicals.
Buying delta 8 THC online allows you to look into third-party lab reports to confirm that the product you're looking at is pure and safe for consumption.
Other benefits of shopping for delta 8 products online include:
Better pricing and seasonal discounts
Reward programs and subscription purchases
Insight into customer reviews
Unparalleled convenience
Better product selection
Fresh extracts
But before you start combing through the Internet in search of your next supplier, make sure you're familiar with the local laws regarding delta 8 THC in Wisconsin.
Local Delta 8 Stores in Wisconsin
There are a lot of local hemp stores offering delta 8 THC in Wisconsin. A quick Google search should give you several options in your neighborhood.
However, there are delta 8 THC vendors to avoid because not all stores know how to select decent products, so you need to do your research.
Here are the top-rated delta 8 THC stores in Wisconsin, according to customer reviews from Google Maps.
Delta 8 Stores in Wisconsin
| | |
| --- | --- |
| Name | Address |
| The Dispo | 2929 N Richmond St, Appleton, WI 54911 |
| Highly Edibles | 2714 N Doctor M.L.K. Jr Dr, Milwaukee, WI 53212 |
| Canna Bloom Farmacy CBD, VAPE, and Delta 8 | 2770 E Sumner St, Hartford, WI 53027 |
| CannaBiz Depot | 200 4th St S, La Crosse, WI 54601 |
| Sconi Boys Dispensary – Delta 8 THC | 2719 S 108th St, West Allis, WI 53227 |
| Superstar Buds Delta 8 THC & CBD Dispensary | 1405 S 108th St, West Allis, WI 53214 |
| TruCannaBliss | 8311 W Brown Deer Rd, Milwaukee, WI 53223 |
| Ignite Dispensary Superior | 502 Hammond Ave, Superior, WI 54880 |
How to Shop for Delta 8 THC in Wisconsin
The legal status of individual cannabinoids is changing dynamically, with no official regulations in place when it comes to safety standards.
Not all delta 8 THC products are made the same. Here are a few dead-simple steps to follow if you want to be able to easily weed out scammers and ensure a well-thought-out purchase:
Choose organic products. Hemp plants absorb and accumulate all substances from their environment, including nutrients and toxins. Organic farming helps maximize the concentration of nutrients while avoiding toxic compounds.
Buy CO2-extracted delta 8. CO2 extraction is the gold standard because it yields pure and consistently potent products without relying on high temperatures or hazardous solvents. It's also the most costly technology out there, so if a company uses CO2, it means it prioritizes quality and safety.
Avoid bleaches. Natural delta 8 THC distillate has an amber or pink-ish color, but some manufacturers use bleaches to make them appear "cleaner." Bleaching delta 8 extracts compromise their quality and safety because these agents are difficult to purge from the end product. Never buy from a company that uses bleaches in their manufacturing process.
Look into certificates of analysis (CoAs). A CoA will tell you how much delta 8 THC is in your product; it will also list the entire cannabinoid and terpene profile and look for common contaminants, such as pesticides, heavy metals, bleaches, solvents, and mold. Always ask for CoAs if you want to ensure a safe and effective product.
Choose well-established brands. Reputable delta 8 companies that have a long record of loyal customers are more likely to deliver the desired quality than no-name brands. This isn't to say that new companies don't make decent delta 8 products; they're just a more risky option than a manufacturer with an established reputation. Check customer reviews on third-party websites and forums to get an objective view of your next vendor.
Key Takeaways on Buying Delta 8 THC in Wisconsin
It took one year for delta 8 THC products to become mainstream. With 50% of the potency of delta 9 THC and a lower incidence of anxiety and paranoia, the cannabinoid has become the new favorite of beginners and sensitive cannabis users.
However, since the market lacks regulations, there are a lot of poor-quality products being churned out on the market by companies trying to capitalize on the booming space.
While delta 8 THC is easily available in local hemp stores in Wisconsin, we recommend finding a reputable online store if you want to enjoy top-shelf quality without breaking the bank.
Online stores offer better pricing, greater product variety, and more tools for vetting your potential supplier.
If you like to shop for delta 8 somewhere near you in Wisconsin, check out the top-rated stores from our guide. And if you don't know where to start your online ventures, Area 52 and Finest Labs are decent picks for novice users.
Enjoy buying delta 8 THC in Wisconsin!