Hometown Hero Review & Coupon Code (2023 Update)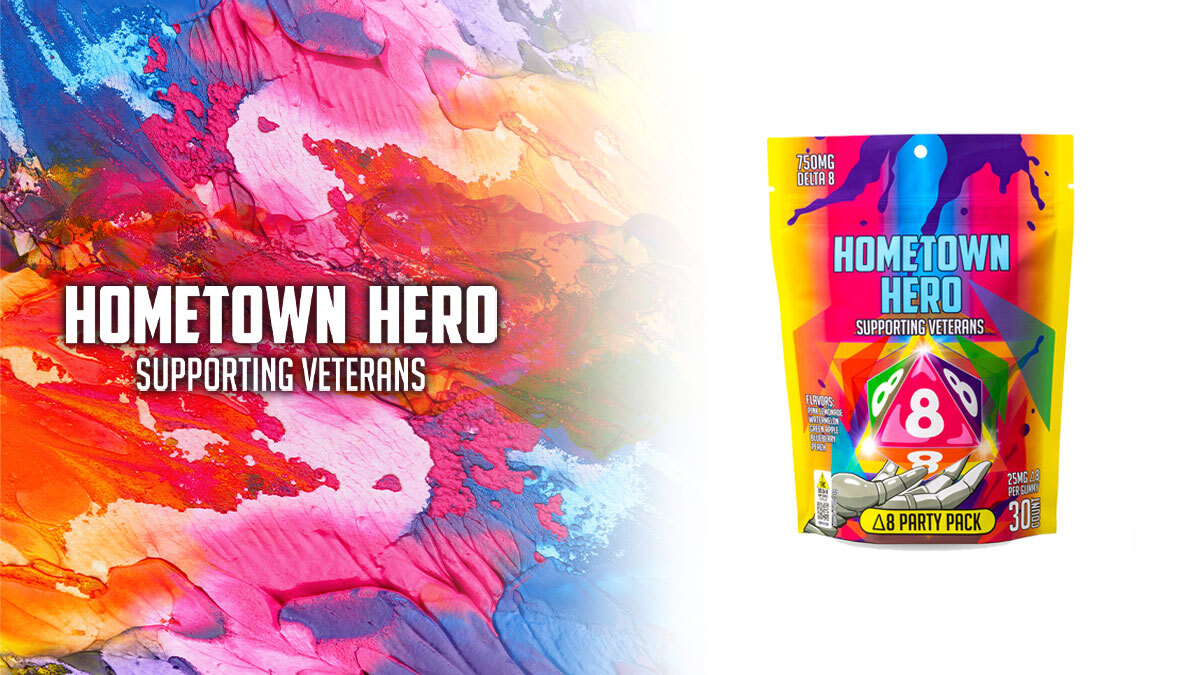 Hometown Hero is a premium seller of cannabinoid-based extracts, focusing mainly on delta 8 THC products.
In this review, we elaborate on the brand's product line, manufacturing practices, and transparency – and compare it with popular alternative options from the same quality segment.
Delta 8 THC is a young and wild space with no regulations surrounding the production and labeling standards.
You don't want to roll the dice on your health and safety in such a rapidly evolving market.
We've spent over 20 hours testing Hometown Hero's selection of delta 8 THC extracts.
Here's what we've learned.
Hometown Hero Delta 8 Review: Highlights (Pros & Cons)
Pros
Cons

Great taste
Remarkable strength
3rd-party lab results available upon request
Eager to explore new product formats
Supports charities and veterans

Very expensive
It uses plastic for packaging
New users may feel overwhelmed with so many products to choose from
About Hometown Hero
Hometown Hero is a brand that offers unparalleled transparency with full-panel lab reports, so you know exactly what you're buying.
Having tested their range, we can also confirm these are some of the strongest and best-tasting products on the market.
If Spiderman's uncle were still alive and using cannabinoids, he'd say that with great potency come great prices – which is the perfect summary of Hometown Hero.
The higher price doesn't come out of the blue; each product is sent to an ISO-certified laboratory for independent testing, and it comes with a Certificate of Analysis (CoA) containing all the vital information.
As a brand confident about the quality of its products, Hometown Hero offers a 30-day money-back guarantee for people who, for some reason, end up unsatisfied with their purchase.
Unfortunately, Hometown Hero doesn't share any information about the source of its hemp, which leaves a small scar on the company's transparency.
Hometown Hero Delta 8 Product Range Review
When you go to the Hometown Hero website, you'll feel as if you've just crossed the gates of Disneyland.
These guys offer a massive selection of different cannabinoid extracts, from delta 9 THC to delta 8, HHC, and CBD.
This Hometown Hero review will focus on its delta 8 THC range.
Hometown Hero Delta 8 Edibles
Edibles are the most popular category of Hometown Hero delta 8 products. Here's a quick review of each format.
Gummies
Hometown Hero offers two types of delta 8 THC gummies: a normal version (25 mg per gummy) and a MAX variant (100 mg).
The first option comes in five flavors:
Blueberry
Pink Lemonade
Watermelon
Green Apple
Peach
These gummies are better for novice users and those who occasionally consume delta 8 THC. Flavor-wise, they're very tasty, but we could feel an artificial aftertaste in the Watermelon and Pink Lemonade flavors; the colorings don't look natural too.
If you're an advanced user looking to feel the punch from high potent delta 8 gummies, you're going to have a good time with the MAX delta 8 gummies.
Hometown Hero offers three flavor variants of these treats:
Grape
Watermelon
Green Apple
If you've never tried delta 8 THC before, you can cut the gummies in halves (or even in quarters) to reduce the potency and gradually increase your dosage until you find the one that works best for you.
Baked Goods
Most delta 8 THC manufacturers limit themselves to gummies when it comes to edibles, but Hometown Hero has taken its game one step further, creating two types of baked goods that look like cereal cubes.
They're known as delta 8 squares; you can choose from two flavors:
Each square packs 400 mg of delta 8 THC. It's a good treat if you want to share with friends, but we wouldn't recommend running through the whole crunch at one time because you may end up feeling confused, tired, and – in extreme cases – anxious.
The flavor is quite nice, but it lacks depth, and for us, it has way too much sugar.
Hometown Hero Delta 8 Flower
We bought all strains from Hometown Hero for the purpose of this review. The brand has 2 varieties of loose flowers, one kind of pre-rolls and a jar of delta 8 moon rocks.
Let's start with the flowers.
You can choose between two strains: Raygun and Zero G. Each strain contains 250 mg of delta 8 THC per gram – an equivalent to 12.5% THC in weed since delta 8 is half as strong.
The Raygun strain is more piney and citrusy, providing mild relaxation pumped up by a cerebral buzz and a jolt of positive energy.
Zero G, on the other hand, is more redolent of burnt earth and ripe berries, delivering more body-focused effects.
Both strains have decent aromas and flavors because they come from indoor CBD flowers that are sprayed with high-purity delta 8 THC distillate.
It's a bit strange, but the only available pre-rolls are Raygun; there are no Zero G pre-rolled joints in Hometown Hero's line-up.
If you're looking for more potent delta 8 flowers, Hometown Hero has got you covered with moon rocks. These are CBD nugs dipped in delta 8 THC distillate and rolled in CBD kief.
Hometown Hero Delta 8 Tinctures
If you prefer the sublingual administration of delta 8 THC, Hometown Hero offers three types of tinctures:
Natural (Unflavored): 600 mg per bottle
Mint: 600 mg
Berry: 1200 mg
We were curious about the taste and potency of the Berry tincture, especially since it won second place during the High Times Hemp Cup in 2021.
It is, indeed, one of the best delta 8 tinctures we've ever tried – and the potency is spot-on.
There's nothing to take away from it.
Hometown Hero Delta 8 Concentrates
This category came a bit unexpected because we've been looking for concentrates like wax, shatter, or resin – but instead, Hometown Hero sells delta 8 capsules in this category.
We're not fans of capsules because they lack the dosage precision of tinctures and the fun of gummies.
They're just boring, not to mention low bioavailability.
At 15 mg of delta 8 THC per capsule, this product may be cost-prohibitive for users with higher tolerance to the cannabinoid or those looking for a more pronounced experience.
On a positive note, they're covered in a convenient and easy-to-swallow softgel shell.
Other Products by Hometown Hero
In this review, we looked at the delta 8 range of Hometown Hero. But the company doesn't stop there.
In fact, you can choose from plenty of other formats derived from various cannabinoids, such as:
Delta 9 Live Rosin Gummies (Indica, Sativa)
Select Spectrum Gummies (Delta 8 + Delta 9 + CBD)
Select Spectrum Cocoa Squares (Delta 8 + Delta 9 + CBD)
Delta 9 Squares
Delta 9 Live Rosin Taffy
HHC Gummies
CBDA + CBGA tincture
While such an abundance is great for seasoned cannabis aficionados, new consumers may get confused because they won't know what's best for them to begin with.
What Does Hometown Hero Do Well?
First of all, it's not just another no-name brand riding on the hype of a booming market. These guys are eager to show up and stand behind their products – kudos for that.
Another great feature that we'd like to mention in our Hometown Hero review is transparency. While the company lacks specific information about the source of its hemp, it's one of the few manufacturers providing a complete lab results profile for its entire product range.
The potency, as well as the flavors of its products, are almost always spot-on. If it wasn't for the sugar-laced gummies and cereal blocks, we'd call them the tastiest brand of all delta 8 manufacturers.
Last but not least, Hometown Hero's products are exceptionally potent. Its gummies pack a whopping 100 mg of delta 8 per piece, making a little go a very long way.
Now to the not-so-positive aspects.
Where Could Hometown Hero Improve?
Pricing is definitely a pain for most customers when it comes to Hometown Hero. The brand is more expensive than the majority of its competition.
Of course, nobody should undervalue their own work, but for many users out there, the prices are over the top.
Again, we need to mention the hefty amount of sugar in the Hometown Hero edibles. All of our team members have a sweet tooth, but the sweetness was too much for us to handle in the long run.
We'll draw a veil over the artificial colorings because that's not something we're used to – nor is it a wise move from a manufacturer who prides itself on making premium-grade products.
Best Alternative to the Hometown Hero Delta 8 Range
If you're looking for more natural products that provide a better balance between the flavors while still delivering the desired potency, here are the two brands that are considered at the top of the ladder in the delta 8 THC space:
Get 15% off all Area 52 products. Use code "CFAH" at checkout.
Pros
Cons

Organic, non-GMO hemp grown in Colorado
Reputable brand
Wide range of products
All-natural ingredients
Complete lab reports

Some products go out of stock due to being made in small batches
Area 52 offers a broad range of premium-grade products like vapes, tinctures, and gummies. These products come in various flavors derived from botanical terpenes.
The company uses different blends of cannabinoids, terpenes, and flavonoids to leverage the whole-plant synergy and make its products better thought-out than raw full-spectrum extracts.
All of Area 52's products are organic, non-GMO, vegan, and lab-tested for potency and contaminants, including pesticides, heavy metals, residual solvents, and mold.
Finest Labs is another highly revered manufacturer in the delta 8 THC market. The company has established a sustainable production system thanks to natural farming techniques and soil preservation.
These premium delta 8 products have been mentioned by the top industry magazines, such as Peninsula Daily, Peninsula Clarion, The Daily World, Peninsula Daily News, and Juneau Empire.
Finest Labs always puts quality over quantity, offering the basic forms of delta 8 THC, such as gummies, tinctures, and vape pens. Each product batch comes with an up-to-date certificate of analysis (CoA) confirming their potency and purity.
The brand is also one of the largest manufacturers of botanical terpenes, offering both single terpenes and blends; it also plans to expand its product line-up with other cannabinoid-based extracts, chasing Hometown Hero's tail.
Pros
Cons

Organic, US-grown hemp
Premium products
CO2 extraction
Vegan
Competitive prices

Humble product selection
Not available in local stores
Final Verdict: Should You Try Hometown Hero Delta 8 Products?
On the whole, Hometown Hero is one of the best delta 8 brands on the market right now. It has all it takes to win the hearts of delta 8 users: great product diversity, high-quality ingredients, and top-notch transparency.
Its products are also among the most potent delta 8 THC extracts in the world.
However, the company is slightly expensive when you compare it to competitor brands in the same quality segment. Its edibles are also too sweet for our taste, so Hometown Hero definitely has a few weak points to work on.
If you're looking for alternative brands that offer similar quality but for a bit less, check out the products from Area 52 and Finest Labs.
Have you had a chance to try Hometown Hero? What do you think about this brand? Let us know in the comments!