Is Weed Legal in Illinois? IL Cannabis Laws (June 2023)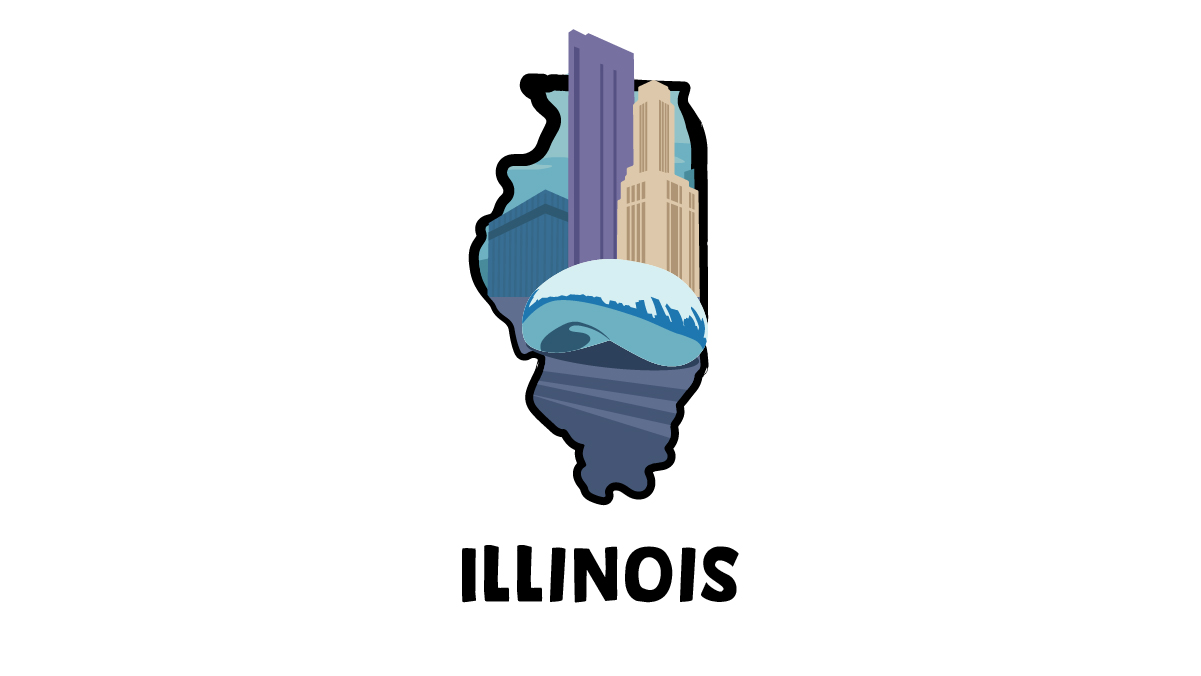 Marijuana is fully legal in Illinois. The Land of Lincoln allows residents to purchase marijuana from licensed dispensaries as long as they can show a valid ID with a photo.
Medical marijuana patients can also freely buy their medicine in Illinois with their medical marijuana cards.
Adults can grow up to 5 cannabis plants; the limit applies to both medical and recreational users.
You can travel with marijuana in Illinois as long as you keep it away from the driver's reach and in an original container.
Illinois bans marijuana smoking in public. Consumption is limited to private residences.
Long story short, Illinois is one of the best states to be for marijuana aficionados.
Every yearly sales record was broken by Illinois in recent years.
Here we explore different marijuana laws in Illinois and explain the legal status of delta 8 THC, which is a popular, federally-legal alternative to regular weed.
Is Marijuana Legal in Illinois?
Yes, marijuana is legal in Illinois for both medical and recreational use. However, different rules apply to medicinal and recreational products.
Related: List of Marijuana Legal States
Here's what you need to know about the legality of marijuana in Illinois.
Is Recreational Marijuana Legal in Illinois?
You can purchase and consume marijuana as long as you're 21 years or older and have a valid ID with a picture.
You're legally allowed to have up to 30 grams of cannabis flower, but you can't smoke, vape, or consume cannabis in motor vehicles and public spaces in Illinois.
Individuals also can't legally sell any amount of marijuana to anyone. Cannabis sales take place through the network of state-licensed dispensaries.
You can't buy or use marijuana if you're a non-US citizen or immigrant because marijuana remains illegal under federal law.
Is Medical Marijuana Legal in Illinois?
Illinois residents can also buy marijuana for medical use if they have a valid medical marijuana card.
Penalties for Marijuana Possession in Illinois
Possession of less than 30 grams of marijuana carries no penalties. However, if you have between 30 and 100 grams, it's classified as a misdemeanor punishable by up to 1 year in prison and a $2,500 fine.
Subsequent offenses or higher quantities are classified as a felony, with jail sentences ranging between 3 and 5 years on top of $25,000 in fines.
Is Weed Decriminalized in Illinois?
Yes, Illinois decriminalized the possession of small amounts of marijuana for personal use. You won't even receive a ticket if you're carrying 30 grams or less.
What's the Future of Cannabis Legalization in Illinois?
Illinois is one of the leading states when it comes to monthly sales records. It has already crossed the $1 billion mark of recreational marijuana sales in 2022. It will be hands down one of the biggest markets in the country if it continues to grow at the current pace.
Delta 8 THC: A Better and Legal Alternative to Marijuana in Illinois
Though marijuana is fully legal in Illinois, you can't buy it for delivery. Besides, some cannabis users are too sensitive to the potent psychoactive effects of THC from today's marijuana strains.
Delta 8 THC vs. Delta 9 THC
Delta 8 and delta 9 are two different versions of the THC molecule.
Delta 8 THC is an isomer of delta 9 that has a strikingly similar chemical structure. However, there's a difference in how their atomic bonds are arranged.
For delta 8, the atomic bond is at the eighth carbon chain, while delta 9 has this bond at the ninth chain. This subtle difference makes delta 8 THC about half as potent as delta 9.
Cons of Delta 9 THC from Marijuana
Most users can enjoy the high from marijuana. It makes them feel relaxed, happy, hungry, and free from physical discomfort and can improve sleep quality.
In low and moderate doses, delta 9 THC also improves cognitive performance.
But when you get really high from marijuana, you may experience an altered perception of time, problems with coordination, slowed speech, and other side effects.
If you're sensitive to the psychedelic nature of THC, high doses may backfire on you, causing the following reactions:
Anxiety
Paranoia
Sedation
Dizziness
Increased heart rate
Sweating
Confusion
Problems with coordination
Short-term memory impairment
That's why many cannabis users are turning to hemp-derived delta 8 THC.
Benefits and Effects of Delta 8 THC
Since the potency of delta 8 THC is 50% lower than delta-9, you'd need to consume twice as much delta 8 THC to experience the same intensity of effects as with marijuana.
The high from delta 8 is more easy-going and less edgy, even in high doses. Depending on the ratios between cannabinoids and terpenes in the product, the effects may lean toward energizing or sedating.
On top of that, delta 8 products provide similar health benefits for medical marijuana users, such as:
Anti-nausea
Anti-inflammatory
Pain relief
Increased appetite
Feelings of calmness and relaxation
Reduced symptoms of depression
Neuroprotection
Is Delta 8 THC Legal in Illinois?
The state law makes delta 8 THC products legal in Illinois, but they must meet the conditions ruled out by the 2018 Farm Bill.
In 2018, the federal government legalized hemp by removing it from the list of controlled substances. The new Farm Bill stated that hemp-derived products are legal as long as they contain 0.3% or less delta 9 THC.
14 states have banned delta 8 THC so far. Fortunately, Illinois isn't one of them – you can easily find delta 8 products locally and online.
Benefits of Buying Delta 8 THC Online
Delta 8 THC products have become mainstream at the speed of light. However, this rapid growth has its pros and cons.
While it's great to have a federally legal alternative to marijuana in Illinois, quality is paramount if you want to enjoy the effects to the fullest.
Unfortunately, there's a shockingly large number of low-quality extracts on the local market. That's because delta 8 THC products are sold virtually everywhere, even at gas stations.
This isn't to say gas stations can't have high-quality products (we've seen a few ourselves), but most of the time, they're below standards.
There are more perks to buying delta 8 online as compared to buying locally or at gas stations. Buying delta 8 THC online not only saves you time, but you also have a better toolset for vetting your potential vendors.
When you shop for delta 8 online, you can:
Look into third-party lab reports for each product
Read through the company's website, including its "About Us" section
Compare customer reviews from different sources
Reach out to other users on social media platforms and forums
Finally, delta 8 products ordered online are usually less expensive than their local counterparts because online vendors can cut out the middleman. You can use coupon codes, join reward programs, and register for subscription orders to cut down on your expenses for delta 8.
Best Online Delta 8 THC Vendors
Not all delta 8 THC products are created equal. As mentioned, the local market is full of mediocre, sometimes uncertified, and dangerous products. You need to do your homework before you trust any company with your money in this space.
If you're short on time, here are our top two favorite delta 8 THC online brands that make premium-grade products at reasonable prices.
1. Area 52
Get 15% off all Area 52 products. Use code "CFAH" at checkout.
Area 52 is a Nevada-based manufacturer of delta 8 THC extracts. The company started out selling delta 8 distillate in various forms, and since then, it has become a true cannabinoid powerhouse, offering different blends from organic hemp.
You can choose from the classic forms of delta 8 THC, including tinctures, vapes, gummies, and pre-rolled joints. Recently, the guys at Area 52 have added real full-spectrum CBD extracts for different health needs to their collection. All of these products come with high levels of delta 8 and an exceptional terpene content that leverages the whole-plant synergy in cannabis.
Are 52 is one of the most transparent brands on the market. Not only does it go through every step of its manufacturing process, but it also sends batch-specific certificates of analysis for its products upon request.
2. Finest Labs
Finest Labs is a cannabinoid manufacturer deeply rooted in science. The brand focuses on using advanced extraction methods that help reduce environmental impact while maintaining premium quality in its products.
Similar to Area 52, Finest Labs offers delta 8 THC tinctures, pre-rolls, gummies, and vape carts. Their simple design and neat packaging reflect the company's no-bs approach to making cannabinoid extracts.
Every product batch is triple-tested in an independent laboratory for pesticides, heavy metals, bleaches, mold, and other toxins to ensure maximum safety.
Some of the company's products are less potent than Area 52, but lower potencies translate into a lower cost per product, so Finest Labs is a decent pick if you're shopping on a lower budget.
FAQs
Who Can Use Medical Marijuana in Illinois?
You don't need a prescription to buy marijuana from Illinois dispensaries. However, certain medical products are available only to patients with a medical marijuana ID.
To receive a medical marijuana card, you need to have one of the conditions listed by the Illinois Department of Public Health.
Can You Grow Marijuana in Illinois?
Yes, Illinois allows the cultivation of up to 5 cannabis plants at home. Both recreational and medical users are subject to the same limits.
Can You Smoke Weed in Public?
No, smoking marijuana in public is illegal in Illinois. Adults 21 years or older can consume weed only on private properties.
Traveling with Marijuana in Illinois
Traveling with marijuana is legal in Illinois as long as you're not crossing state lines. Transportation of marijuana between state lines is considered drug trafficking — a serious federal felony punishable by up to 5 years in prison and $250,000 in fines.
Can You Buy Weed Online in Illinois?
If you're looking for marijuana delivery services in Illinois, you're going to end up disappointed. Weed deliveries aren't allowed under the current law, although the authorities say they're considering it.
For now, the only option to buy marijuana online in Illinois is to order it from an online dispensary and schedule the time for pickup. Marijuana pickup services are free.
Is CBD Oil from Hemp Legal in Illinois?
Hemp and its derivatives were legalized by the 2018 Farm Bill. The new law removed hemp from the list of controlled substances and made it an agricultural commodity once again.
All hemp-derived cannabinoids, terpenes, flavonoids, isomers, and salts, are legal as long as they contain 0.3% THC or less.
CBD oil is widely available in Illinois without a prescription. You can find it just about anywhere; in your local grocery store, hemp shop, vape store, fitness complex, and at gas stations.
However, since the market is unregulated (a similar situation to delta 8 THC), the best deals on high-quality CBD products are found online.
Key Takeaways on Marijuana Legal Status in Illinois
Illinois is one of the fastest-growing states when it comes to marijuana sales. Every year, the Land of Lincoln sets a new sales record after legalization.
The only aspect of buying marijuana in Illinois that's off-limits is delivery. If you want your products to be delivered to your doorstep, you need to look for hemp-derived delta 8 THC.
Delta 8 THC is federally legal and there are a lot of vendors in this space selling products like tinctures, joints, vape carts, gummies, and concentrates. Even if there's no decent store nearby, you can order delta 8 online and have it delivered to your house within 2-3 business days.
When it comes to buying marijuana in Illinois, you're in for a real treat. Go chase your opportunities, whether you're up for regular weed or hemp-derived delta 8 THC.