Is Weed Legal in Iowa? IA Cannabis Laws (June 2023)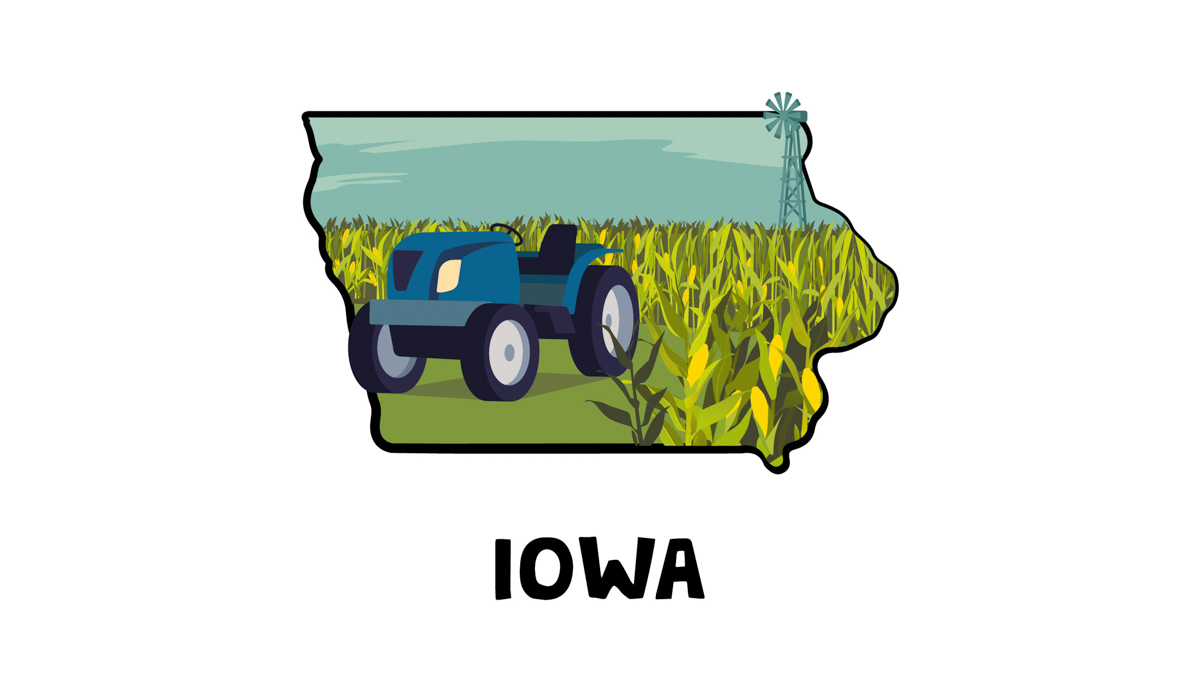 This guide provides a complete overview of Iowa marijuana laws. We discuss recreational and medical use, cultivation, penalties for possession, public consumption, decriminalization, and future perspectives for legalization.
Marijuana is illegal in Iowa for recreational use — carrying strict penalties for possession of any amount of weed.
The state has a restrictive medical marijuana program under which you can purchase medical marijuana from one of the state-licensed dispensaries.
However, patients are limited to non-smokable forms of marijuana, as flowers, concentrates, and vapes are prohibited under state law.
There's a federally legal alternative to marijuana in Iowa, but before we elaborate on it, let's look at the regulations surrounding weed in the state.
Here's what you need to know.
Is Weed Legal in Iowa?
Weed is illegal in Iowa for recreational use and available only to medical marijuana patients under certain circumstances.
Related: States with Legal Cannabis in the US
Is Recreational Marijuana Legal in Iowa?
No, recreational users are prohibited from using marijuana in Iowa. It's illegal to grow, produce, sell, and share cannabis between adults. Possession of even small amounts of marijuana for personal use is punished with fines and jail time.
Is Medical Marijuana Legal in Iowa?
Technically, medical marijuana is legal in Iowa, but the program is incomplete. Lawmakers in Iowa have banned smokable forms of cannabis, so you don't have access to flowers, vapes, and concentrates if you live in Iowa.
You can only buy capsules, tinctures, and lotions infused with THC.
Possession limits for medical marijuana patients include up to 4.5 grams of THC every 90 days, with some exceptions for individuals who need more cannabis to effectively treat their illness.
Penalties for Marijuana Possession
Iowa has strict penalties for marijuana possession:
Being caught with any amount of marijuana for the first time may lead to up to six months in jail and a maximum fine of $1,000.
A subsequent offense increases the jail time to two years, and the fine goes up to $6,250. You may also be referred to a drug treatment program.
Possession or sale of cannabis paraphernalia (e.g. bongs, pipes, etc.) may result in misdemeanor charges, six months in prison, and a $1,000 fine.
Growing marijuana is a felony punishable by a minimum fine of $7,5000 for amounts under 50 kilograms and locked at 50 years in prison and a $1 million fine for amounts over 1,000 kilograms.
Is Weed Decriminalized in Iowa?
No. Any amount of marijuana is illegal in Iowa and entails possible jail time plus fines.
What's the Future of Cannabis Legalization in Iowa?
The future of cannabis legalization in Iowa is covered by dark clouds. In March, the Des Moines Register's Iowa Poll showed that 54% of Iowans are in favor of legalizing recreational marijuana, and 78% support increasing the availability of medical cannabis for patients.
However, Iowa Rep. Steven Holt, chair of the House Judiciary Committee, said legalizing cannabis is something he would never support. He went further on to say decriminalization could increase usage in the state and be harmful to society — which is against the current scientific evidence from states that either decriminalized or legalized marijuana.
Delta-8 THC: A Better and Legal Alternative to Marijuana in Iowa
As you can see, there's not much you can do with marijuana in Iowa. Even medical cannabis patients can get their hands on flowers and other inhalable products.
If you're looking for a federally legal alternative to marijuana in Iowa, you may want to turn your eyes to hemp-derived delta-8 THC.
Yes, isomers of THC are legal at the federal level, according to the language used by the 2018 Farm Bill.
But what makes it different from delta-9 THC — and why are so many people transitioning from regular weed to delta-8 products?
Delta-8 THC vs. Delta-9 THC
Delta-8 THC is the isomer of delta-9 THC. It has a strikingly similar chemical formula, but its structure is a little bit different.
Delta-9 THC has a double bond at the ninth carbon chain. Meanwhile, delta-8 THC has this bond at the eighth chain. Because of that, delta-8 THC is about twice less potent as delta-9.
And that's the reason why delta-8 products are making waves in the cannabis community.
Cons of Delta-9 THC from Marijuana
Delta-9 THC is the primary psychoactive compound in marijuana. In low and moderate doses, it has a nootropic effect, improving cognitive performance, reducing stress, and optimizing the nervous system.
Larger doses can make you feel high, altering your thinking patterns and the perception of your surroundings and causing euphoria, giggles, and increased appetite. They also relieve pain and come with several other medical benefits.
Most people can enjoy the psychoactive effects of delta-9 THC, but for sensitive individuals, it can be a double-edged sword. People who are reactive to THC and have a low tolerance may experience the following side effects:
Anxiety
Paranoia
Feelings of discomfort
Cold sweats
Dizziness
Confusion
Increased heart rate
Short-term memory problems
Effects and Benefits of Delta-8 THC
Delta-8 THC has a similar effect profile to delta-9 THC, but it's not as powerful. Consequently, it doesn't stimulate the cannabinoid receptors in your brain to such an extent — hence the lower incidence of anxiety and paranoia.
When it comes to the health benefits of delta-8 THC, the research is still in its infancy, although anecdotal reports most often relate to the following effects:
Anti-nausea
Anti-inflammatory
Pain relief
Increased appetite
Feelings of calmness and relaxation
Euphoria
Neuroprotection
Is Delta-8 THC Legal in Iowa?
You may have a hard time getting delta-8 THC products in Iowa because they're technically illegal. While the Controlled Substances Act doesn't explicitly mention delta-8 THC as illegal, a recent interpretation from lawmakers outlawed delta-8 THC products.
Some online stores offer to ship to Iowa, but I don't encourage doing so because it may put you in an uncomfortable situation with law enforcement, should they decide to search your pockets.
Benefits of Buying Delta-8 THC Online
Buying delta-8 THC online is easier and more convenient than local shopping. You can compare dozens of different formulas and their prices in the comfort of your home, even if you're sitting there in your pajamas at 2 am. While you need to wait the extra 2-3 days for delivery, you can feel safe knowing you're getting a certified and tested product.
Speaking of which, shopping for delta-8 THC products online gives you more tools for vetting your potential vendors. You can comb through customer reviews, read the company's "About Us" section, and look into the certificates of analysis (CoAs) to see if they meet the purity standards and contain the declared amount of delta-8 THC.
Last but not least, online retailers offer lower baseline prices for the same grade of products because they can cut out the middleman. Your options for saving money branch out further with reward programs, subscription orders, coupon codes, and bulk pricing.
Best Online Delta-8 THC Stores in Iowa
As mentioned, you need to have eyes all around your head if you want to make a well-informed purchase. Falling for the cheapest or the fanciest brand out there may give you a serious headache — both figuratively and literally.
The delta-8 THC space is largely unregulated, with no manufacturing and testing standards in place.
If you don't have the time to analyze the chemical makeup of delta-8 extracts and learn about different extraction methods, here's my recommendation for the two leading brands I've been buying from for the last two years. Both companies offer remarkable transparency, integrity, and product quality.
1. Area 52
Get 15% off all Area 52 products. Use code "CFAH" at checkout.
This Nevada-rooted brand wants to "Alienize your state of mind," as its creed goes. Area 52 specializes in delta-8 THC extracts from the pure distillate, including tinctures, gummies, vape carts, and pre-rolled joints.
Not only are these products potent — packing 25 to 40 mg of delta-8 THC per serving — but they're also packed with terpenes, which enhance the cognitive buzz and the health benefits of delta-8.
The vapes and pre-rolls are made from different cannabis strains, such as Sativa, Indica, and Hybrid, catering to different types of users.
Area 52 has recently released a new line of "true full-spectrum" products, featuring novel formats like HHC gummies and delta-8 honey, as well as more traditional forms, such as energy gummies, sleep gummies, immunity gummies, and CBD oil.
2. Finest Labs
Finest Labs is my second favorite and the go-to recommendation for beginners. This company offers a humble product selection, but the formulas are crafted with great attention to detail. On top of that, Finest Labs performs rigorous lab tests on its products regarding their purity and potency.
You can choose from standard formats like tinctures, gummies, and vape pens, each infused with distillate and blended with strain-specific terpenes.
Speaking of which, Finest Labs has a reputation as one of the best manufacturers of botanical terpenes, offering both single terpenes and unique blends that resemble the flavor and aroma profile of various cannabis strains.
FAQs
Who can buy medical marijuana in Iowa?
Patients with diagnosed ailments that can be treated with cannabis can apply for a medical marijuana card.
The qualifying conditions include the following:
Cancer
Severe chronic pain
Cachexia
Multiple sclerosis
Seizures, including epilepsy
HIV/AIDS
Crohn's disease
Amyotrophic lateral sclerosis (ALS)
Parkinson's disease
Severe autism
Post-traumatic stress disorder (PTSD)
Any terminal illness, with a life expectancy of fewer than 12 months.
Can you grow weed in Iowa?
Iowa doesn't allow the home cultivation of marijuana. Even if you're a patient, you must source your medicine from dispensaries, but only in state-approved forms, such as pills, tinctures, and lotions.
Can you smoke marijuana in public?
Smoking marijuana in public is illegal in Iowa. You may face a misdemeanor conviction and be sentenced to up to a year in jail, with up to $1,875 in fines.
If you smoke weed near a park or school, you're committing a felony punishable by a mandatory 10-year prison sentence and a $100,000 fine.
Can you travel with marijuana in Iowa?
No. Traveling with any amount of marijuana is illegal in Iowa. Getting caught will result in possession charges, and you'll be punished accordingly (see the list above in the section "Penalties for Possession").
Is buying weed online an option in Iowa?
No, you can't legally buy weed in Iowa. Selling marijuana is a state felony that includes hefty fines and a maximum 5-year prison sentence.
Is CBD oil from hemp legal in Iowa?
Yes. The law in Iowa follows the language of the 2018 Farm Bill, which legalized hemp and its derivatives. CBD products are legal in Iowa as long as they contain no more than 0.3% delta-9 THC on a dry weight basis.
You shouldn't have problems finding a CBD store in Iowa, but since the market is unregulated, I recommend finding a reputable online store to benefit from lower prices and more ways to research your potential supplier.
Buying Weed in Iowa: Bottom Line
Marijuana is illegal in Iowa for recreational use. The state has a modest medical marijuana program, but it only allows non-smokable cannabis products, so you're not spoiled for choice.
The only legal way to enjoy psychoactive cannabinoids in Iowa is to look for hemp-derived delta-8 THC. This cannabinoid is about 50% as potent as regular weed, carrying a smoother cognitive buzz and a lower risk of anxiety and paranoia.
Unfortunately, Iowa lawmakers have recently interpreted the state law against delta-8 THC, deeming it illegal — although the law says nothing explicitly about this cannabinoid.
Overall, delta-8 THC from hemp is in a legal gray area, so you're exploring it at your own risk. Always make sure to purchase from trustworthy brands that can provide relevant certificates of analysis for each product batch.