Is Weed Legal in Maryland? MD Cannabis Laws (June 2023)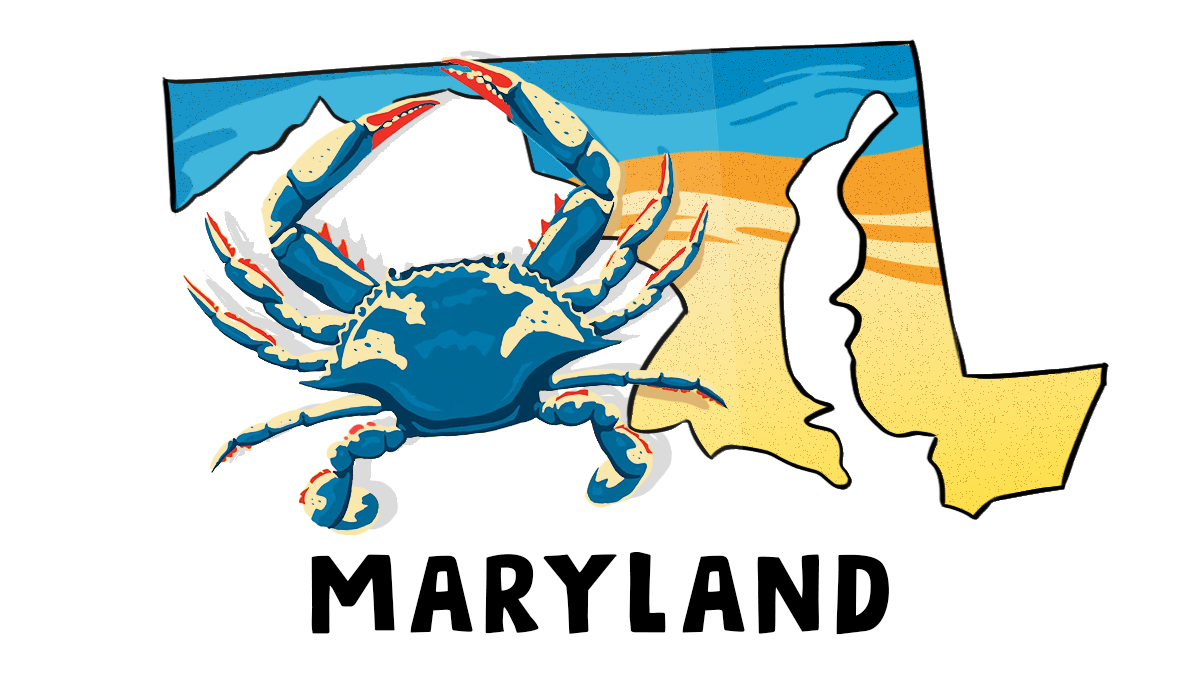 This article covers everything about marijuana laws in Maryland. We explore medical marijuana and recreational marijuana use and discuss penalties for possession, decriminalization, and future perspectives for cannabis legalization. You'll also learn about a federally legal alternative to marijuana in Maryland.
Marijuana is now legal in Maryland for recreational use.
The state has a program for medical marijuana patients with qualifying conditions.
Recreational use has been legalized through ballot initiatives and will take effect in July 2023. Residents of the legal age of 21 and up are allowed to carry up to 1.5 ounces of marijuana.
Possession of any amount between 1.5 ounces and less than 2.5 ounces is punishable by a fine of up to 250. Possession of more than 2.5 ounces will be punishable by a jail time of up to six months or a civil fine of $1000.
Hemp-derived delta-8 THC is legal in Maryland as long as the end product contains 0.3% delta-9 THC or less. The state follows the same regulations put in place by the federal government.
Is Weed Legal in Maryland?
Weed is legal for medical marijuana patients in Maryland. Recreational users can still face penalties for possessing more than 1.5 ounces of marijuana.
Related: Where Is Weed Legal in the US?
Here's the breakdown of recreational and medical cannabis laws in Maryland.
Is Recreational Marijuana Legal in Maryland?
Yes, Marijuana in Maryland is legal for recreational use starting July 2023. However, possession of more than 1.5 ounces of cannabis is a misdemeanor punishable by law.
Is Medical Marijuana Legal in Maryland?
Yes. Medical marijuana patients can purchase their medicine from one of the state-licensed dispensaries. Maryland's medical marijuana program has been operating since 2017. Unfortunately, home cultivation isn't permitted.
Penalties for Marijuana Possession
Possession of between

1.5 ounces

and up to 50 pounds of cannabis is considered a misdemeanor, penalized by up to

six months

in prison and a maximum fine of $1,000.
If you're caught with more than 50 pounds of weed, it will be classified as a felony, involving punishment of at least five years in prison and $100,000 in fines.
Trying to distribute marijuana will land you a felony and is subject to different penalties depending on how much cannabis you distribute.
Is Weed Decriminalized in Maryland?
Yes. Maryland decriminalized the possession of less than 10 grams of marijuana in 2017. Decriminalization was further expanded in March 2020 when Maryland passed House Bill 550, increasing the decriminalization possession amount to one ounce (28 grams).
What's the Future of Cannabis Legalization in Maryland?
Through ballot initiatives, recreational marijuana has been legalized in Maryland. The law should take effect in July of 2023 where residents are allowed to carry up to 1.5 ounces of marijuana and should be of legal age.
Delta 8 THC: A Better and Legal Alternative to Maryland
If you're not a medical marijuana patient, your hands are tied when it comes to legally purchasing high-THC cannabis.
Although possessing up to one ounce of marijuana won't result in jail time or heavy fines, you must first get that weed from someone; and buying, growing, or gifting marijuana is illegal under state law.
Fortunately, there's a federally legal alternative to marijuana; it comes from the cannabis plant, but it uses a legal loophole created by the 2018 Farm Bill.
Ever heard of delta 8 THC?
If not, you're going to be positively surprised.
But first, let's talk about the reasons why some people choose to avoid high-THC cannabis — other than legal issues.
Cons of Delta 9 THC From Marijuana
For most people, marijuana creates enjoyable sensations of euphoria and deep relaxation. Low and moderate doses are known for their stress-relieving properties, pain-killing effects, and the ability to boost cognitive performance.
Larger doses get you high, elevating your mood, increasing the said euphoria, and altering your thinking patterns and the perception of your surroundings.
You may also feel hungry, sleepy and experience episodes of laughter.
But for some individuals, delta 9 THC reveals its biphasic nature. High doses can backfire on them, creating feelings of unease and inducing a few physiological reactions.
The side effects of too much delta 9 THC include:
Anxiety
Paranoia
Feelings of discomfort
Cold sweats
Dizziness
Confusion
Increased heart rate
Short-term memory problems
Effects and Benefits of Delta 8 THC
Delta 8 THC is an isomer of delta 9 THC, meaning both compounds have a strikingly similar chemical formula. However, at the molecular level, their structure is a bit different.
Delta 9 THC has a double bond at the ninth carbon chain, while delta 8 THC has this bond at the eighth chain.
This difference makes delta 8 THC about 50% as potent as delta 9 THC. In other words, you'd need to consume twice the amount of delta 8 to get that same high and intensity of effects as with marijuana.
Lower potency also means a lower risk of anxiety and paranoia. That's not to say it doesn't happen — it does when you take more than enough (which I don't recommend) — but you're much more likely to enjoy the psychoactive effects of delta 8 THC.
People use delta 8 for its health benefits which are similar delta 9, including:
Anti-nausea
Anti-inflammatory
Pain relief
Increased appetite
Feelings of calmness and relaxation
Neuroprotection
Best of all? Delta 8 THC is federally legal.
But how does Maryland treat this "novel" cannabinoid?
Is Delta 8 THC Legal in Maryland?
Yes, delta 8 THC is legal in Maryland. The state law aligns with the provisions of the 2018 Farm Bill, which state that all hemp-derived compounds are legal as long as the end product doesn't contain more than 0.3% THC on a dry weight basis.
Although 14 states have banned delta 8 THC, Maryland allows them, provided that they come from hemp plants.
You shouldn't have problems finding delta 8 THC in local stores and online.
Benefits of Buying Delta 8 THC Online
Buying delta 8 THC online has a few perks you won't find in a traditional store.
Online stores offer lower product prices because they don't need to deal with the middleman. You can further save more money on high-quality products by joining subscription orders or reward programs, or by using seasonal coupon codes.
You also have more tools for researching your potential suppliers. You can look into third-party lab reports, check user reviews on independent websites, read the company's "About Us" section, or reach out to other users on social media groups and forums like Reddit.
Not to mention that nothing can beat the convenience of buying delta 8 THC online. You can do it in the comfort of your home, comparing different formulas and their prices anytime you want.
Best Online Delta 8 THC Stores
There's a large degree of difference between the quality of different delta 8 THC products. That's because the market is unregulated, and we have no manufacturing, lab testing, or labeling standards.
If you're looking for a quick recommendation for reputable and transparent delta 8 manufacturers that make high-quality products at reasonable prices, here are the two brands I've been using for the past two years.
1. Area 52
Get 15% off all Area 52 products. Use code "CFAH" at checkout.
Area52 is a Nevada-based manufacturer of delta 8 THC products. The company started out with a small selection of extracts, such as tinctures and gummies, but it quickly branched out with other formats, including delta 8 THC carts and pre-rolled joints.
These potent products offer 25-40 mg of delta 8 THC per serving, depending on the selected option. They're also rich in strain-specific terpenes, which contribute to the entourage effect and boost their efficacy and recreate the flavor and effect profiles of classic cannabis strains.
Recently, Area 52 has introduced a new product line featuring "true full-spectrum extracts," such as CBD Oil, CBD+CBG Energy Gummies, CBD+CBN Sleep Gummies, CBD+CBC Immunity Gummies, and HHC gummies.
2. Finest Labs
Finest Labs is my go-to recommendation for beginners who feel overwhelmed by the abundance of options with other brands when shopping for delta 8 THC for the first time.
The guys at Finest Labs offer a simple collection of delta 8 products, including tinctures, gummies, vape pens, and a broad range of botanical terpenes. Finest Labs is one of the most respected manufacturers of terpenes, offering both single molecules and special blends redolent of different cannabis strains.
You can also choose from HHC gummies (the latest trend in psychoactive cannabinoids), and CBD+CBG Energy Gummies infused with Vitamin B12 for better cognitive performance.
FAQs
Who can use medical marijuana in Maryland?
Maryland residents are eligible to apply for a medical marijuana recommendation from certified doctors if they're diagnosed with one of the following conditions:
Anorexia
Acute or persistent muscle spasms
Cachexia
Glaucoma
Post-traumatic stress disorder (PTSD)
Severe or chronic pain
Severe nausea
Seizures
A chronic or severe medical condition that isn't responding to conventional treatments
Can you grow weed in Maryland?
Yes, with the recent ballot initiatives, a resident of Maryland can now grow up to two cannabis plants without the public eye. This should take effect in July 2023.
Growing marijuana is treated in a similar way to possession. Penalties depend on the amount of weed you're caught with and the number of plants.
Can you smoke marijuana in public?
No. Marijuana has specific laws in place regarding smoking weed in public places. If you use marijuana in public, you'll get a fine of up to $500, provided that you have less than one ounce of flower. Smoking cannabis in a vehicle, aircraft, or boat, may be subject to civil or criminal charges.
Can you travel with marijuana in Maryland?
Yes, medical marijuana patients can travel with weed within Maryland. However, they can't take it across state borders. Doing so is treated as a federal felony (drug trafficking) and punished by up to 5 years in prison and $250,000 in fines if you're carrying less than 50 kg of marijuana and fewer than 50 plants.
Is buying weed online an option in Maryland?
You can buy marijuana online if you're a medical marijuana patient. You can have it delivered to your house or order it for pick up to avoid standing in lines.
Dispensaries have their own hours and regulations when it comes to deliveries, so you'll need to check up with your local dispensary to find out how it operates.
Is CBD oil from hemp legal in Maryland?
Yes. CBD oil is lawful in Maryland as long as it contains less than 0.3% delta 9 THC. The 2018 Farm Bill removed hemp from the list of controlled substances, making it an agricultural crop once again.
Farmers can now grow and sell hemp for a variety of uses, from paper, clothes, and ropes to biofuel, construction materials, food, and health supplements such as CBD oil.
If you're looking for the best deals on high-quality CBD products, follow the same buying principles as with delta 8 THC products. Pay attention to hemp sources, extraction methods, and lab reports; doing so will help you make a well-informed decision on your purchase.
Buying Weed in Maryland: Bottom Line
The residents of Maryland have voted and made recreational marijuana legal in the state. It is important that residents know the allowable amount to carry to prevent legal troubles. You should also be of the legal age of 21 to possess marijuana within the state.
If you're in Maryland and want to try psychoactive cannabinoids, check out hemp-derived delta-8 THC. Such products are legal federally and in Maryland.
Just make sure to get your delta-8 extracts from a reputable source that provides batch-specific certificates of analysis from an independent laboratory.