Is Weed Legal in Montana? MT Cannabis Laws (June 2023)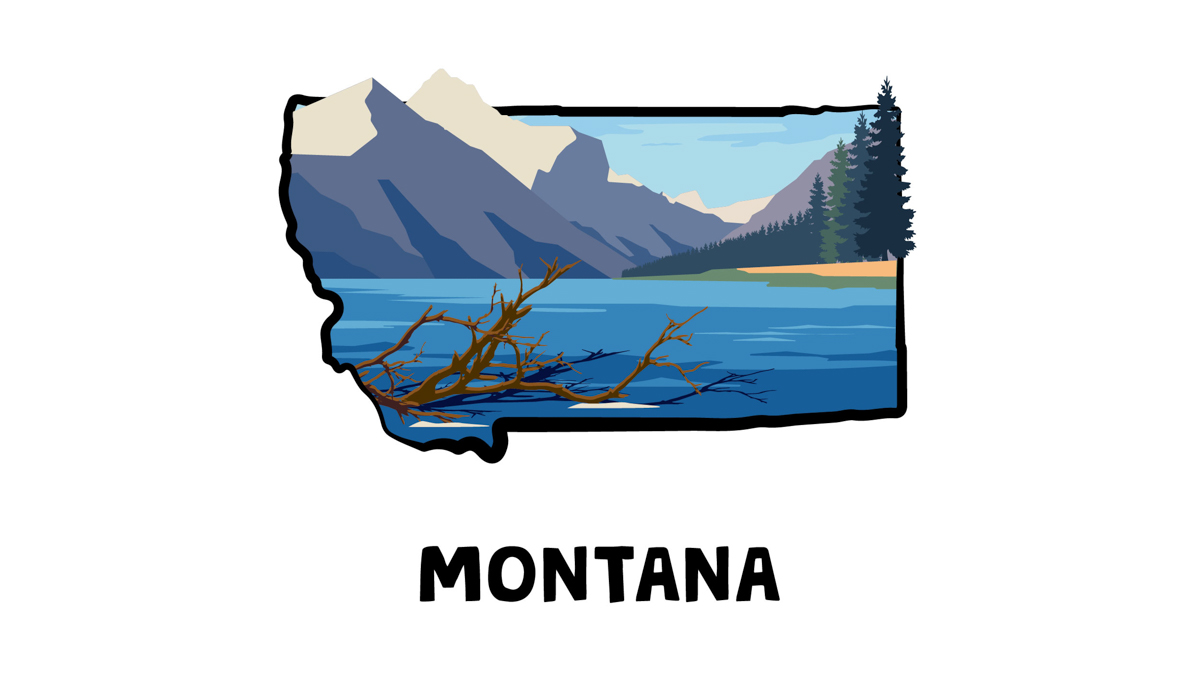 This article provides a complete rundown of Montana marijuana laws. We cover recreational and medical marijuana use, possession limits, home cultivation, public consumption, traveling, and the legality of hemp-derived products. 
Marijuana is legal in Montana for recreational and medical use. Recreational sales started on January 1, 2022.
Patients with qualifying conditions may also register for a medical marijuana card. There are roughly 40,000 patients and just under 400 dispensaries in the state.
In 2020, Montana scored the third highest number of dispensaries per capita in the United States.
Hemp-derived CBD products are also legal in the state, although the legality of particular cannabinoids from hemp remains murky.
Here's everything you need to know about Montana weed laws.
Is Weed Legal in Montana?
Yes. Weed is legal in Montana for both recreational and medical use. Adults 21 and older can purchase marijuana from state-licensed dispensaries. The state of Montana removed penalties for possession on January 1, 2021.
Related: US Cannabis Laws Interactive Map
Is Recreational Marijuana Legal in Montana?
Yes. Legalization was first supposed to happen through the voter initiative, but it was replaced by House Bill 701— the state's framework for recreational sales.
Adults 21 and older can purchase up to one ounce of marijuana flower from dispensaries.
If you meet the legal age requirement, you can also grow up to two mature (flowering) plants and a maximum of four plants per household.
There's a 20% tax on recreational cannabis products.
Is Medical Marijuana Legal in Montana?
Yes, Montana has a medical marijuana program for qualifying patients. Cardholders (patients and caregivers) may buy up to one ounce of cannabis per visit, with the added benefit of a 4% flat tax on their purchases.
Medical marijuana patients may also cultivate twice as many plants as recreational users — up to four mature plants per household.
Penalties for Marijuana Possession
Although Montana has legalized weed, that doesn't mean there are no limits to possession. In fact, you may still face fines and prison time if you're caught with large amounts of marijuana.
Here's what happens when you break the law:
1-2 ounces (1st offense): civil infraction, no jail time, $200 fine
1-2 ounces (2nd offense): civil infraction, no jail time, $300 fine
More than 2 ounces: felony, up to 5 years in jail, $45,000 in fines
Possession of more than one ounce but less than two ounces with intent to distribute is also a civil infraction punishable by a $200 ticket.
However, if you're caught selling more than 2 ounces, you may be charged with a felony and have to spend up to 20 years in prison on top of $50,000 in fines.
Is Weed Decriminalized in Montana?
Yes. Possession of 1 ounce or less has been decriminalized in Montana. You won't even receive a ticket for such quantities.
What's the Future of Cannabis Legalization in Montana?
Montana has just kicked off its recreational marijuana sales this year. It has granted over 400 licenses to dispensaries, becoming one of the densest states in the country when it comes to the number of dispensaries per capita.
With such a strong start, we may expect Montana to become one of the leaders in adult-use cannabis sales in the next few years.
The state has yet to establish a framework for online delivery systems. For now, only medical marijuana patients can buy cannabis online for delivery; the rest must pick up their weed in person once they've placed their order.
Delta-8 THC: A Better and Federally Legal Alternative to Marijuana?
Cannabis legalization is rolling through the USA like a giant snowball. State by state is legalizing marijuana for recreational use, and medical marijuana programs are a standard in most states right now.
Hemp-derived isomers of THC have only been spurring up the whole movement since delta-8 THC became federally legal under the 2018 Farm Bill.
Aside from the legal advantage, many people are turning to isomers of THC due to their milder nature and lower incidence of anxiety and paranoia.
Before we elaborate on the legal status of delta-8 THC in Montana, let's see what the hype is all about.
Delta-8 THC vs. Delta-9 THC
The THC molecule has several different variants — the most popular ones are delta-9 and delta-8.
Delta-8 THC is the isomer of delta-9 THC, meaning it has a strikingly similar chemical formula. However, the way its atomic bonds are arranged causes a significant change in the potency of delta-8.
Delta-8 THC has a double bond at the eighth carbon chain, while delta-9 THC has this bond at the ninth chain. Because of that, delta-8 THC is about 50% as potent as delta-9.
Lower strength means a lower risk of anxiety and paranoia — the two side effects that drive sensitive users away from THC-rich cannabis.
Cons of Delta-9 THC from Marijuana
The effects of marijuana are dose-dependent. In low and moderate doses, weed relaxes your muscles, elevates your mood, reduces stress, and improves your focus.
Larger doses get you high, altering your thinking patterns and perception of time. You'll experience euphoria, giggles, increased appetite, slight confusion, and a boost of motivation. The effects may lean toward energizing or sedating depending on the consumed strain.
Most people enjoy the effects of delta-9 THC without any unpleasant reactions. However, for sensitive individuals, delta-9 may reveal its biphasic nature:]
Anxiety
Paranoia
Feelings of discomfort
Cold sweats
Dizziness
Confusion
Increased heart rate
Short-term memory problems
Effects and Benefits of Delta-8 THC
Delta-8 THC produces similar effects to delta-9 THC, but since it's not as powerful, you have lower chances of experiencing the aforementioned side effects.
Of course, you can still get anxious and paranoid if you take more than enough — but that shouldn't be a problem if you use delta-8 THC responsibly.
When it comes to the therapeutic effects of delta-8 THC, research is still in its infancy. However, considering the similar formula of both cannabinoids, it's within reason to assume these effects are pretty much the same.
Potential health benefits of delta-8 THC include:
Anti-nausea
Anti-inflammatory
Pain relief
Increased appetite
Feelings of calmness and relaxation
Neuroprotection
Is Delta-8 THC Legal in Montana?
Unfortunately, delta-8 THC is illegal under state law in Montana.
Montana state code clearly outlaws all tetrahydrocannabinols — including isomers such as delta-8 THC.
The state regulations are contradictory to federal law, placing delta-8 THC in a legal gray area.
Benefits of Buying Delta-8 THC Online
Online stores are the best places to buy delta-8 THC. They usually have cheaper prices and provide third-party lab test results to help verify the potency and purity of your product before you buy.
I'm not objective here, but for me, buying online seems to be the best way to buy anything these days.
Instead of buying delta-8 THC products locally, keeping everything online not only can drag prices down but can also elevate the quality of delta-8 extracts.
The benefits of buying delta-8 THC online include the following:
Better prices – no middleman means lower prices and more ways to save money on high-quality products, such as coupon codes, reward programs, subscription payments, and bulk pricing.
Transparency – you can read third-party lab results and customer reviews before you trust anyone with your money.
Greater product selection – you have access to more delta 8 THC-infused products, and they'll be fresher because online stores don't stock them in advance.
Convenience – you can compare dozens of formulas in the comfort of your home, unrestricted by opening hours or location.
Best Online Delta-8 THC Stores
Finding a trustworthy manufacturer of delta-8 THC can be time-consuming, so if you're in a hurry, here's my recommendation of the two leading delta-8 brands. Both companies offer remarkable delta 8 product quality, and their customer service goes up and beyond to help you tailor the experience to your preferences and make sure you become a knowledgeable user.
1. Area 52
Get 15% off all Area 52 products. Use code "CFAH" at checkout.
Area 52 has a clear mission statement – to "alienize your mind." The company's website is full of alien aesthetics and premium cannabinoid products, focusing on delivering the purest distillate.
The company was founded by biochemists with decades of experience in cannabinoid research. Its main focus is on delta-8 THC products, such as tinctures, gummies, vape pens, and pre-rolled joints.
These products are not only potent — with 25–40 mg of delta-8 THC per serving — but they also contain high levels of terpenes, potentiating the cognitive buzz and adding unique effects to the formula.
Earlier this year, Arez 52 released a new line of "true full-spectrum products," featuring novel formats like delta-8 honey and HHC gummies, as well as some classics like sleep gummies, energy gummies, immunity gummies, and CBD oil.
All Area 52 products are triple-tested by an ISO-certified laboratory for potency and purity.
2. Finest Labs
Finest Labs is an online delta-8 retailer focusing on delta-8 THC products. The company is a great pick for beginners because it offers only two product types: delta-8 tinctures and edibles.
These products are also less potent, with 15–25 mg of delta-8 THC per serving. I recommend trying Finest Labs first if you've never done any delta-8 because you can gradually work your dosage up to the sweet spot without experiencing any distress.
Finest Labs also has an impressive collection of terpenes. They're blended with specific ratios to recreate the terpene profile of various cannabis strains.
FAQs
Who can buy medical marijuana in Montana?
Around 40,000 Montanans have state-issued medical marijuana cards. You can apply to the medical marijuana program if you've been diagnosed with one of the following conditions:
Cancer
Crohn's disease
Glaucoma
HIV/AIDS
Cachexia
Severe chronic pain
Intractable nausea or vomiting
Epilepsy or a treatment-resistant seizure disorder
Multiple sclerosis
Painful peripheral neuropathy
Post-traumatic stress disorder (PTSD)
Admittance to hospice care
Can you grow weed in Montana?
Yes. If you're a recreational user, you can grow up to four marijuana plants, of which two can be in the flowering stage.
This limit has been increased for medical marijuana patients. If you have a medical marijuana card, you can grow up to four mature plants in Montana.
Can you smoke weed in public?
Consumption of marijuana is prohibited in public places and certain other locations. Even medical marijuana patients should limit marijuana consumption to private properties.
Can you travel with marijuana in Montana?
Yes, but you must keep it in a closed container and not within the driver's reach.
It's illegal to drive while under the influence of cannabis. It's a crime to operate a motor vehicle when you have 5 ng/ml or more THC in your blood. This rule applies to both patients and non-medical users alike.
You also can't travel with marijuana out of Montana. Crossing state borders with weed is a federal felony (drug trafficking) punishable by up to 5 years in prison and $250,000 in fines.
Is buying weed online an option in Montana?
Yes, but not all users can use delivery services. If you use marijuana recreationally, you can order it online and pick it up later in person at the dispensary. This way, you can avoid queues and save some time.
Medical marijuana patients can buy their medicine online for delivery.
Is CBD oil from hemp legal in Montana?
Yes, hemp-derived CBD supplements are legal in Montana. The state uses the language of the 2018 Farm Bill to define hemp-derived products. CBD oil is legal as long as it contains no more than 0.3% delta-9 THC on a dry-weight basis. You can buy it without a prescription in dispensaries, pharmacies, head shops, vape stores, wellness centers, and online.
Buying Weed in Montana: Bottom Line
Montana joined the list of recreational states in 2020. This year, Montanans can finally enjoy their puff if they're 21 or older. Better yet, Montana is the state with the largest number of dispensaries per capita, making it an appealing destination for green aficionados.
Unfortunately, hemp-derived delta-8 THC products are illegal in the state due to concerns regarding lab testing standards for purity. Let's keep our fingers crossed the issue gets resolved soon and people in Montana will be able to enjoy the whole range of psychoactive cannabinoids.
If you're in a state that allows delta-8 hemp products, make sure to find a reputable online store that offers reasonable prices and delivers batch-specific certificates of analysis from a third-party laboratory.